The New Zealand National Government's single-minded focus on solving the nation's housing crisis by boosting dwelling supply continues to fail.
In 2016, New Zealand added a whopping 100,000 residents, more than 70% of which came from net migration: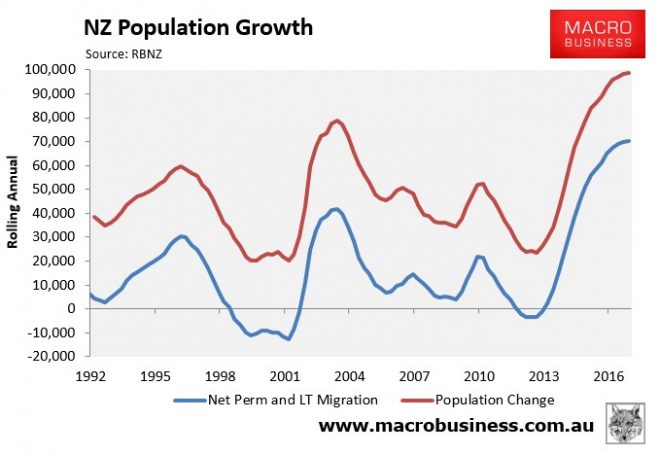 The bubble hotspot of Auckland has been the primary recipient of the population influx, with Statistics New Zealand recently revealing that Auckland's population had grown by around 200,000 (over 13%) in just four years, with the region's population also projected to grow by between 37% (low growth scenario) and 75% (high growth scenario) between 2013 and 2043: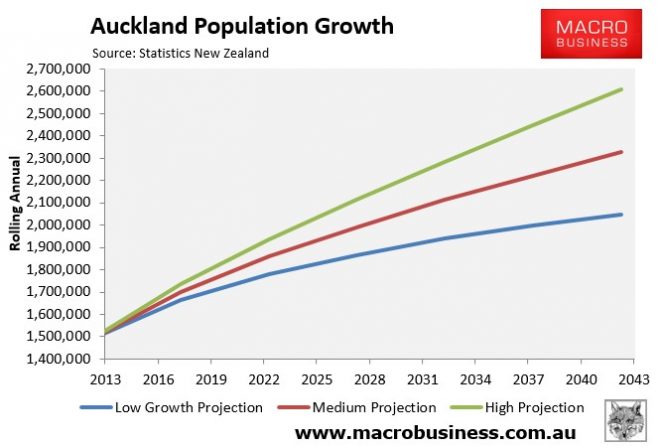 Meanwhile, Statistics New Zealand's latest figures showed that construction momentum has slowed, with trend number of new homes consented decreasing 11% in the six months to January 2017: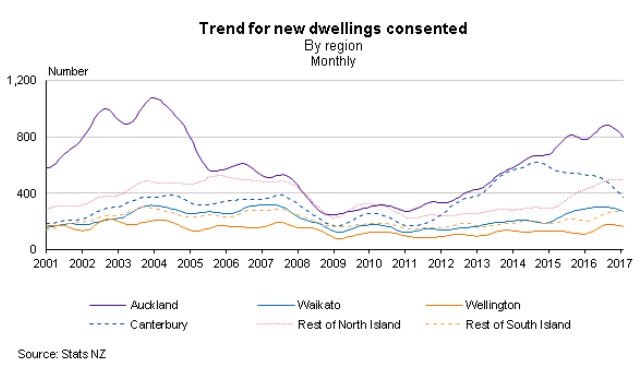 There were just 30,174 new dwellings consented across New Zealand in the year to February 2017, with just 10,045 consented in Auckland – nowhere near enough to keep up with population growth.
In addition to driving-up house prices to all-time highs in March, the inability of dwelling construction to keep up with New Zealand's immigration-led population growth has also led to surging rents, which also hit an all-time high $400/week nationally in March. From Interest.co.nz:
Median rents have increased by $50 a week a week in parts of Auckland over the last 12 months, according to the latest housing bond data collected by Tenancy Services.

Across the entire country the median rent for new tenancies completed in March was $400 a week, up by $20, or 5.3%, a week compared to March 2016…

That reflects an increase in demand for rental properties as more people are priced out of home ownership by high housing prices and the growing demand for rental housing as a result of increasing levels of net inward migration.
The immigration-driven boom in population is also causing chronic pressures outside of housing. As reported in the NZ Herald earlier this month, traffic congestion has also become hideous in Auckland, and is set to worsen, as the city's population booms.
Concerns have also arisen that working conditions in New Zealand are being eroded by the mass immigration. The Salvation Army, the Treasury, the RBNZ, and former RBNZ special adviser Mike Reddell have all raised concern that New Zealand's immigration program does not take sufficient account of whether their are genuine labour shortages, and may be depriving incumbent residents of employment opportunities.
Sensing the growing resentment, the incumbent National Government on Wednesday announced curbs to the country's immigration program, along with a new remuneration threshold for skilled migrants set at the New Zealand median income of $48,859 a year.
The changes come as Interest.co.nz today revealed that an Immigration NZ random sample of 600 live Skilled Migrant Category applications in March showed 57% were for jobs offering less than the new median wage threshold:
A majority of applicants for New Zealand's Skilled Migrant Category (SMC) visa were set to take on jobs offering less than the government's new $48,859 wage threshold…

Of the sample, 57.5% were for roles offering less than the new threshold of New Zealand's median wage, the spokesman said. That meant 42.5% were for roles with wages above $48,859. Meanwhile, 14% earned above $75,000. The results were given a margin of error of plus or minus 5%, the spokesman said.
The Labour opposition is gearing-up to announce its own curbs to New Zealand's immigration program. Earlier this month, Labor took explicit aim at New Zealand's mass immigration program, claiming it is choking housing, infrastructure and public services in Auckland, as well as undercutting working conditions.
Yesterday, Labour Party Leader, Andrew Little, yesterday stated Labour would cut annual net migration numbers, currently above 70,000, by the "tens of thousands" by way of changes to New Zealand's working visa scheme.
Cutting New Zealand's immigration intake is a policy no-brainer to alleviate pressures on housing, infrastructure and congestion, to boost weak wages growth, and to improve overall living standards of New Zealand residents.
With New Zealand's national election scheduled for 23 September 2017, it appears that significant immigration cuts are baked in. Hopefully Australia's dopey politicians sill follow suit.