Back in 2013, Labor opposition leader Bill Shorten argued that Australia's immigration intake should be increased from already turbo-charged levels:
Australia should increase its immigration levels, Labor leadership hopeful Bill Shorten has declared, saying the next arrival could "be the next Albert Einstein or a good taxpayer"…

Speaking about immigration more broadly, Mr Shorten said Labor needed to re-state its support. Apart from Aboriginal and Torres Strait Islander people, everyone came to Australia by boat or plane, he said.

"I do believe the immigration levels can go up," Mr Shorten said…

"Immigration has been a plus for us and we should be certainly as a party being seen to be pro-immigration and pro increasing it, making sure people go to wherever it is sustainable for infrastructure and support, but we are an immigrant country and we shouldn't ever hide from our destiny."
And last month, Bill Shorten labelled those calling for a sensible and sustainable immigration intake "political extremists":
Shorten said that "political extremists" are telling Australians "that cutting migration will clear-up traffic and make housing cheaper".

"It will make our internet faster, our schools better and our weather sunnier," he said. "And citizens who feel like they're not getting a fair go are told to blame minorities, to demonise difference"…

Shorten said that migrant[s]… are "an irreplaceable part of who we are … the counter-argument to that dishonesty [and] living proof of the benefits of migration".
Last night, Shorten gave a pathetically weak interview on ABC's Lateline whereby he completely ducked answering whether Australia's permanent migration intake should be tightened:
DAVID LIPSON: This is all part of a broader plan, it seems, from the Turnbull Government to crack down somewhat on migration, to tighten up some of the laws. Do we need more checks and balances, do you think, for migrants who want to become Australian citizens?

BILL SHORTEN: Well, I think the real issue here is: we're an immigration nation and permanent migration has been a net plus for this country. But of course, people who come here should adhere to Australian laws and Australian values.

I think, though, that what's happened here is: Mr Turnbull is just trying to save his own job.

See, for Labor this is not a new issue. We said before the last election there were rorts in the visa system. We said before the last election more needed to be done on apprenticeships. Now, we've seen nothing done on those last elections since the last election.

The only thing which Malcolm Turnbull is worried about keeping his unhappy backbench from rolling him. It's a very divided Government.
So, like the Turnbull Government, Bill Shorten won't even contemplate cutting Australia's permanent migrant intake, which has more than doubled since the turn of the century: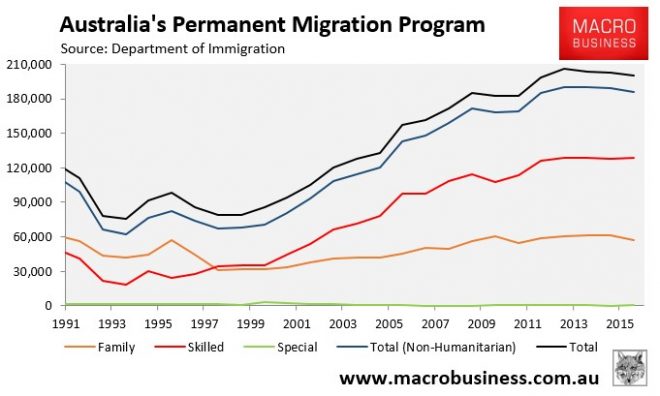 Because according to Shorten, cutting immigration back to historical norms would be "politically extreme".
Here's a question for Shorten: does he consider progressive and multicultural Canadians "politically extreme"? After all, Canada has run far lower rates of immigration than Australia over the past decade:
In fact, had Australia simply decreased its immigration intake to match the rate of Canada over the past ten years, there would be 1.3 million fewer people in Australia – equivalent to three Canberras!
Bill Shorten seems completely oblivious to the situation on the ground in Australia's two biggest cities. Housing affordability is woeful. Infrastructure is under immense strain. Traffic congestion is a constant problem and public transport is packed to the brim. Blind Freddy – but clearly not Bill Shorten – can see that packing Sydney and Melbourne with extra 80,000 to 100,000-plus people every year – primarily via mass immigration – is a fundamental cause of these problems.
So far, there has been no proper debate within the community about the appropriate level of immigration and no political mandate for pursuing a "Big Australia". And as long as Australians' concerns are ignored, extremist elements like Pauline Hanson's One Nation will continue to grow. We have seen this already with Brexit as well as with the rise of Donald Trump.
If Bill Shorten had any political nous, he would guarantee himself a ticket to the Lodge by announcing policies to curb Australia's mass immigration program and safeguard living standards by taking pressure of jobs, housing, infrastructure, and the environment. But by failing to confront the immigration issue, he has left the door ajar for the Coalition to announce policies of its own, wedge Labor, and potentially steal victory from the jaws of defeat.