ABC's 7.30 Report last night ran a depressing segment on the Western Australian economic/property crash.
The segment features a project engineer named Brad Wright, who has seen his income slashed and has lost a tonne of money in investment properties:
BRAD WRIGHT, PROJECT ENGINEER: People have had their income slashed to 10, 20 per cent of what they were normally being paid. And you know, they are having to meet enormous payments.

CLAIRE MOODIE: Up until two years ago, Brad Wright was working as an engineer on various major resource projects.

BRAD WRIGHT: My earning capacity would have been in the order of $250,000 a year, plus.

CLAIRE MOODIE: Now unable to find work in his profession, he's doing night shift as a security guard, while trying to sort out a complex financial mess that started after he took out loans on two investment properties.

(To Brad Wright) How easy was to it get the money that you needed?

BRAD WRIGHT: Easy as buying an ice-cream. It was that simple. We were quite shocked, because once we needed close to $1 million. And it was just a low doc (low documentation) loan that pretty much was approved within 24 hours.

CLAIRE MOODIE: The apartments have since been sold at a loss and he's now trying to save the family home in an up-market suburb of Perth.

BRAD WRIGHT: We have been left with up to $90,000 of bills. And we have no money to service all of our other creditors.

And on top of that, the stress of me trying to deal with the bank and try to get some sort of fair or reasonable solution from them has been – yeah, it's almost pushed me to the point of suicide.

I'm not bullshitting. (Laughs) It's been really tough…

BRAD WRIGHT: I really don't know what we will do if this house is sold, because we would be basically kicked out on the street with just the clothes we are wearing – with substantial debts.
It also features a financial counselor named Jenny Cecil, who has reported a massive increase in Western Australians seeking help:
CLAIRE MOODIE: Lifeline is reporting increasing numbers of West Australians facing financial stress.

(Footage of Jenny Cecil in a meeting with a client)

JENNY CECIL, FINANCIAL COUNSELLOR: Are you renting or do you have a mortgage?

CLAIRE MOODIE: And there is a long waiting list for counselling from a new post-resources boom client base.

JENNY CECIL: A lot of clients, not necessarily here but in the general, will use credit cards to keep that – maintain their mortgage payments, their electricity, council rates and whatever.

So when we see them, the debt has risen more than if they had come in, in the first instance.
The property market is also on its knees:
GAVIN HEGNEY: Well, they say in the top end of Perth on a quiet day you could hear the property values falling.

And the property values in the top end of the market are probably off 30 per cent from where they were at the peak of the market in 2008.

(Frank Lawrence shows Claire Moodie a house for sale in Meadow Springs, Western Australia)

FRANK LAWRENCE, REAL ESTATE AGENT: So, Claire, we're three minutes from the beach here, five minutes from a regional shopping centre.

CLAIRE MOODIE: Prices are also down on the urban fringe. There's been an 18 per cent drop over the last decade at this suburb near Mandurah, south of Perth…

CLAIRE MOODIE: But with high unemployment, the area's also tipped to have one of the worst rates of mortgage stress in the country. Daniel Johnston is close to losing his investment property.

DANIEL JOHNSTON, BORROWER: Yeah. We're running out of time. (Laughs)

CLAIRE MOODIE: He bought it as a joint venture with relatives in 2007, but plans to develop the block fell through. Now they owe $500,000 on a house that's only worth $350,000.

DANIEL JOHNSTON: Well, we've used part of the equity for interest repayments on this investment. And I mean, it's certainly – we're stretched. We're at a stretch to pay for the home and living costs, let along this one, you know.

And the problem is that our home is actually listed as security on default for this loan. So that's our main concern.
Sobering stuff.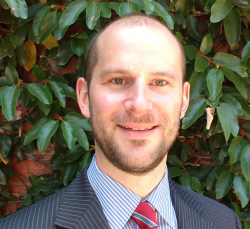 Latest posts by Unconventional Economist
(see all)