For years I have argued that Australia should look to Texas to solve Australian housing supply.
This view was based primarily on the fact that Texas has been able to achieve stable and affordable housing in the face of extreme population growth (see next chart).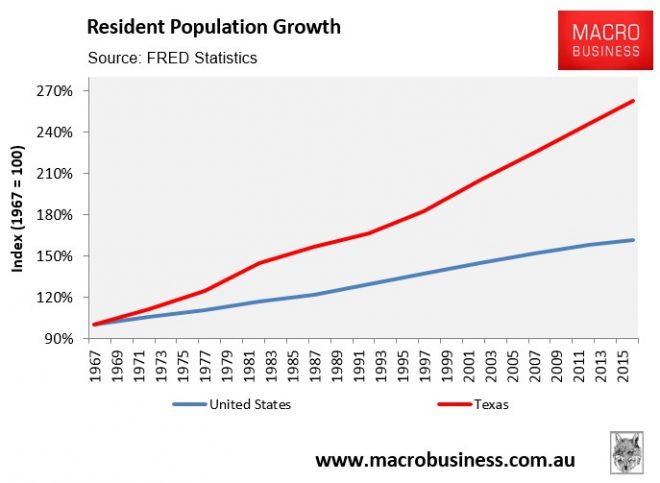 Now the Dallas Federal Reserve has released a report claiming that Texas is losing its housing advantage owing to sluggish new home construction and significant house price appreciation over recent years:
Relatively low home prices in Texas—contributing to a lower cost of living than elsewhere in the U.S.—have played an important role in the state's robust longterm economic and population growth that has often led the nation.

However, recent gains in Texas home prices have reduced that cost-ofliving advantage, calling into question whether Texas can maintain its superior
growth. Following another year of record house price appreciation in 2016, affordability continues to slip; Austin and Dallas have fallen below measures for the country as a whole.

Texas home price gains have uncharacteristically outpaced the U.S. since 2011 (Chart 1). Texas home prices were up 42 percent in fourth quarter 2016
from fourth quarter 2010 levels, according to Federal Housing Finance Agency data. U.S. home prices rose 30 percent over the same period. Median real (inflation-adjusted) home sales prices in Texas crossed the $200,000 mark in late 2015…

Builders, who also faced escalating land, materials and labor costs and tight lending for land development, responded by constructing fewer "starter" homes, typically priced below $250,000. Starts of homes priced below $250,000 dropped from 62 percent of overall new single-family units in 2011 to 33 percent in 2016, according to data from Metrostudy, a market research company…

With six months' supply of existing for-sale homes considered balanced, inventory in Texas priced below $250,000 fell from more than eight months in early 2011 to 3.4 months in 2016 (Chart 2).

The stock of entry-level units is more constrained in the state's major metros, particularly in Austin and DFW, where it dropped from six months of supply in Austin and around seven months in DFW in early 2011 to…

Lot supply began diminishing in 2011, falling rapidly through 2013, as tight credit for land development, delays in land permitting and shortages of
skilled construction workers prolonged lot delivery times…

The shortage of lots available for building is most apparent in the under-$250,000 price point. For instance, regulatory costs make up about a fourth of the final price of a new single-family home, according to the NAHB March 2016 survey.11 Dallas Fed industry contacts also note increased regulatory burden on developers and builders…
The macro data certainly does support the view that Texas has lost some of its housing advantages. As shown in the below charts, Texas' major metro areas now have similar Median Multiples (median house price to median household income) to the national average, as well as similar mortgage burdens:
Still, Texas' big metros remain highly affordable against California's, which have traditionally been a strong source of internal migration to Texas: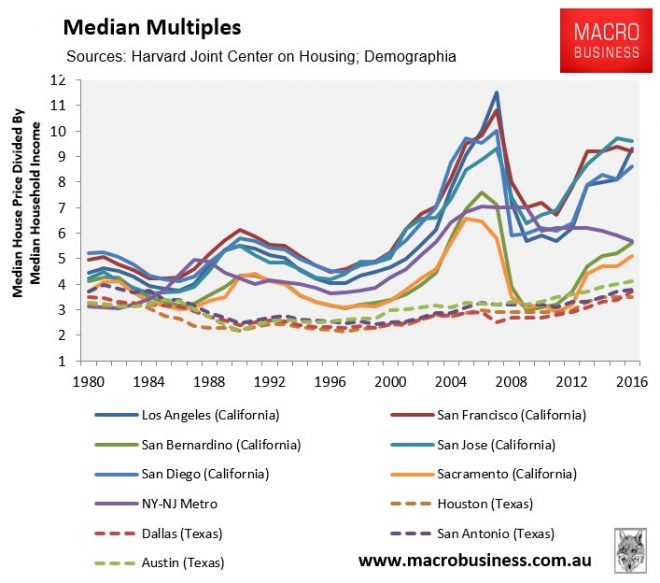 Thus, Texas should retain its housing advantage for some time to come.
Moreover, with Median Multiples ranging between just 3.5 (Houston) to 4.1 (Austin), Texas remains highly affordable against anything that Australia's cities can offer.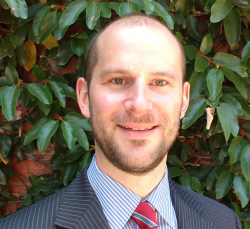 Latest posts by Unconventional Economist
(see all)