Back in January, Australia's real estate treasurer, Scott Morrison, traveled to London to gain ideas on how to address housing affordability.
At the time, I questioned why Morrison had sought solutions on housing affordability from politicians located in one of the world's most expensive housing markets – London – and from a country (the UK) which has a long and sordid history of housing policy failures.
Now, a new report by the Office for National Statistics (ONS) has revealed that housing affordability has worsened in all of the England and Wales local authority districts over the last 20 years, as the median price paid for residential property soared by 259% versus only a 68% increase in median individual annual earnings: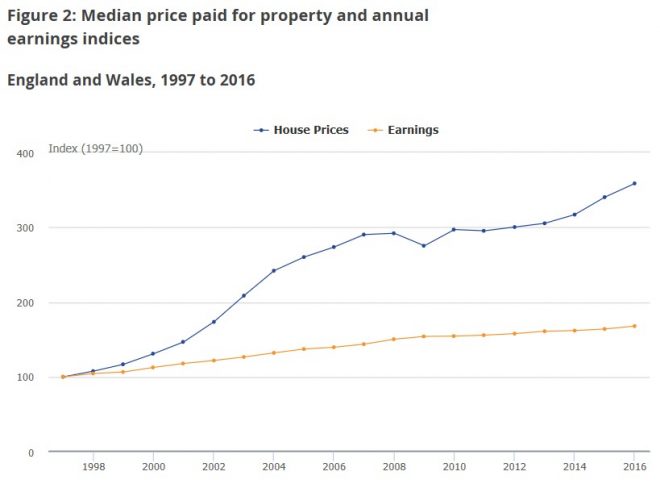 Accordingly, working people in 2016 could expect to pay around 7.6 times their annual earnings on purchasing a home in England and Wales, which is more than double the rate in 1997 – where it stood at 3.6 times average earnings: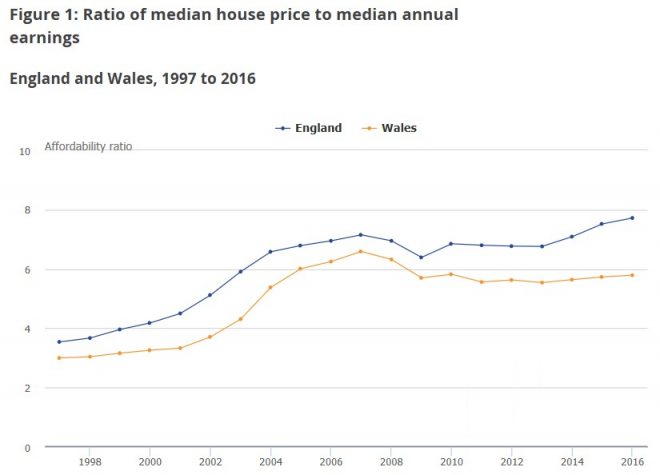 Further, in the past two years, the gap between average wages and house prices has spiked. Between 2015 and 2016, 93% of councils experienced a rise in house prices – yet in the same year there were no significant changes in earnings in any local authority in England and Wales.
Meanwhile, housing affordability had worsened fastest in London boroughs over the past two decades, with seven out of the 10 least affordable councils in 2016 being in the capital, an increase from five out of the 10 least affordable local authorities in 1999. Nine out of the 10 local authorities with the largest increase in affordability ratio between 1999 and 2016 are in London, where house prices were 38.5 times the median gross average earnings in the area: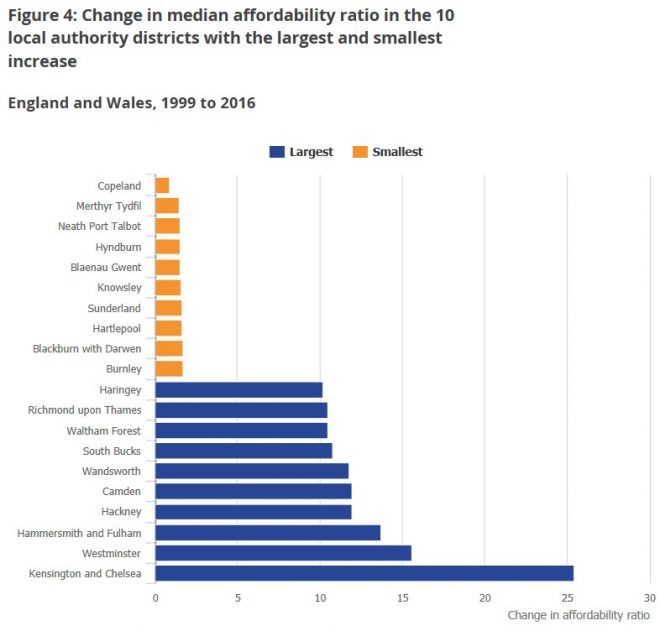 This data follows the latest Demographia housing affordability survey, released in January, which revealed that London's Median Multiple (median house price divided by gross annual median household income) is 8.5, which makes it the 12th most expensive housing market out of the 406 urban markets assessed across nine countries.
The
UBS Global Real Estate Bubble Index
also recently rated London as having the world's second worst housing bubble risk. Further, London has experienced substantial domestic out-migration, as its high house prices appear to be repelling population growth.
Instead of traveling to London, Scott Morrison should have sought solutions from policy makers in markets where housing has remained affordable in spite of rapid population growth, such as Houston (Median Multiple 3.5) or Dallas (Median Multiple 3.7). The fact that Morrison instead chose expensive London suggests that he has zero genuine interest in addressing housing affordability and was instead seeking to create the impression that the Coalition cares about housing affordability, rather than seeking genuine policy solutions.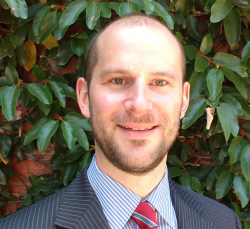 Latest posts by Unconventional Economist
(see all)