ABC's Lateline last night ran a well-balanced segment examining the economic impacts of mass immigration. The segment featured three guests:
ANU professor, Bob Gregory, a pro-immigration economist who has previously claimed that the past 12-year's mass immigration has provided a bigger (and more permanent) economic boost to Australia than the mining boom.
CBA senior economist, Gareth Aird, who has recently argued that Australia's mass immigration settings are lowering the living standards of the resident population.
Deloitte Access Economics' Chris Richardson, a pro-immigration economist who has previously called for Australia to lift its already turbo-charged immigration intake.
The segment covered a range of topics, including:
Whether immigration is boosting living standards on a per head basis.
Whether immigration can prevent Australia's population from ageing.
Deleterious impacts on infrastructure, traffic congestion and housing affordability.
As expected, CBA's Gareth Aird makes the most sense, noting that the ordinary citizen is not benefiting from mass immigration and their 'lived experience' has deteriorated through sluggish income growth, deteriorating traffic congestion, and worsening housing affordability. Aird also calls for governments to take account of these issues, as well as productivity, when it sets the overall migrant intake, rather than just focusing on headline GDP growth.
Importantly, Aird also challenges the claim made by Chris Richardson that Australia can "substantially offset" an ageing population by "getting migrants", noting that this is a temporary fix since immigrants also grow old, and equates to "kicking the can down the road".
One big positive from the segments is that even pro-immigration Gregory and Richardson admit that immigration does have negative effects (which are often ignored) and that "bigger is not better" for living standards. While vigorously opposing halting immigration entirely, as advocated by Pauline Hanson, Gregory even acknowledges that immigration should probably be "adjusted down".
You know you are winning the debate when pro-mass immigration economists like Gregory and Richardson will no longer defend current immigration levels (see below chart).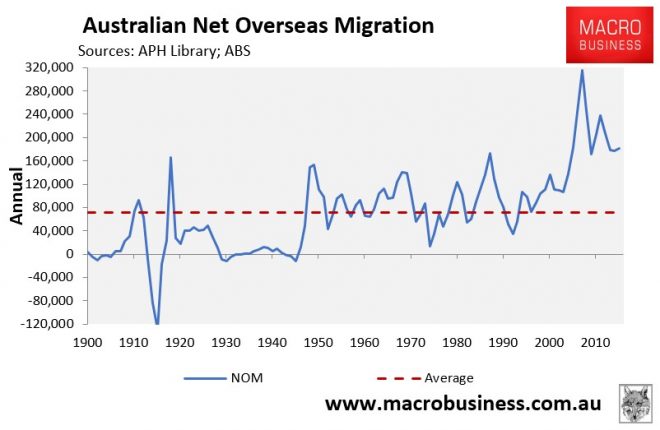 It's now only a matter of time before politicians capitulate and cut the immigration intake to more sensible and sustainable levels.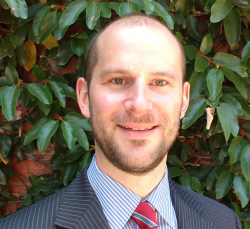 Latest posts by Leith van Onselen
(see all)