Brent oil held on overnight: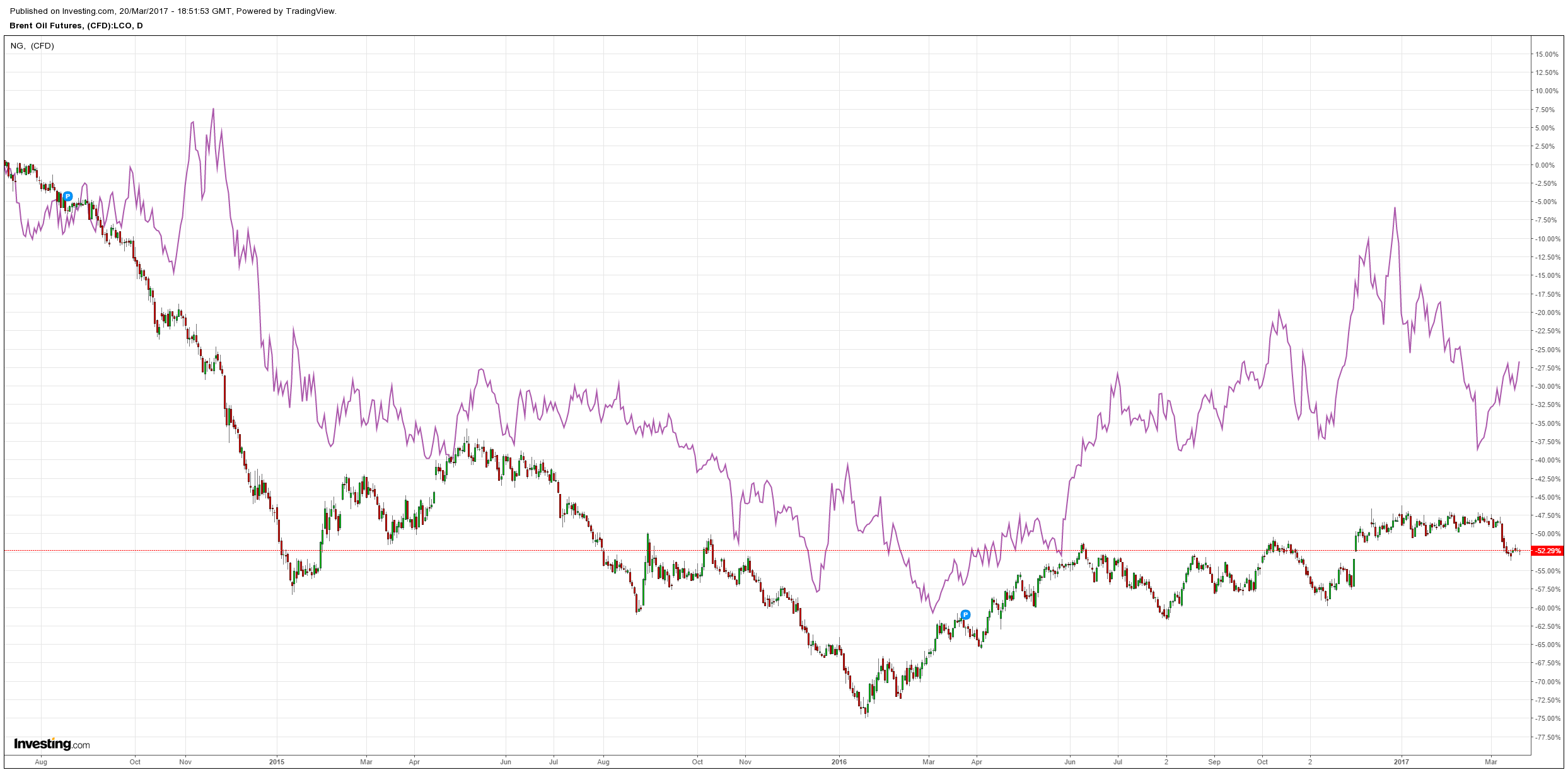 The major news item is OPEC mulling its supply cut extension, via Reuters:
OPEC oil producers increasingly favor extending beyond June a pact on reducing crude supply to balance the market, sources within the group said, although Russia and other non-members need to remain part of the initiative.

The Organization of the Petroleum Exporting Countries is curbing its output by about 1.2 million barrels per day (bpd) from Jan. 1 for six months, the first reduction in eight years. Russia and other non-OPEC producers agreed to cut half as much.

The deal has lifted oil prices, but inventories in industrial nations are rising and higher returns have encouraged U.S. companies to pump more. A growing number of OPEC officials believe it may take longer than six months to reduce stocks

"An extension is needed to balance the market," an OPEC delegate said. "Any extension of the cut agreement should be with non-OPEC."

Five other OPEC sources said it was increasingly clear that the market needed more than six months to stabilize but added that all producers – in OPEC plus non-members – had to agree.

"The ministers will meet in May to decide, but everyone has to be on board," an OPEC source from a major producer said.

…Russia, the largest of the 11 outside producers working with OPEC, has not publicly said whether it supports extending the supply cut, but is wary about the revival of U.S. shale output due to higher oil prices.

…OPEC ministers and sources, however, have said they don't see a large rebound in 2017. One OPEC source said shale production was expected to grow by about 300,000 bpd this year – a level the market could accommodate.
That's deluded. Shale is going grow by materially more than 1mb/d this year and the market cannot accommodate it: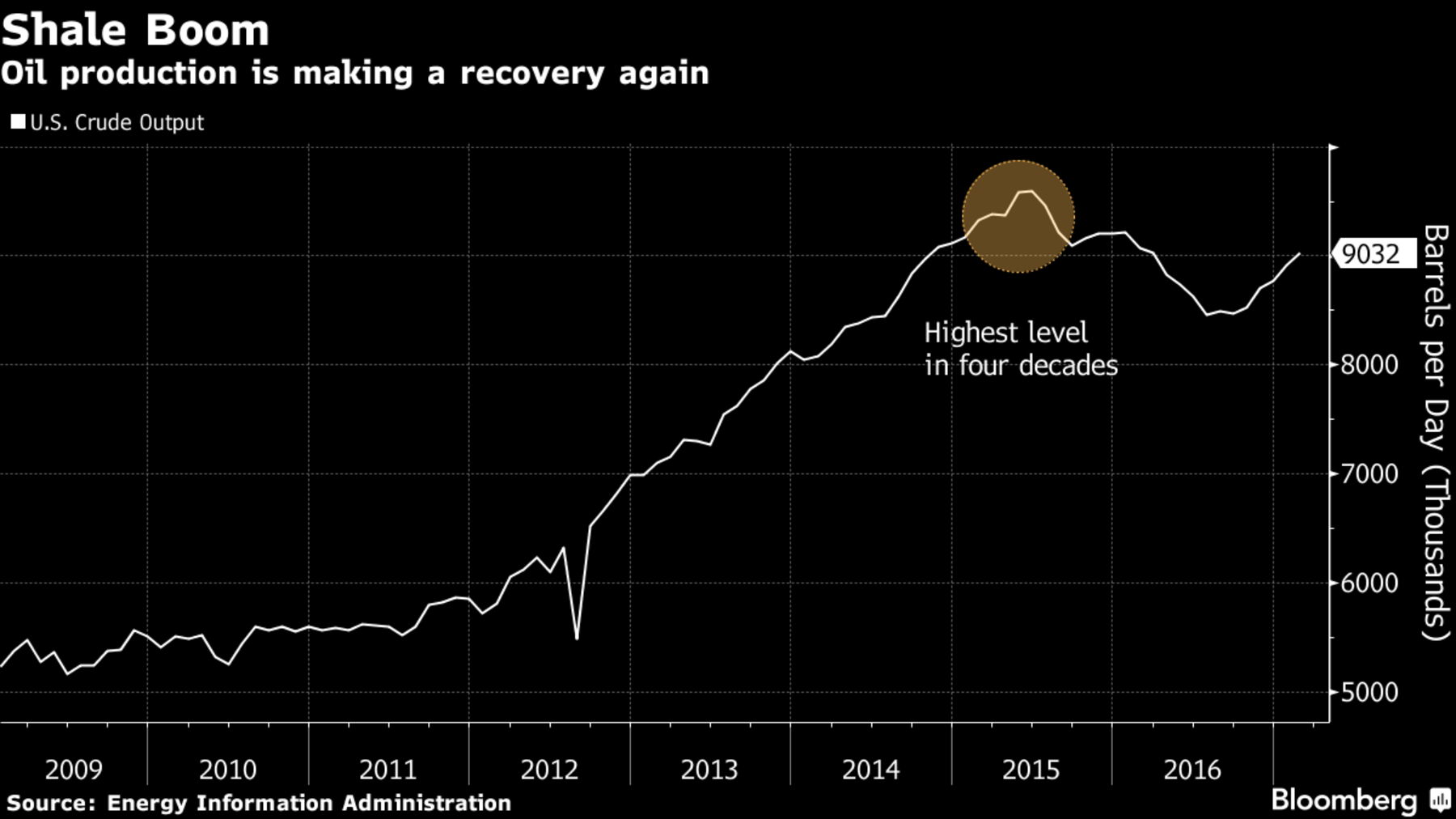 It's all a bit of theater. If OPEC does not extend the cuts then the oil price is going to halve. If it loses non-OPEC support then it'll fall to $40. OPEC has no choice.
The question that matters today is what price will stall the shale revival? It's too big and too fast. It remains my view that prices will have retest lows enough to stop the US rig rebound. We're self-evidently not there yet.
But we have, at least, blown the froth off the market, via John Kemp: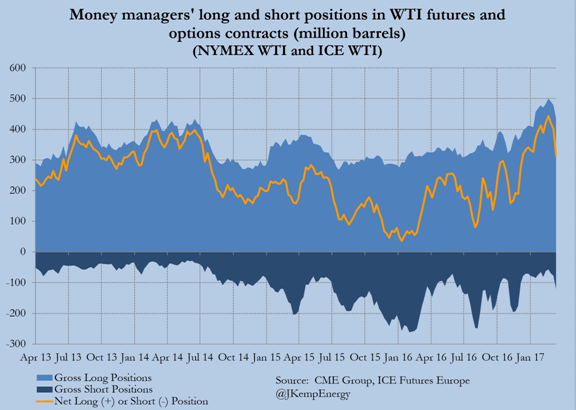 Libya is back to growth as well, via Bloomie:
Libya's major oil ports of Es Sider and Ras Lanuf are resuming operations and preparing to export crude after a two-week halt in shipments due to military clashes in the holder of Africa's largest crude reserves.

Libya's total production rose to 646,000 barrels a day from 621,000 barrels on Sunday mostly due to an increase from Waha Oil Co., Jadalla Alaokali, a National Oil Corp. board member, said Monday by phone. Waha Oil feeds into Es Sider, the country's biggest oil port. Staff are returning to Es Sider and Ras Lanuf, its third-largest, and exports are set to restart in a week to 10 days, Alaokali said Sunday.

"Both ports are ready to restart exports," Alaokali said.

Waha Oil, a joint venture between the NOC, Hess Corp., Marathon Oil Corp. and ConocoPhillips, suspended production earlier this month after clashes between armed factions in the politically divided nation forced Es Sider and Ras Lanuf to suspend shipments. Waha Oil is "soon" expected to reach 75,000 to 80,000 barrels a day, the level it was at about two weeks ago before fighting broke out near the ports on March 3, according to Alaokali. It began pumping on Saturday.

Forces loyal to Libya's eastern-based military commander Khalifa Haftar regainedcontrol over the two ports on March 14. The fighting, including airstrikes, dealt a blow to international efforts to restore stability in the country. A rival group had seized Es Sider and Ras Lanuf earlier this month.
My market balance chart is unchanged: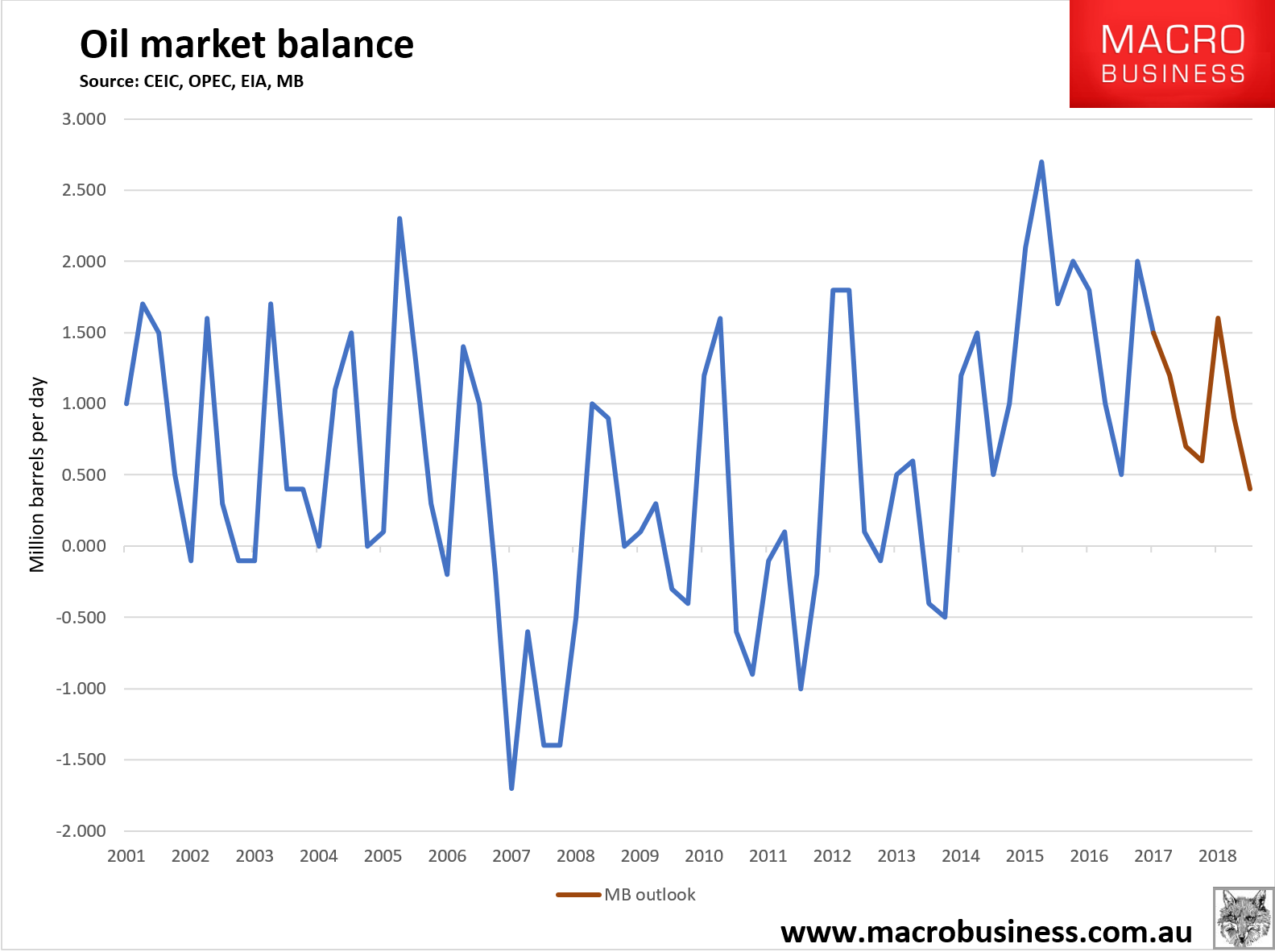 There'll be on consistent inventory draw until mid-2018 and only then if shale is capped by lower prices.