The Australian's Angela Shanahan penned a spurious article over the weekend repeating the oft-used myth that Australia needs to persist with mass immigration in order counter population ageing:
We need immigrants because we can't replace ourselves. No industrial economy, no matter how advanced, can afford not to replace itself. The old place too high an economic burden on the young. The classic correct demographic shape of a nation is an upside-down triangle, with more children and young people at the top and fewer old people at the bottom. This must persist for several generations. Only with this profile can we afford to support the elderly and the less able-bodied who can't work.

The narrower the top becomes the harder it becomes to support the growing number of people at the bottom. This applies particularly now because of our rising age at death (which makes Darwinian quick-fixes such as euthanasia seem attractive to some.) It also entails a far bigger tax impost for the parents of families in the middle, who also supply the children…

We need more family immigration to Australia. Skills-based immigration can be combined with family immigration as it was in the past.
Thankfully, The Australian's Judith Sloan was quick to set the record straight:
How many times does the Productivity Commission have to ­remind us that immigration is not a feasible countermeasure to an ageing population? It made this point in 2005, 2010, 2011 and 2016. "Substantial ­increases in the level of net overseas migration would have only modest effects on population and the impact would be temporary since immigrants age themselves."

And here's another set of facts to consider. According to academics Bob Birrell and Ernest Healy, nearly 70 per cent of Australian graduates aged between 25 and 34 have managerial or professional jobs while only 31 per cent of non-English-speaking background immigrants with a degree hold such jobs. A further 31 per cent of these immigrants are unemployed. Note also that 80 per cent of graduate immigrants are from non-English-speaking backgrounds.

And dare I mention the government's support for the underfunded contributing parent visa category that allows immigrants to pay for their elderly parents to migrate, and the five-year temporary parent visa category? It could be worth asking the Treasurer what impact these entrants have on the ageing of the population.
Advertisement
Judith Sloan was the Commissioner in charge of the PC's 2006 review into the Economic Impacts of Migration and Population Growth, so on this topic she carries significant weight and her views should be taken seriously.
Sloan also appears to be an MB reader, since I made the exact same points about immigration's futile impact on ageing last week. Specifically, here's what the Productivity Commission (PC) has said over the past decade about the claim that immigration can prevent population ageing:
PC (2005): "

Despite

popular thinking to the contrary, immigration policy is also not a feasible countermeasure [to an ageing population]. It affects population numbers more than the age structure".
PC (2010): "Realistic changes in migration levels also make little difference to the age structure of the population in the future, with any effect being temporary"…
PC (2011): "…substantial increases in the level of net overseas migration would have only modest effects on population ageing and the impacts would be temporary, since immigrants themselves age… It follows that, rather than seeking to mitigate the ageing of the population, policy should seek to influence the potential economic and other impacts"…
PC (2016): "[Immigration] delays rather than eliminates population ageing. In the long term, underlying trends in life expectancy mean that permanent immigrants (as they age) will themselves add to the proportion of the population aged 65 and over".
Advertisement
In short, trying to overcome an ageing population through higher immigration is a Ponzi scheme. It requires ever more immigration, with the associated negative impacts on economic and social infrastructure, congestion, housing affordability, and the environment.
Sloan could also have mentioned that the PC's Migrant Intake into Australia report showed that the immigrants overall have experienced lower median income, lower labour force participation, and higher unemployment than the Australian born population: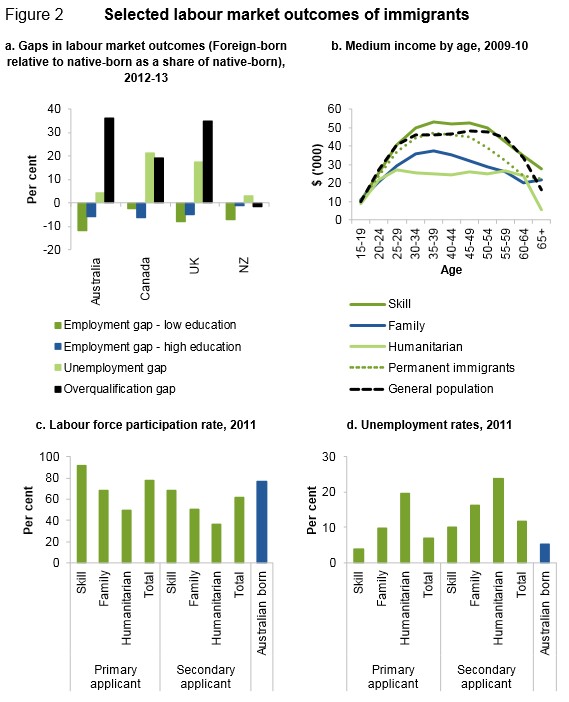 Advertisement
You will note from the above that Shanahan's claim that we "need more family immigration to Australia" is incredibly daft, since this form of migration has much lower median incomes, lower labour force participation, and higher unemployment than either the Australian born population or skilled immigrants. It is a poor policy choice from an economic perspective.
Separately in her article, Sloan calls for the government to cut Australia's permanent migration intake to 100,000. Such a level would be significantly below the intake of 190,000 currently and the 193,000 annual net overseas migration (NOM) experienced since 2003. That said, it would still be generous from a historical perspective, given the long-run average NOM is around 70,000 people per year (see next chart).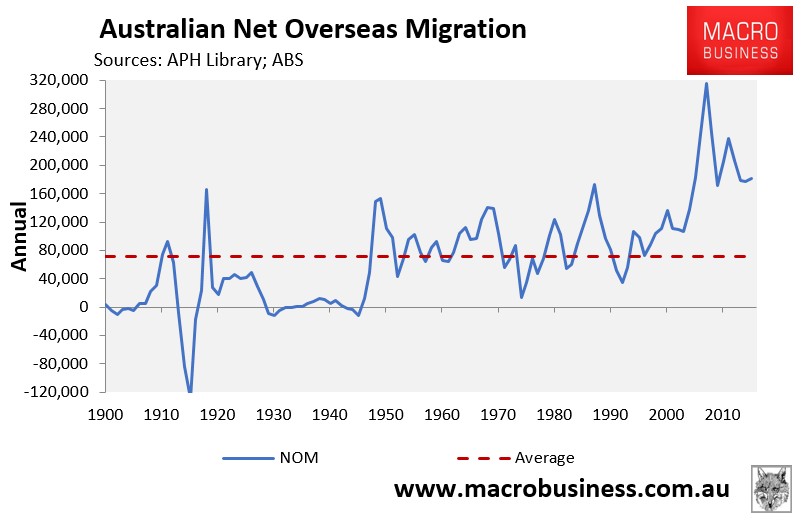 Advertisement
According to PC projections, NOM of 100,000 would see Australia's population hit around 35 million mid century, versus around 40 million under current immigration settings: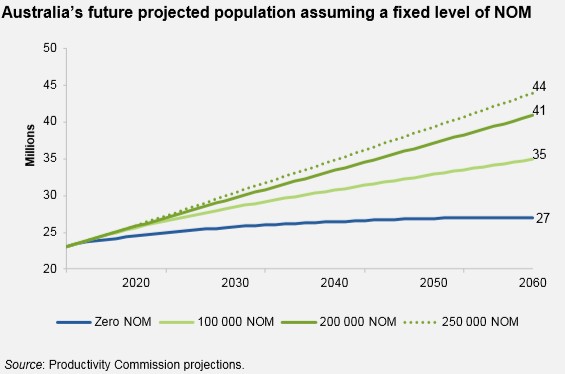 Thus, slashing NOM to 100,000 would be a significant improvement on the status quo, but would continue to put excessive strain on infrastructure, housing, Australia's natural resources, and the environment. Thus, a lower target is justified, such as Sustainable Australia's policy of returning NOM to the historical average of 70,000 people per annum.
Advertisement