Australia's real estate treasurer, Scott Morrison, yesterday ruled-out cutting Australia's mass immigration program, citing spurious demographic arguments. From The Australian:
Mr Morrison said net immigration had decreased since the last "big Australia" debate in 2010, and current levels were necessary to keep the economy going given the decline in the working age population…

"Now, today, net overseas migration is running at about 170,000-180,000. Population growth is running at about 1.4, so that is a dramatically different situation from the last big Australia debate that we had," Mr Morrison told Sky News.

"Population growth is currently running for the non-working population at around twice the rate of the working population, so it's over two per cent for the non-working population and around one per cent for the working age population, so those who are advocates for cutting back on immigration, what that will simply do is make that gap even wider, and it means there'll be fewer people in the working age paying for pensions, paying for services, paying for all the things that are very necessary."

"I'm no great big Australia advocate, but I'm a pretty common sense politician and decision-maker when it comes to these sorts of issues."
Morrison conveniently failed to mention that while immigration levels are below the 2010 peak, they are still running way above historical norms: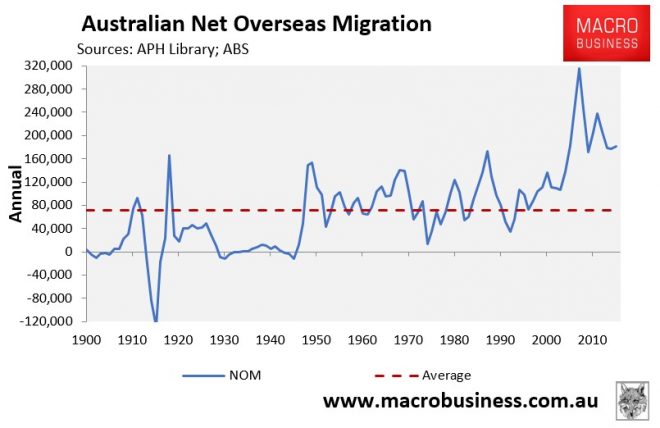 Morrison was joined by The Australian's political editor, Paul Kelly, who delivered a long-winded spruik in favour of maintaining Australia's mass immigration intake:
It is idle to pretend there is no relationship between immigra­tion, as it fuels demand, and house prices, but to justify major changes to the migrant intake on the basis of housing prices (as opposed to other demand and supply factors) lacks any sense of proportion…

In relation to the economic and housing impact of immigration, Reserve Bank governor Phil Lowe said recently: "I am fond of telling visitors 40 per cent of Australians were either born overseas or have a parent who was born overseas. I wouldn't want to give up that kind of advantage just for property ­prices."

It may be elitist but the point is valid. Immigration is pivotal to Australia's economic and social success during the age of globalisation…

In the debate about immigration there are four benchmarks: the program has been a vital driver for economic growth; new migrants lower the age profile of the population; without ­migrants, the worker-retiree ratio would be worse; and migrants are vital in a connected world assisting our global networks.
Let's quickly examine the arguments put forward by Kelly and Morrison.
First, it is undoubtedly true that immigration boosts the overall economy, since more inputs (people) equals more outputs. But this is a worthless metric to evaluate the immigration program, since living standards depend on people's individual shares of the growing economic pie, as well as its distribution. That is, there's little point growing the economic pie if everyone's share is reduced, or if the majority of the population are made worse-off.
In the early-2000s, Australia massively increased its immigration intake, which saw population growth surge. And these mass immigration settings are expected to be maintained for decades to come, resulting in projected population growth into Australia of circa 400,000 people a year, the majority of which will flood into Melbourne and Sydney: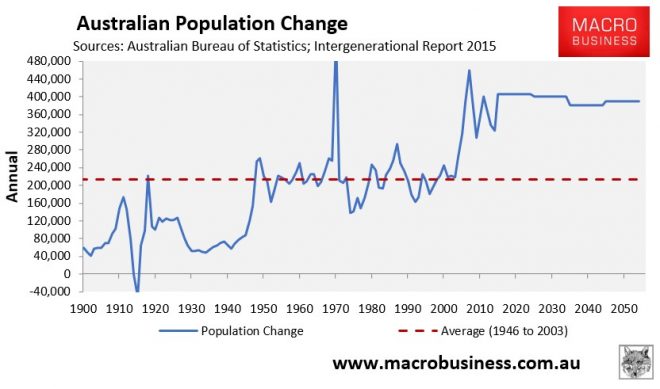 Yet over the same period that immigration was ramped-up, real GDP per capita has slumped to the lowest level on record – even below the 1980s and 1990s recessions – meaning that the ordinary Australian is not benefiting: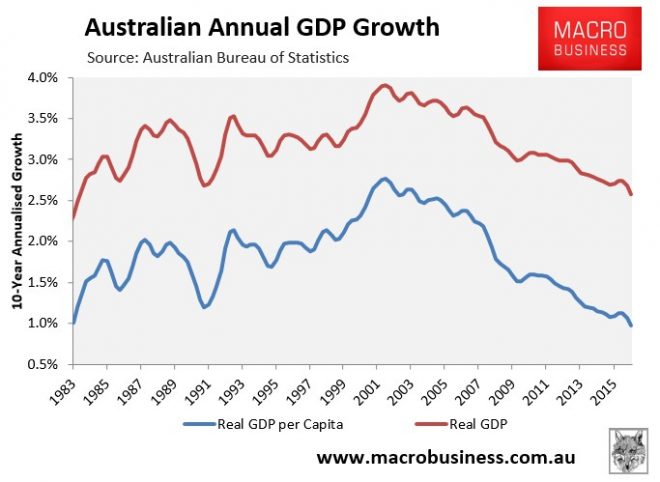 Worse, Productivity Commission (PC) modelling found that the benefits from increasing skilled migration accrue to the migrants themselves and capital owners, whereas existent resident workers are made worse-off. Here's the money quote:
The increase in labour supply causes the labour / capita ratio to rise and the terms of trade to fall. This generates a negative deviation in the average real wage. By 2025 the deviation in the real wage is –1.7 per cent…

Broadly, incumbent workers lose from the policy, while incumbent capital owners gain. At a 5 per cent discount rate, the net present value of per capita incumbent wage income losses over the period 2005 – 2025 is $1,775. The net present value of per capita incumbent capital income gains is $1,953 per capita…

Owners of capital in the sectors experiencing the largest output gains will, in general, experience the largest gains in capital income. Also, the distribution of capital income is quite concentrated: the capital owned by the wealthiest 10 per cent of the Australian population represents approximately 45 per cent of all household net wealth…
Morrison's and Paul Kelly's argument that immigration improves Australia's demography is also spurious, since any demographic benefits from mass immigration would only be temporary, because migrants themselves age. This fact has been noted many times by the PC, which Morrison and Kelly have conveniently ignored:
PC (2005): "

Despite

popular thinking to the contrary, immigration policy is also not a feasible countermeasure [to an ageing population]. It affects population numbers more than the age structure".
PC (2010): "Realistic changes in migration levels also make little difference to the age structure of the population in the future, with any effect being temporary"…
PC (2011): "…substantial increases in the level of net overseas migration would have only modest effects on population ageing and the impacts would be temporary, since immigrants themselves age… It follows that, rather than seeking to mitigate the ageing of the population, policy should seek to influence the potential economic and other impacts"…
PC (2016): "[Immigration] delays rather than eliminates population ageing. In the long term, underlying trends in life expectancy mean that permanent immigrants (as they age) will themselves add to the proportion of the population aged 65 and over".
Hence, trying to overcome an aging population through higher migration is a Ponzi scheme.  It requires ever more migration.
Paul Kelly's final benchmark that "migrants are vital in a connected world assisting our global networks" is really just a motherhood statement with little basis in fact. What are all these migrants achieving in a global sense? Getting more iron ore marketing done in Singapore? Selling more of our houses in Canton? Rustling up a new batch of Domino's pizza drivers from India to come here and do vocational education courses which wouldn't prepare them for a job here anyway?
Can Paul Kelly please explain how these so-called connections with the globalised world are helping in any way to establish any particular competitive advantage for Australia that does not rely on us digging up natural resources or selling assets?
Besides, low immigration mono-cultures like the Chinese, Japanese and Germans aren't exactly struggling in the globalised world. In fact, they have each become export powerhouses without the need for mass immigration.
Conveniently, both Morrison and Kelly have failed to account for the extra taxes that would be required to fund all the extra economic and social infrastructure to cope with an expanded population, nor all of the negative external costs that come from running a Big Australia program. Again, they would do well to consider the PC's view on these matters:
High rates of immigration put upward pressure on land and housing prices in Australia's largest cities. Upward pressures are exacerbated by the persistent failure of successive state, territory and local governments to implement sound urban planning and zoning policies…

Urban population growth puts pressure on many environment-related resources and services, such as clean water, air and waste disposal. Managing these pressures requires additional investment, which increases the unit cost of relevant services, such as water supply and waste management. These higher costs are shared by all utility users…

Immigration, as a major source of population growth in Australia, contributes to congestion in the major cities, raising the importance of sound planning and infrastructure investment. While a larger population offers opportunities for more efficient use of, and investment in, infrastructure, governments have not demonstrated a high degree of competence in infrastructure planning and investment. Funding will inevitably be borne by the Australian community either through user-pays fees or general taxation.
None of the above sounds like a slam dunk for mass immigration, does it? Quite the opposite in fact. If you want to lower workers' income, have traffic congestion get worse, pay more for utilities and housing, and see the environment get degraded, then continue with current mass immigration settings.
Thankfully, The Australian's Judith Sloan provided a much better entry into the immigration debate, drawing the obvious link between immigration and housing affordability, as well as questioning its economic merits:
…there is now a legitimate debate emerging about the link between immigration and housing affordability. The "progressive" view is that it is ridiculous to think there is a link and we would be mad to forgo the benefits of immigration…

[But] if it is true that there isn't a link between housing affordability and immigration, a demand factor, there is logically no link between housing affordability and negative gearing/capital gains tax, also a demand-side factor. You can't have it both ways…

It is simply common sense that high population growth associated with immigration will cause house prices to rise because the supply of housing cannot keep up with the surge in demand…

Australia has the largest formal immigration program, in relative terms, of all developed economies. Net overseas migration contributes well over half to population growth, and our population growth is highest among all English-speaking countries…

It's a big call to think that population growth of this magnitude will not affect housing afford­ability in the context of supply constraints that are slow to ease and the increasing preference of residents to herd into Sydney and Melbourne…

But what is the evidence on the economic benefits of immigration? If we take the most definitive recent estimate from the Productivity Commission, in fact those benefits are very modest and only occur in the long term.

In 2060 (in more than 40 years' time), it is estimated that GDP per person will be 7 per cent higher relative to zero net overseas migration. But if the age profile of immigrants more closely resembles the age profile of locals, the net economic benefits fall sharply.

Moreover, as the PC concedes, these economic benefits are partly the result of the fall in the relative wages of locals with the same skills as migrants. And there is no account taken of the costs of congestion, loss of social amenity or environmental impacts…

Businesses love high rates of immigration (more customers, ready supply of workers), but some local workers lose out…

The reality is that our immigration program is not as skewed to skills as its supporters make out and that the contribution of immigration to population growth has been consistently higher than 50 per cent since 2005.

While there are several factors explaining the deterioration in housing affordability, immigration cannot be ruled out as one of them.
Judith Sloan was the Commissioner in charge of the PC's 2006 review into the Economic Impacts of Migration and Population Growth, so on this topic she carries significant weight and her views should be taken seriously. And, not surprisingly, Sloan has found only modest economic benefits from immigration, but significant costs to ordinary workers' wages, congestion, housing affordability, and the environment.
Sloan's point about Australia's immigration program not being sufficiently targeted towards skills is also an important one. The below graphic, which comes from the PC's Migrant Intake into Australia report, shows that the immigrants overall have experienced lower median income, lower labour force participation, and higher unemployment than the Australian born population: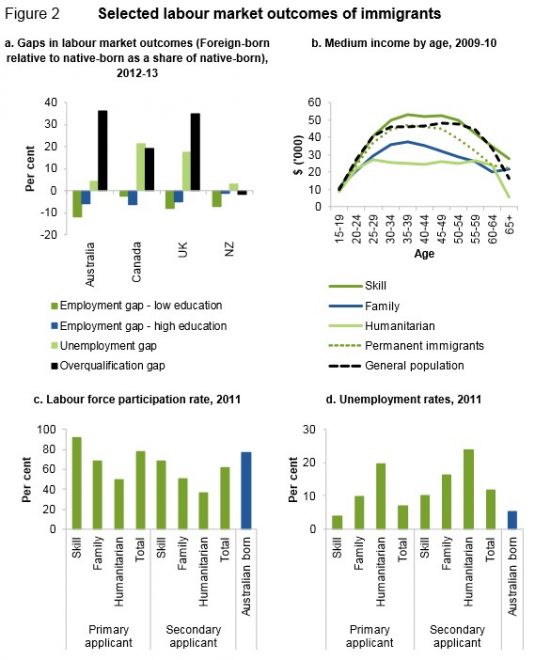 Moreover, research by Bob Birrell and Ernest Healy found that while 69.3% of Australian graduates aged 25-34 had managerial or professional work in 2011 and only 9.5% were not employed, only 30.9% of non-English-speaking-background [NESB] migrants who were graduates of the same age, who had arrived between 2006 and 2011 had managerial or professional work. And a full 31.1% were not employed. Most of this group of graduate arrivals (79%) were of NESB background (see below table).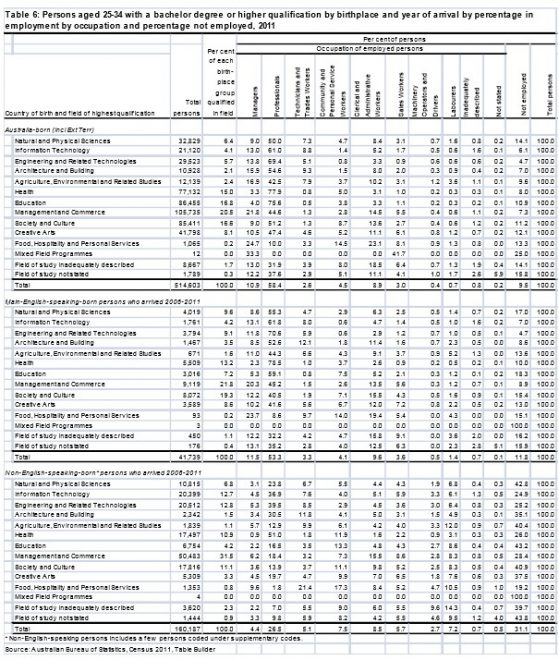 There goes the whole notion that immigrants are more productive than the incumbent resident population.
High immigration is a growth fig leaf for governments and associated rent-seekers to pretend they're doing a good job rather than pursue the more difficult but ultimately much wider benefits of productivity directed reform. As an old champion of the latter, it's time Paul Kelly recognised it. Same goes for Scott Morrison.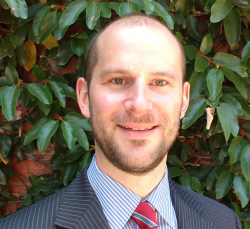 Latest posts by Unconventional Economist
(see all)