In what will be almost a year to the day after the last vehicle rolled-off Ford's Broadmeadows assembly plant, Australia's automotive assembly industry will shutter for good this October, ending nearly 70 years of local production.
Last month, Holden announced that it would shutter its Elizabeth assembly plant on 20 October 2017. And overnight, Toyota announced that its Altona assembly plant will shut on 3 October. From The ABC:
Toyota said staff would drop from almost 4,000 to 1,300 people when it stops manufacturing and moves most of its white-collar workforce to the city.

In a statement, the company said the plant would stop building Aurions in August, Camry Hybrids in September and Camry petrol models in October…

The company said it intended to produce 61,000 cars by the year's end – 26,000 for the domestic market and 34,000 to be sent overseas…

Mr Smith [AMWU] said it would be tough for workers to compete with an estimated 40,000 people who are employed by the broader industry.

"There's going to be so many people coming onto the jobs market at the same time, it's not just Toyota, it's the component suppliers and all the other industries associated with them," he said.
The official Department of Employment projection is for the closure of the car industry to cost some 27,500 manufacturing jobs over the five years to November 2020:
Advertisement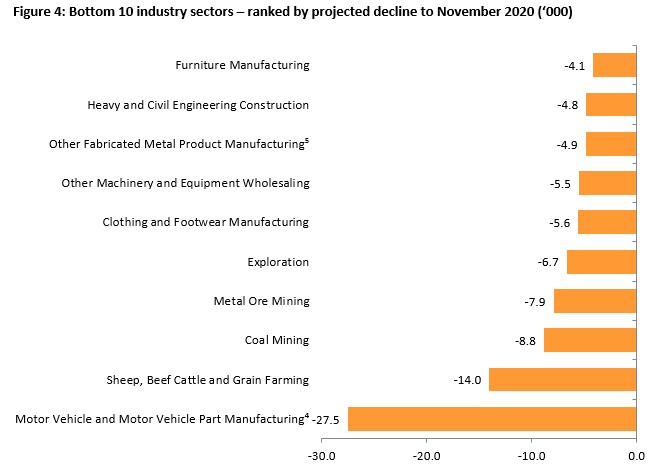 However, Valadkhani and Smyth (2016, Table II, p.698-701) also estimated that beyond the direct impact on manufacturers and parts suppliers, there will be a significant impact on output and tens of thousands of job losses in downstream and upstream industries, in particular the Professional, Scientific and Technical Services (PSTS) sector (see below chart).
Advertisement
On the uber-pessimistic side of the scale, University of Adelaide researchers, Lance Worrall and John Spoehr, estimated that the car industry's closure could cost up to 200,000 jobs once employment multipliers are added into the mix, with about $29 billion wiped off Australia's GDP.
Regardless, the impact of the car industry's closure will be large and represent a big hit to the economies of South Australia and Victoria.
It will also leave a big dint in Australia's balance of payments, with Australia's automotive industry becoming 100% consumers, not producers, from end-2017, meaning that all our cars will need to be funded by other exports or external borrowings.
Advertisement
This Coalition Government should hang its head in shame. It encouraged the car makers to leave by decrying the $500 million in taxpayer assistance paid to them only to then set aside an extraordinary $50 billion dollars to build a dozen submarines in Adelaide, in addition to setting aside another $35 billion to build nine frigates locally, all in a bid to "create" around 3,000 jobs.