Amidst the drivel of her housing speech on Thursday, RBA assistant governor, Luci Ellis, did make some interesting remarks around Australia's rental housing market:
A range of different data sources confirm that although young people move more often than older people, the big difference is between renters and owners (Graph 8)…

Looking just at the group of households who can be tracked through the whole life of the HILDA survey, and who didn't switch between owning and renting at any stage, you can also see that renters were also more likely to have moved many times in that 13-year period (Graph 9).

…we know that moving house can be disruptive and costly. So I question whether all those moves by renters were desired by those households. Many renters are happy with their current home, but are required to move because the lease expired or the landlord sold the property. If we are concerned about inequality of housing outcomes, perhaps we should focus less on the type of tenure, and more on security of tenure.
Ellis' point about security of rental tenure is an important one. A few years back, the Tenants Union lamented the fact that Australia's rental security is amongst the poorest in the world, making many renters second class citizens:
Australian renters experience some of the lightest-touch regulations in the western world.

Laws in other western countries offered more secure rental tenure, with longer lease terms, narrower reasons for eviction, and longer notice periods before a landlord could demand a tenant move…

Tenants in other countries also have more rights to keep a pet or make minor alterations such as small holes in the wall without the landlord's permission, it found.

In Australia, a typical lease lasts from six to 12 months compared to two to three years in France and Hong Kong. Germany and the Netherlands offer indefinite lease terms…
Therefore, there are sound reasons to undertake reforms to improve the security of renters and to ensure access to stable and affordable housing.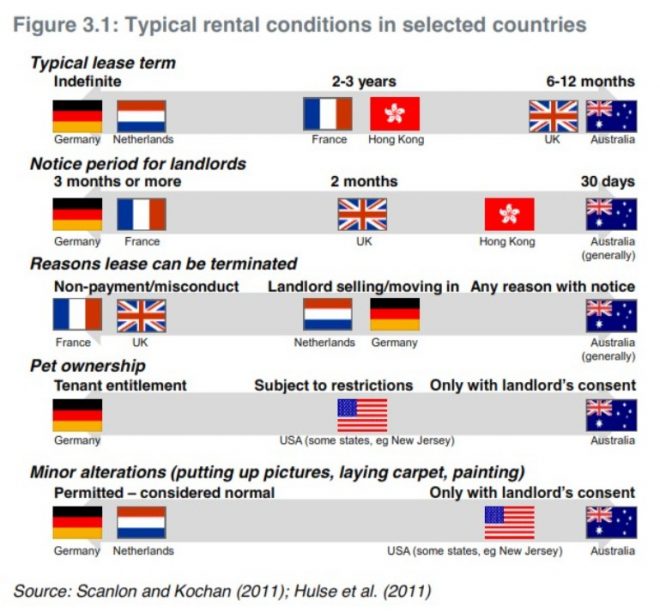 One of the great strengths of the German housing market is that it provides strong protections for tenants. Catherine Cashmore summarises the key features of Germany's rental system as follows:
Minimum tenancies in Germany are long – often starting at 2 years, with most 'unlimited' – meaning a landlord cannot easily evict without good reason to do so (and then only through a court process.)


Rent increases are strictly regulated – at a minimum occurring only once every 12 months, with limits on the incremental rise over any given period. For example, as a general guideline, a maximum could be 20% over 3 years (although this varies across different municipalities.)


Reasons for eviction can include a landlord needing to use the premises to reside in, however the 'need' must be justified – and not simply because they would 'like' to do so (as in Australia.) 


Properties must be presented in good condition – painted prior to each new tenant moving in, with renters often responsible for the provision of various fixtures and fittings, such as lights and window furnishings.


If the landlord wants to sell, they must provide proof that selling without a tenant would profit their cause more so than selling with.  Therefore due to the length and roll over of tenancies, rental stock is generally sold onto investors rather than owner-occupiers, with the renter protected from eviction.


Bonds equivalent to 3 months rent are placed in interest bearing accounts, so renters don't lose out on the rate they could expect to achieve if the cash was deposited in a normal savings account.


Long-term tenants are permitted to decorate accommodation and change the decor to suit their own tastes, promoting at least the feeling of 'ownership' over that of a temporary dwelling.

Property investors can expect a 7% yield, which at current borrowing rates is, particularly attractive to larger off shore equity firms and this sector is growing. 
I will add that because renting is the dominant housing choice in Germany (see below chart), the political system is highly sensitive to tenants' rights and perceived threats to the status quo typically receive prominent media attention and political responses.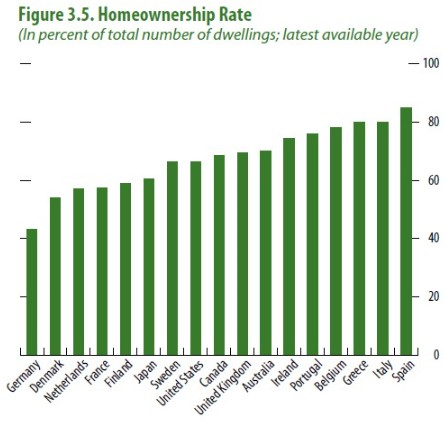 Also, because renters enjoy secure tenure (and housing supply is fairly responsive), Germans have little incentive to rush into owner occupation. As such, Germany doesn't suffer from the 'panic buying' and speculation often present in bubble housing markets, like Australia's.
While other aspects of the housing system should also be reformed – such as property taxation, planning, land release, immigration levels, etc – tenants' rights should definitely be added to the list, especially given the collapsing home ownership rate among younger Australians.