The last few days has seen an unexpected slump in crude oil prices, with West Texas Intermediate (WTI – the main marker for US prices) futures falling from $54 to just above $50: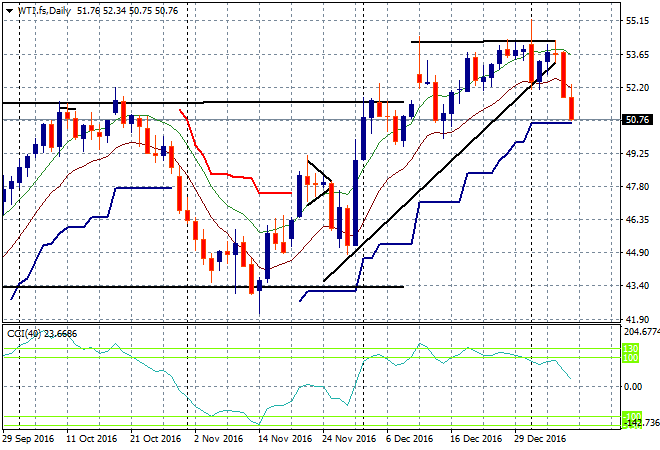 While not a big move relatively for oil – which can throttle up 50% in a month or reverse the same quite easily – from a technical and macro perspective, there are some problems ahead.
First the macro where the long drawn out agreement by budget crisis hit OPEC countries to raise prices by cutting output is under a Libyan threat.
From WSJ:
Libya's crude-oil production has more than tripled in the past six months. OPEC exempted Libya from any requirement to cut because the country has been riven by violence among militias that have severely disrupted its oil flows since the 2011 ouster and death of leader Moammar Gadhafi.

Now, the militias that once kept oil fields and ports closed have switched gears, striking deals with the National Oil Co., or NOC, as it is commonly known, to reopen important petroleum-producing infrastructure. They have left oil fields and equipment untouched, even as they fight in other areas.

The result: Libya's production rose to a three-year high of 708,000 barrels a day this week, an NOC spokesman said, after having fallen to less than 200,000 barrels a day this year. The country has Africa's largest oil reserves and has produced as much as 1.6 million barrels a day in the past.

Libya's output is flowing so freely that the NOC believes it could hit 900,000 barrels a day this year, up from average daily production of 575,000 barrels a day in November when OPEC struck its deal. That would cancel out the entire cut contributed by Russia and could force Saudi Arabia to slash more output than planned to ensure OPEC meets its output targets, something the kingdom's officials have suggested they would do.
This could threaten to blowout to almost 1 million barrels a day, which would wipe out the Russian planned cuts and force the ISIS-light state of Saudi Arabia, which faces the deepest budgetary black holes from the depressed oil price, to cut even further.
Let's put the oil price quagmire in context. The weekly chart of WTI shows very strong resistance at $60USD per barrel, a technical level that hedge and quant funds are watching closely as OPEC wants to get back above: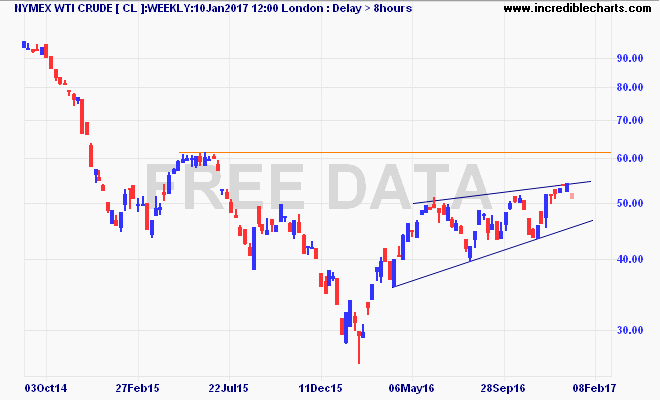 The bearish rising wedge pattern that has unabled to surge back up to that level since the end of November OPEC decision, is halting further speculation in crude prices.
Libya's extra output is not certain, given the lack of government control over militia and the still  present threat of ISIS returning from the country's south. Control of the country's oil output means control of the country.
There are other threats out there too, including:
Iraq which announced plans to increase exports from January onwards
Nigeria, an exempt-OPEC state that increased its output by 200,000 barrels per day before Christmas
Kuwait's oil minister dampening concerns of immediate cuts, saying  70% of the cuts will take up to "six months"
US selling off some of its strategic petroleum reserve.
The level for investors to watch is the $50USD per barrel hook that most speculative positions are shaping around. If Libyan output and other "positives" bear down on the market without a commensurate demand response, oil could be heading to $40 instead of $60 very quickly indeed.