Not much news overnight around the Italian referendum but the de-globalisation revolution is running red hot in France. French bond spreads to Germany have not moved as much as Italian but they are widening: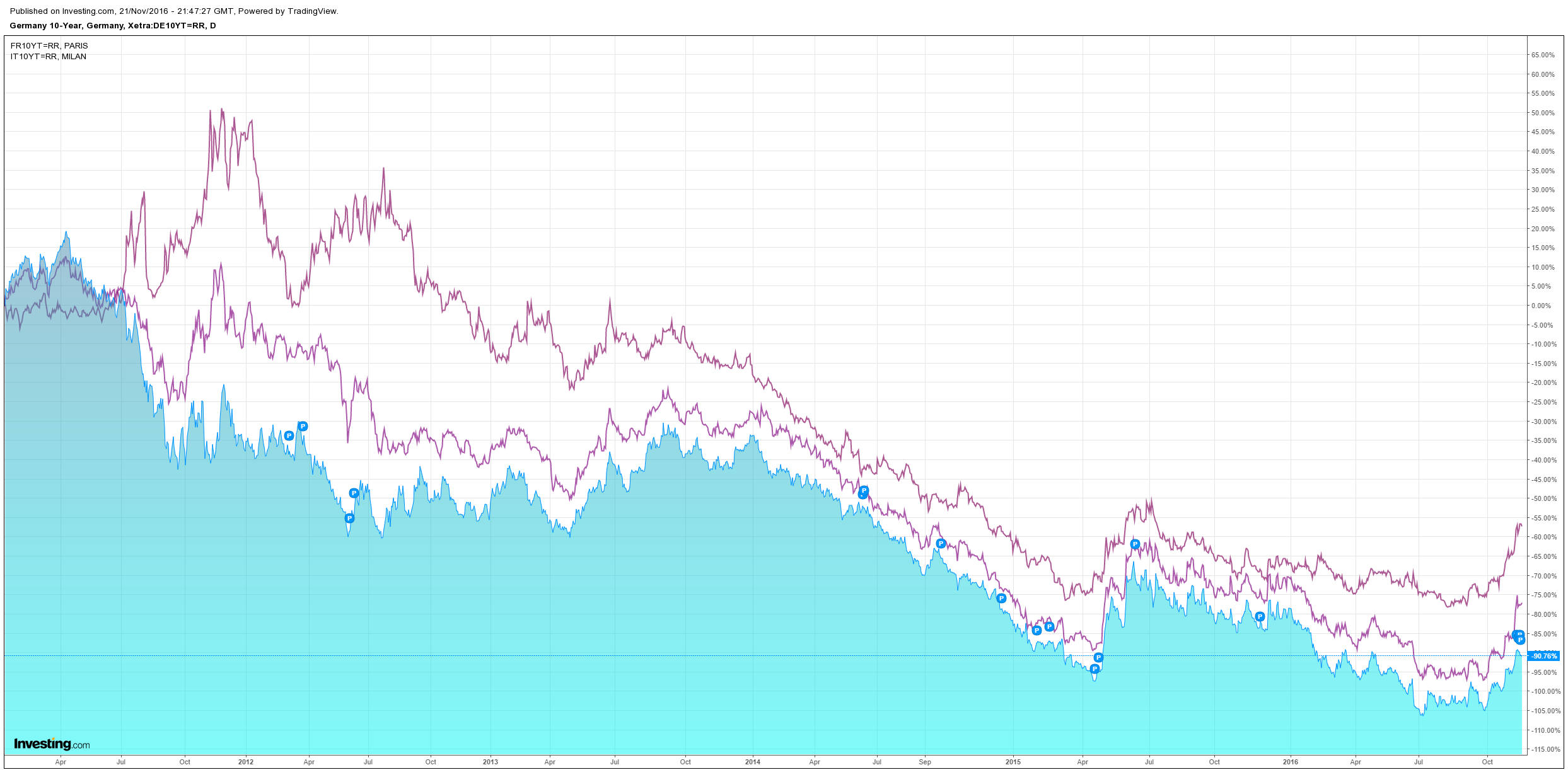 From Gideon Rachman at the FT:
Following this weekend's centre-right primary, it seems likely that Ms Le Pen will face a run-off in May against either François Fillon or Alain Juppé. Both are Hillary Clinton-style establishment figures, who would be ideal opponents for the leader of the far-right.

The consequences of a victory for the far-right in France would be drastic for both European and world politics. A Le Pen presidency could well lead to the collapse of the EU. She wants to pull France out of the European single currency and to hold a referendum on France's EU membership.

Even if Ms Le Pen softened her stance in office, it is hard to see how Angela Merkel's Germany could work with a nationalist and authoritarian France. With Germany and France set on radically different paths, Franco-German antagonism would return to the heart of European politics.

The global implications of a Le Pen victory would also be severe. Four of the five permanent members of the UN Security Council would be occupied either by undemocratic governments (Russia and China), or by democracies led by nationalist rightwing leaders (US and France). Under such circumstances, the international legal order could crumble, as might once again became right.

Of course, even post-Brexit and post-Trump, there is nothing inevitable about a Le Pen victory in France. For what it is worth, the opinion polls still show her likely to lose decisively in the second round of the election. And although Ms Le Pen has moved to embrace the Trump White House and has been keenly supported by Mr Trump's "alt-right" advisers, there are important differences between the Trump and Le Pen phenomenons.

Unlike Mr Trump, the National Front has been around for decades and is more of a known quantity to voters. France's bitter memories of the Vichy regime of the 1940s may also mean that the country is better inoculated against far-right politics than the US.

Set against that, however, is the possibility that French voters, who might have feared that a Le Pen presidency would turn their country into an international pariah, may now feel that Mr Trump's victory has given them "permission" to vote for the far-right.

The objective conditions for a turn towards authoritarian nationalism are clearly stronger in France than in the US. France has been subjected to savage terrorist attacks by Islamist extremists. There are large, poorly integrated Muslim populations in most big cities. Unemployment among the general population is over 10 per cent.

Above all, the political establishment is despised. The approval ratings of President François Hollande recently hit an astonishing low of 4 per cent. The political, social, economic and international environments could not be more favourable for Ms Le Pen.
And from Myriam Francois at IBT:
One opinion poll places Fillon well ahead of Juppe in the next round, suggesting the final run-off could be between Fillon and Le Pen, in the knowledge the Socialist party has yet to provide a candidate able to rival either of them.

Fillon has already come under attack for representing an apparent 'Thatcherisation' of the right, an unflattering comparison in the French context to a woman seen as responsible for bringing trade unions, a powerful political force in France, to their knees.

Perhaps in a political olive branch to socialist voters – unlikely to see their political colours represented in the final round of the elections – Fillon recently announced that in the case of a Socialist/National Front run-off, he would pick the former. That is certainly something he is hoping will be reciprocated by leftist voters if he does make the presidential contest. Though many will be skeptical given that the UMP, the antecedent party to 'Les Republicains', had previously called for a blank vote in such circumstances and Fillon himself had towed the line, describing his position as 'neither-neither' (neither the Socialists, not the National Front).

For their part, the National Front has joined a chorus of voices already picking holes in Fillon's economic plans and relishing the fact the debates in the primaries echoed many of the FN's priorities – national identity, France's role in Europe, immigration and extremism.

A central fear for many in France has been that the disunity within the right, which has been plagued by internal squabbling, and perceived absence of political leadership from the left, where current President Francois Hollande polled almost 90% disapproval over the summer, would leave leftist voters with nowhere to turn. This would leave a possible run-off between the right and the far-right on traditionally far-right themes, which could not only embolden, but possibly hand Le Pen victory. If only through large scale abstention. Over 20% of voters abstained in the first round of the 2012 presidential election which presented a far less polarised political scene.

Currently still under a state of emergency, facing regular threats from terrorism, not least the uncovering of a foiled attack today, the question of national security will continue to dominate the political stakes. But beyond that, serious questions over the nature of some of France's cornerstone institutions are being posed – Fillon wants to cut public spending by €100bn, a figure not dissimilar, if slightly less vague than the promise of his now main rival on the right Alain Juppe.

Both want to do away with the 35h working week, with Fillon pushing for the European union maximum of 48hours, a proposal likely to deeply anger worker unions – who protested on and off for months over changes to employment laws passed in August this year – seen largely as more favourable to companies and as prejudicial to worker rights.

Fillon wants a referendum on quotas for immigration, he wants to ban the burkini (yes, actually!) and he wants to harden the naturalisation process. Such promises will speak to voters vacillating between the right and far-right, the sort of terrain Sarkozy was keen to try and recoup votes from himself, but it's also a dangerous tactic. Some analysts suggest it only lends further credence to Le Pen's agenda by allowing her party to dictate the terms of the presidential debate.

What's more, Fillon's traditional conservatism will likely alienate many on the left who would otherwise choose to vote for Les Republicains to keep the National Front out. His desire to revisit same-sex couple adoption, a rapprochement with Russia over Syria, and cuts to the numbers of civil servants may rule him out completely.

The danger is that between the left's vacuum and the right's shift to right, Le Pen may find the petri-dish ripe for a worrying experiment in French politics.
There is another danger too. As strongmen (and women) take power worldwide, the radical right not only enjoys the ring of legitimacy but the secret fear may spread among polities that without such a leader then their respective national interests will get squandered to other nations with strongman leaders.
Do-nothing Malcolm and his waffling globalism is a classic case in point. Put him up against a semi-competent leader promising the world in wage rises, 'Australia first' trade agreements, infrastructure fixes, lower immigration and controls on Chinese investment who do you think will win?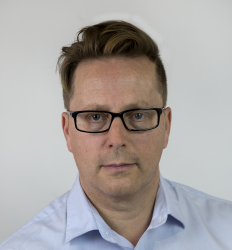 Latest posts by David Llewellyn-Smith
(see all)