The de-globalisation revolution intensifies today as Italian PM Matteo Renzi confirms he may resign if he loses his referendum, via Reuters:
Italian Prime Minister Matteo Renzi suggested on Monday that he may not stay on if a referendum on constitutional reform that he is championing fails.

Asked in a radio interview what he would do if the 'no' vote won in the Dec. 4 referendum, he said: "If I have to stay on in parliament and do what everyone else has done before me, that is, to scrape by and just float there, that does not suit me."

Polls have suggested the 41-year-old prime minister may lose the referendum, which, if the 'yes' vote wins, would reduce the role of the upper house Senate and cut the powers of regional governments.
He'd better get his running shoes on then, from Deutsche:
Scenario 1: Best case – the Senate reform is approved (indic. prob. 40%)

The approval of the Senate reform should be, at least in the short term, the best-case scenario and most market friendly outcome. The government would likely last until the end of the legislature in Q2 2018. In any case, the approval of the Senate reform would be no panacea:

We expect neither major reforms nor a systemic solution for the banking sector before the next election. Hence, the economy and banks will likely continue to be vulnerable to negative shocks.
A "Yes" victory would boost pro-reform, pro-European parties but eurosceptic parties will continue to draw support unless the recovery picks up substantially, which we think is highly unlikely.
The ECB QE tapering debate could return to dominate markets in the second half of next year ahead of the next election.

Scenario 2: Tail risk – an immediate election

In the case of a rejection of the Senate reform (indic. prob. 60%), the most disruptive scenario would be an immediate return to election in Q1 2017. The trigger would be a failure to form a new government due to unbridgeable divisions among traditional parties. A failure to find a compromise on a new electoral law could also have a similar impact but with a longer time horizon.

Overall we attach a low likelihood to this event, i.e. no more than perhaps 20%. A new election would take place with a hybrid system if the Constitutional Court does not rule against the new Lower House electoral law.

Based on current opinion polls, the 5SM would be the favourite to win the majority premium at the Lower House. The 5SM appears to be calling for a return to the 1980s with a referendum on the euro, higher fiscal deficits and a proportional electoral system.
Even if the 5SM manages to win at the Lower House it would have to secure the confidence vote of a Senate elected with a proportional system. The 5SM would need to find support from other parties despite its longstanding unwillingness to form coalitions.
The 5SM could look for a compromise with other euro-sceptic parties, Northern League and Brothers of Italy, by promoting a non-binding, consultative referendum on euro membership. These parties would find it extremely difficult to collaborate to form a government, but we can see similarities with Catalonia. There, a very heterogeneous and loose coalition of centre-right, centre-left and radical left parties has so far been kept together only by the common support for a pro-independence referendum.

Scenario 3: Muddle through – our post-referendum central case scenario

If the Senate reform is rejected our central case scenario is that Renzi will likely resign and that a new government supported by a similar parliamentary majority, with a narrow objective – writing a new electoral law – and limited duration will be formed. The President of the Republic could give the mandate back to Renzi, or alternatively to another member of the PD or the current Finance Minister. We would expect an early election in June 2017, although the government could last until the second half of the year.

In the best-case scenario we could modestly revise up our 2017 GDP projections. Bank lending would likely improve and government spreads narrow. We would expect Italian bank equities to outperform.

In the tail-risk scenario we think Italian assets could come under intense pressure in six incremental stages. In the muddle-through scenario the initial market reaction would probably be modestly negative. As a government is formed, there should be a partial recovery.

Under the muddle-through scenario there is a risk of market complacency as investors dismiss political instability as Italy's status quo.

We would disagree and see a non-trivial risk that a new, prolonged period of ineffectual governments leads to systemic instability in the medium term.
Italian bond yields are restive but still contained. The five year: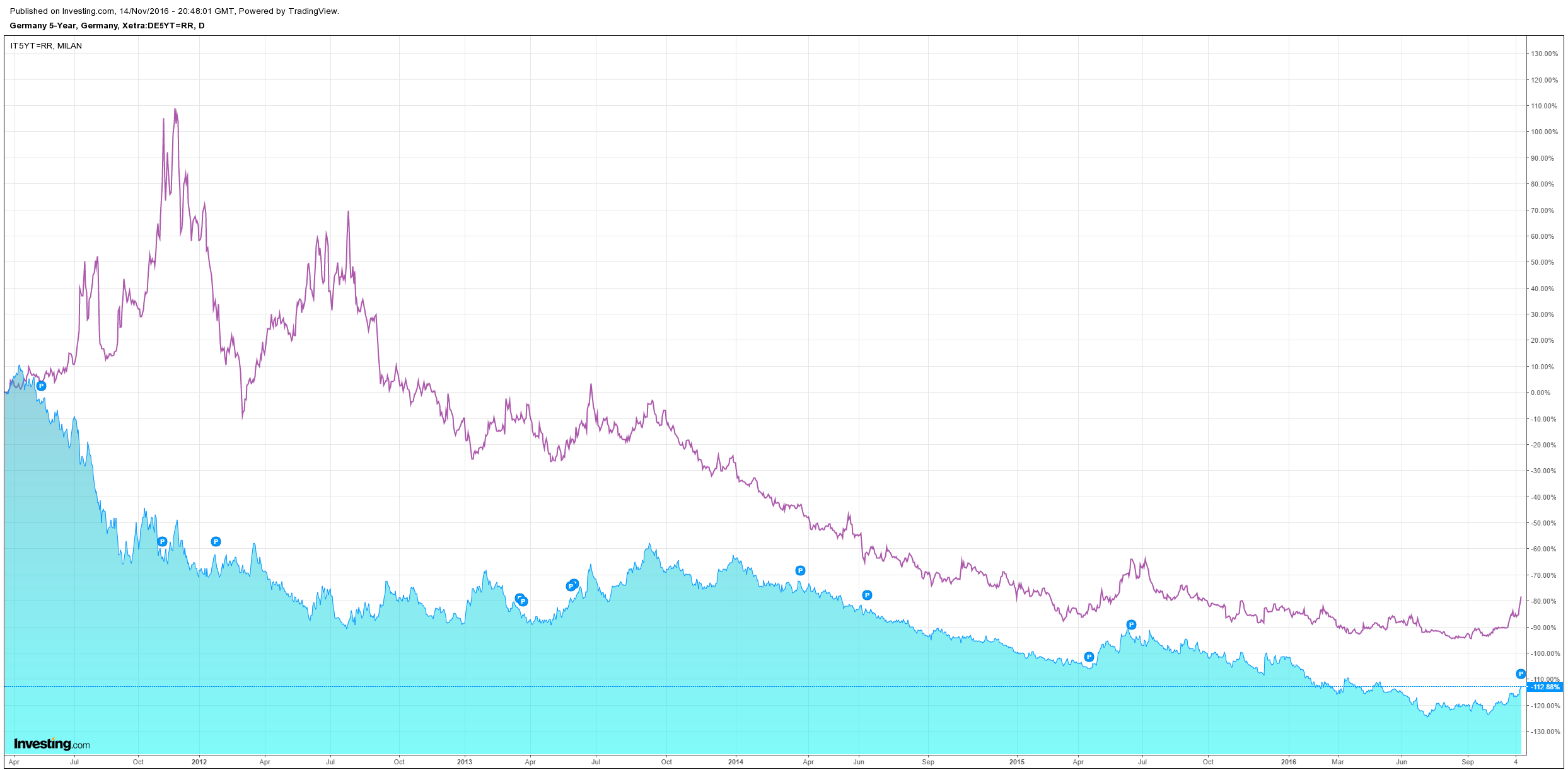 And ten: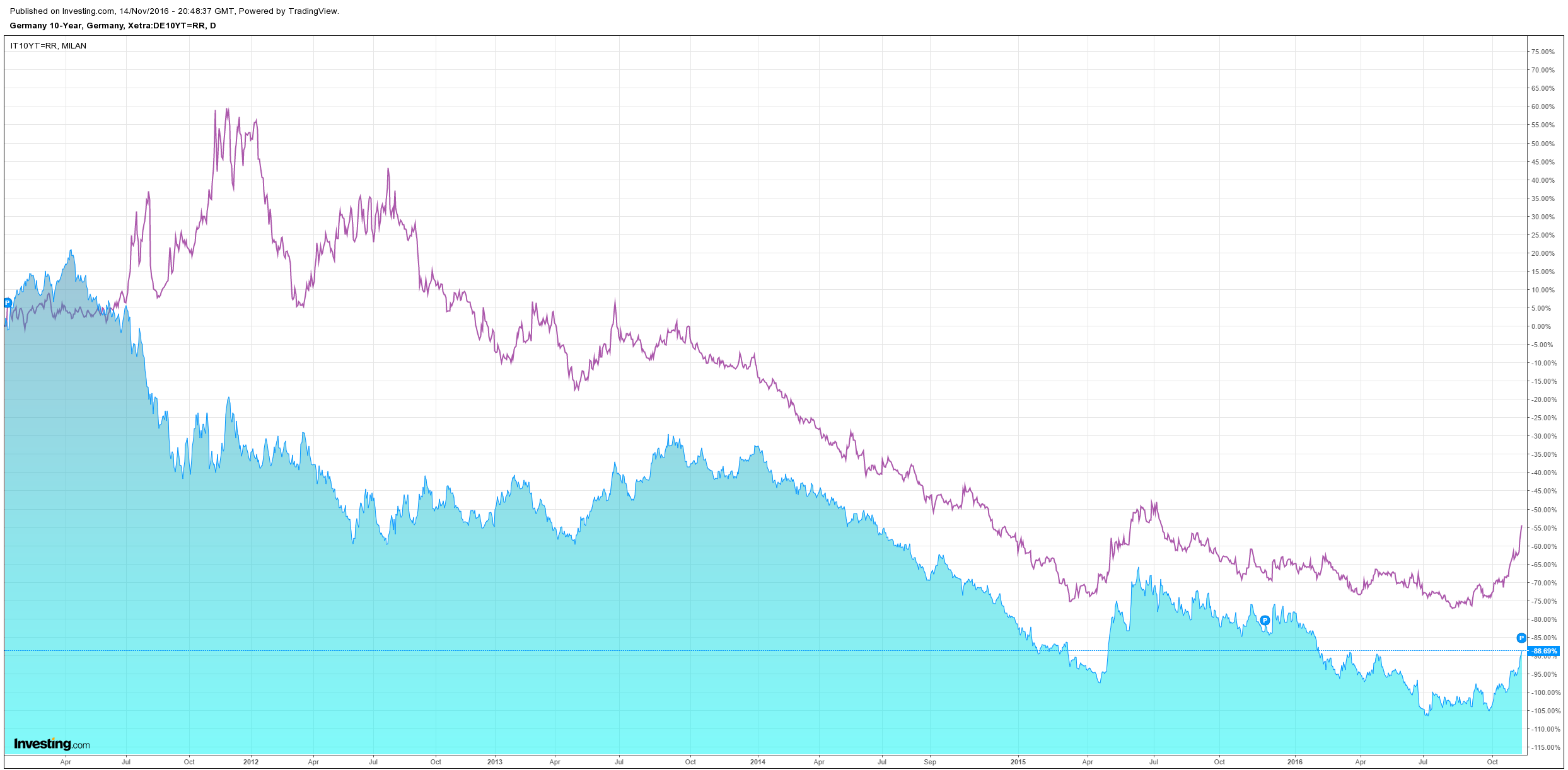 Italexit remains a Doomsday scenario for me, leading to capital flight from and within Europe as the euro itself comes under fundamental question. Italian and other PIIGS nation assets would collapse. It would dramatically raise global funding costs as variety of Italian defaults rained upon markets and very likely end the global business cycle.
Complacency be damned!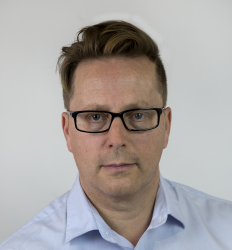 Latest posts by David Llewellyn-Smith
(see all)