Earlier this week I presented the latest population projections from the New South Wales and Victorian Governments, which forecast astonishing population growth for both Sydney and Melbourne.
According to these forecasts, Sydney's population is projected to reach 6,421,850 by 2036, whereas Melbourne's population is projected to reach 8,000,000 by 2051.
After presenting these "horrifying" projections, a reader emailed me with the following comment:
"I think you are being a bit alarmist about population growth in our major cities. Population growth was higher in the post-war period. Also, immigration isn't to blame for our woes, but rather poor planning, infrastructure provision, etc.

If anything, in the medium to long run, increased immigration will actually help put political pressure to change the underlying issues".
I emailed the reader back and stated that I agreed that poor policy, planning, etc shares much of the blame. But that importing a whole bunch of people for the sake of it makes these blunders so much worse.
I also asked why they assumed the policy situation would magically turn around? That is, our governments have failed so miserably at catering for the past 12 years' population explosion, so what makes them so confident that they will cater for the next 30+ years of rapid growth?
To add further insight into why the population projections for Sydney and Melbourne are so ghastly, I have plotted both historical and projected population growth at the state level.
The first chart shows the historical populations of New South Wales and Victoria since federation, along with the respective state governments' projections: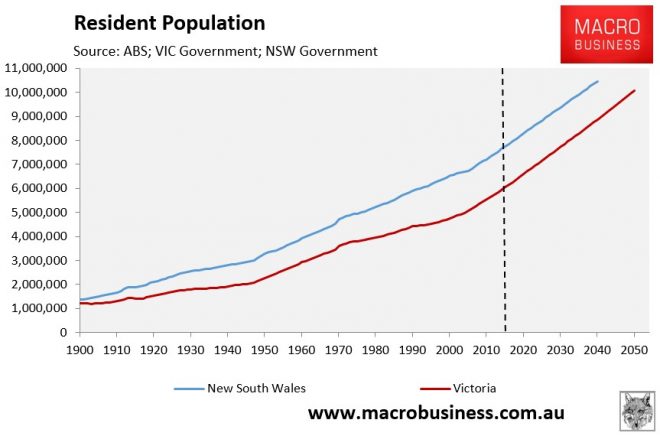 And the next chart plots New South Wales' historical and projected population change: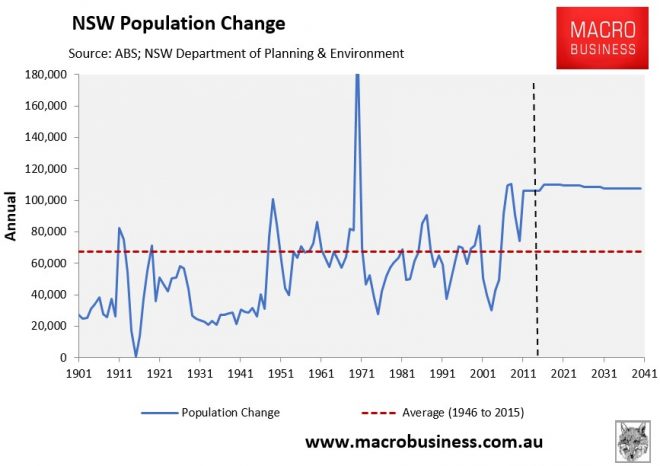 Since the Second World War, New South Wales' population has grown by an average of 67,482 people per year, which includes the past 12 year's frenzy whereby the population has grown by 85,000 per year.
However, over the next 25 years, New South Wales' population is projected to grow by an average of 108,531 people per year!
The situation is even worse in Victoria: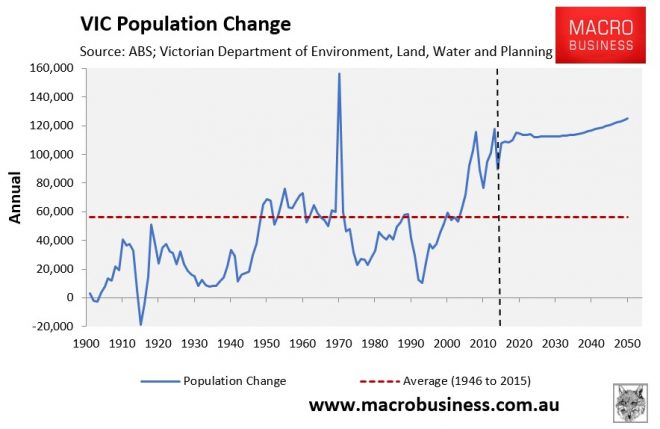 Since the Second World War, Victoria's population has grown by an average of 56,199 people per year, which again includes the past 12 year's frenzy whereby the population has grown by 89,000 per year.
However, over the next 36 years, Victoria's population is projected to grow by an average of 115,155 people per year!
The above charts highlight in all of their hideous glory why both Sydney and Melbourne residents are facing a huge shock to their living standards. Both cities are already straining under 12 years of rapid population growth and are ceasing to function properly. And yet population growth is projected to remain at unprecedented levels for decades to come.
With both city's populations growing at roughly twice the pace of the post war period, they will need unprecedented infrastructure investment just to keep up with the population expansion, let alone make up for past shortfalls.
Sadly, our governments' record on this front is poor to say the least, with both cities already facing huge infrastructure deficits, which have helped cause crippling congestion, deteriorating housing affordability, declining overall livability and hollowing out of tradable sectors. There is nothing in our politician's skill sets to suggest that they can cope with the extraordinary ramp up. The evidence is, if anything, that Australia's political economy is itself neither sufficiently clever nor robust enough to deal with it.  Then there are the social and strategic implications.
Don't just take my word for it, the Productivity Commission has also raised concern about the government's ability to mitigate the negative impacts of rapid population growth:
High rates of immigration put upward pressure on land and housing prices in Australia's largest cities. Upward pressures are exacerbated by the persistent failure of successive state, territory and local governments to implement sound urban planning and zoning policies…

Urban population growth puts pressure on many environment-related resources and services, such as clean water, air and waste disposal. Managing these pressures requires additional investment, which increases the unit cost of relevant services, such as water supply and waste management. These higher costs are shared by all utility users…

Immigration, as a major source of population growth in Australia, contributes to congestion in the major cities, raising the importance of sound planning and infrastructure investment. While a larger population offers opportunities for more efficient use of, and investment in, infrastructure, governments have not demonstrated a high degree of competence in infrastructure planning and investment. Funding will inevitably be borne by the Australian community either through user-pays fees or general taxation.
Again I ask: where is the government's plan to cope with the projected population explosion, and why is it desirable? And how do our politicians propose that our big cities accommodate this never-ending flood of people without adversely impacting existing residents' living standards? How will this impact social harmony and our strategic position in the region?
The case for a "Big Australia" has never been made, which is why Australia desperately needs to have a national discussion about population policy before the situation gets too far out of hand.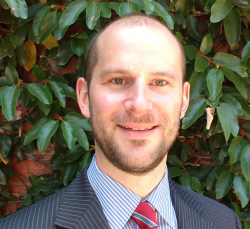 Latest posts by Leith van Onselen
(see all)