From Domainfax:
The first chief executive of the National Broadband Network has weighed into the election debate on broadband policy to declare the Coalition's multi-technology rollout a "colossal mistake" and back Labor's plan to increase the use of fibre directly to the home.

In a rare public intervention, Mike Quigley told the University of Melbourne in a speech on Wednesday night that Labor's original plan to deliver fibre-to-the-premises to 93 per cent of the population would have cost $45 billion – far less than estimates of $64 billion to $94 billion.

He criticised the financial assumptions which the Coalition used when it was in opposition to discredit Labor's project. He called their forecast of a cost blow-out to over $94 billion "a fiction" and "impossible to be arrived at by sane analysis".

He said every forecast made by NBN Co before the 2013 election, and for which there was now data, proved NBN Co's estimates were right. For example, in 2013 NBN Co estimated the average revenue per user per month would be $39 by 2015. The Coalition forecast it would only be $29. In fact, average revenue per user was now at $43.

…In the speech, Mr Quigley rubbished the copper-based fibre-to-the-node technology, a centrepiece of the Coalition's rollout, and said fibre-to-the-premises (FTTP) "is the only safe long-term bet for Australia's fixed broadband network".

"To spend billions of dollars to build a major piece of national infrastructure that just about meets demand today, but doesn't allow for any significant growth in that demand over the next 10 or 20 years, without large upgrade costs, is incredibly short-sighted," he said.

…"And equally a pity that the Coalition has put their faith in what has turned out to be a short-sighted, expensive and backward-looking MTM [mixed technology model] based on copper.

"The nation is going to be bearing the consequences of those decisions for years to come in higher costs and poorer performance in an area that is critical to its long-term future.

"Betting tens of billions of taxpayers dollars at this time on copper access technologies, as the Coalition has done, is a huge miscalculation."
I can't comment on the technologies but it did always strike me as pretty stupid to change tech mid-stride and to limit an off balance sheet – that is, no impact upon the Budget – huge productivity-oriented infrastructure program in the middle of an historic capex crash: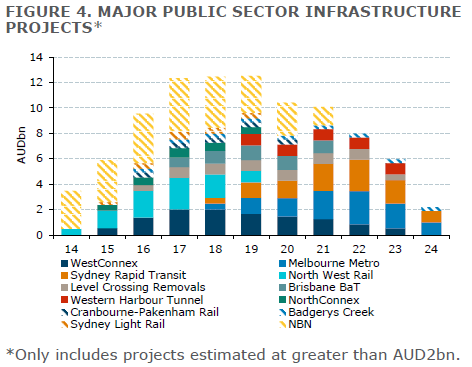 History is surely bearing that out now.