Late last year, Liberal Democratic Senator, David Leyonhjelm, truly 'jumped the shark', appealing to the National Rifle Association (NRA) in America not to follow Australia's lead and implement greater gun control.
In the interview (above), Leyonhjelm argued that tighter gun restrictions in Australia made absolutely no difference to firearms violence:
"I dont think Australia is a model for the United States on gun control at all…

[Gun control after the Port Arthur Massacre] made no difference to firearms violence – violence overall. In fact we had a tick up in general violence after the gun ban…

We are a nation of victims – you cannot own a gun for self defence. It doesn't matter what the circumstance, it doesn't matter how big the threat, you cannot defend yourself. The criminals still have plenty of guns. There's no shortage of guns. There's a vigorous black market for guns. So it's really not made the slightest bit of difference. If you want a gun, you can get one.

Look at what Australia did. It's a defenseless country these days. I'm absolutely in awe of the success of the NRA at holding back the tide. And it never gives an inch. We love the NRA here in Australia amongst us owners. And in fact we rely on you guys to also help hold the line in Australia.

[Gun control]…is not something that any country should contemplate. It is completely disarming the population…"
Now, a landmark study has been released finding that Australia's tighter gun laws have caused a significant reduction in firearm violence, thus debunking Leyonhjelm's claim. From The Guardian:
Researchers from the University of Sydney and Macquarie University analysed data on intentional suicide and homicide deaths caused by firearms from the National Injury Surveillance Unit, and intentional firearm death rates from the Australian Bureau of Statistics. For the period after the 1996 reforms, rates of total homicides and suicides from all causes were also examined to consider whether people may have substituted guns for alternative means.

From 1979 to 1996, the average annual rate of total non-firearm suicide and homicide deaths was rising at 2.1% per year. Since then, the average annual rate of total non-firearm suicide and homicide deaths has been declining by 1.4%, with the researchers concluding there was no evidence of murderers moving to other methods, and that the same was true for suicide.

The average decline in total firearm deaths accelerated significantly, from a 3% decline annually before the reforms to a 5% decline afterwards, the study found.

In the 18 years to 1996, Australia experienced 13 fatal mass shootings in which 104 victims were killed and at least another 52 were wounded. There have been no fatal mass shootings since that time, with the study defining a mass shooting as having at least five victims.

The findings were published in the influential Journal of the American Medical Association on Thursday…
The United States has one of the highest rates of gun ownership in the world, along with a high homicide rate. As shown below, the US has 88 firearms per 100 people (15 in Australia); 60% of homicides in the US are by firearm (11.5% in Australia); and the homicide by firearm rate per 100,000 population is 2.97 in the US (0.14 in Australia):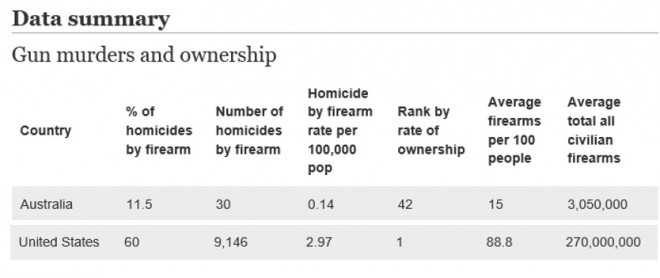 Perhaps if Senator Leyonhjelm is such a fan of US gun laws he should seek to migrate there?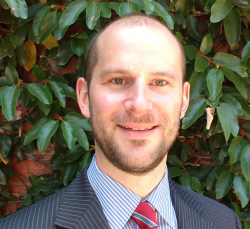 Latest posts by Leith van Onselen
(see all)