The WA Budget was out late yesterday. Here are it's key assumptions: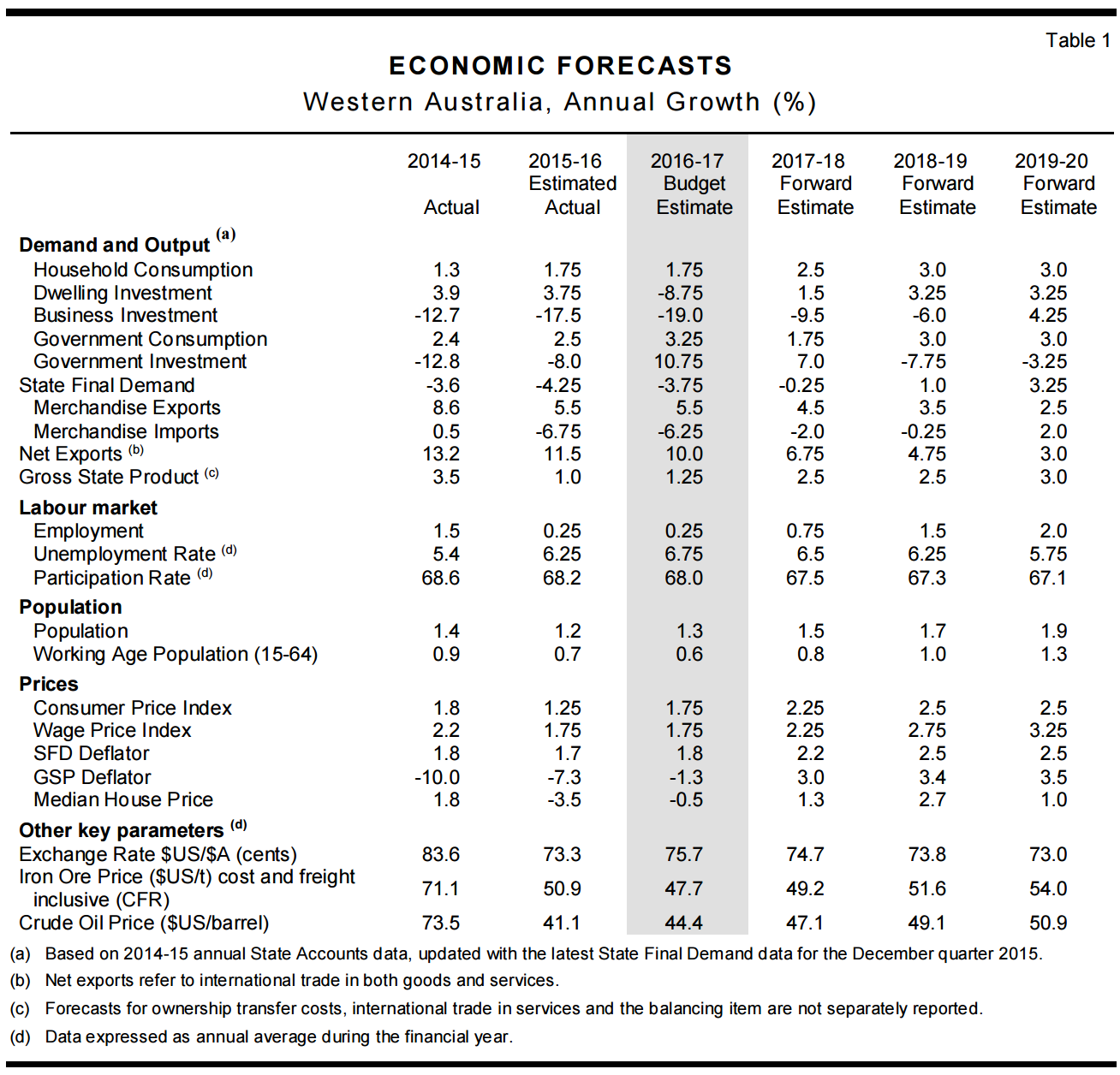 Versus last year: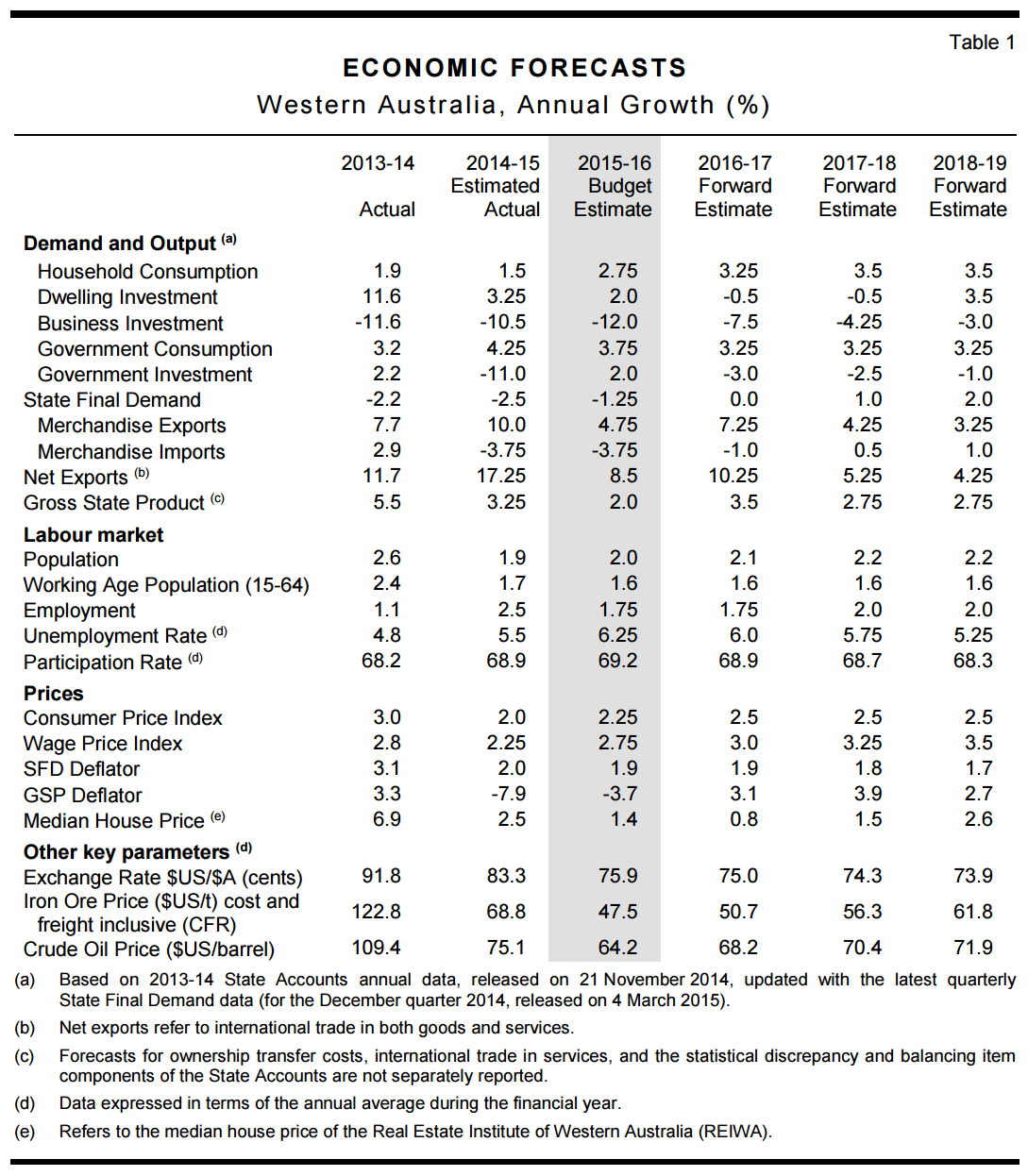 And to make it easier, here are the big changes:
2016/17 economic outlook annual growth
15/16 Budget
16/17 Budget
Change
State final demand
0.00
-3.75
-3.75
Dwelling investment
-0.50
-8.75
-8.25
Business investment
-7.50
-19.00
-11.50
Government investment
-3.00
10.75
7.75
Unemployment rate
6.00
6.75
0.75
Wage price index
3.00
1.75
-1.25
Iron ore price
50.70
47.70
-2.30
Without putting too fine a point on it, this might be a different economy. Every number has been decimated and stimulus is now pouring out. The context hasn't changed since last year's Budget, it's just that last year the WA Treasury bald-faced lied about the economy. It's still too bullish this year and in outer years but at least it is now on the moon as opposed to swimming around Uranus.
Take for example business investment which last year pretended it would fall progressively by -37.25% to 2018. Now the fall is -52% over the same time frame. Here it is in charts. The old: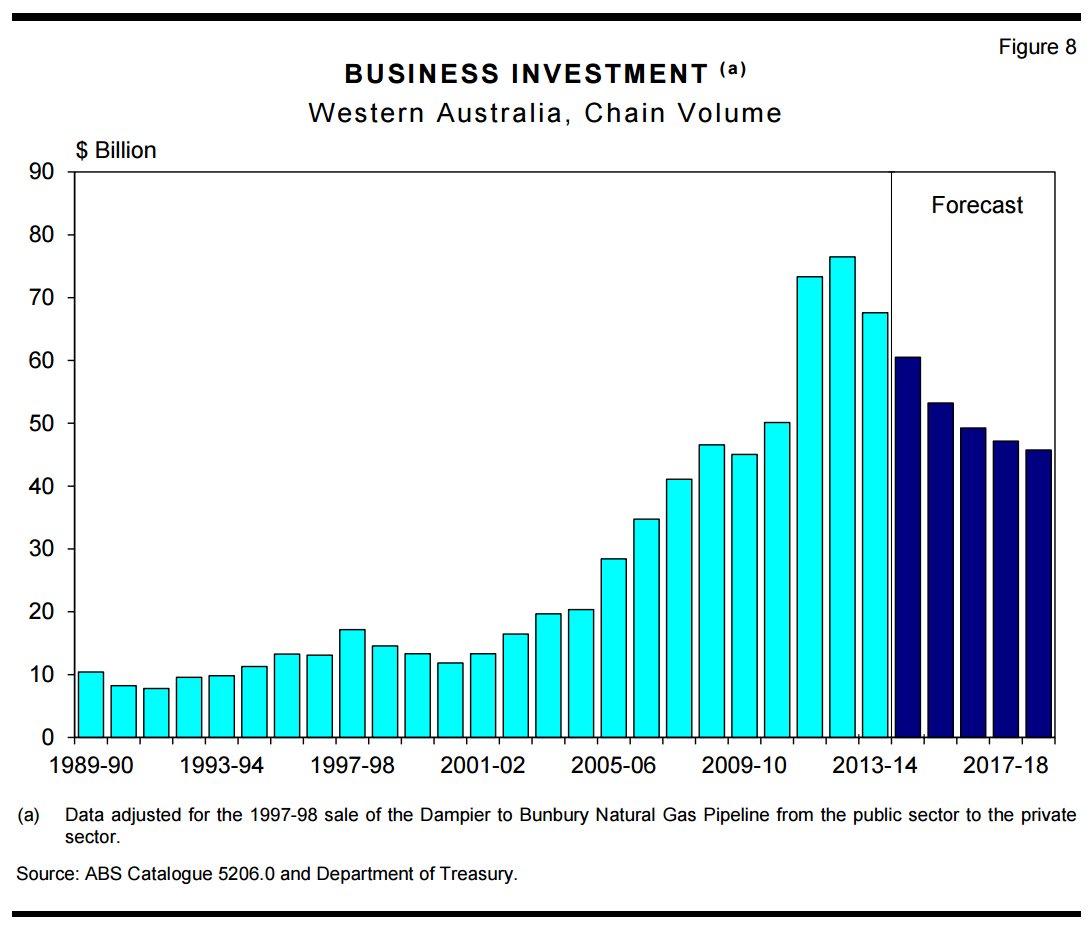 Versus the new: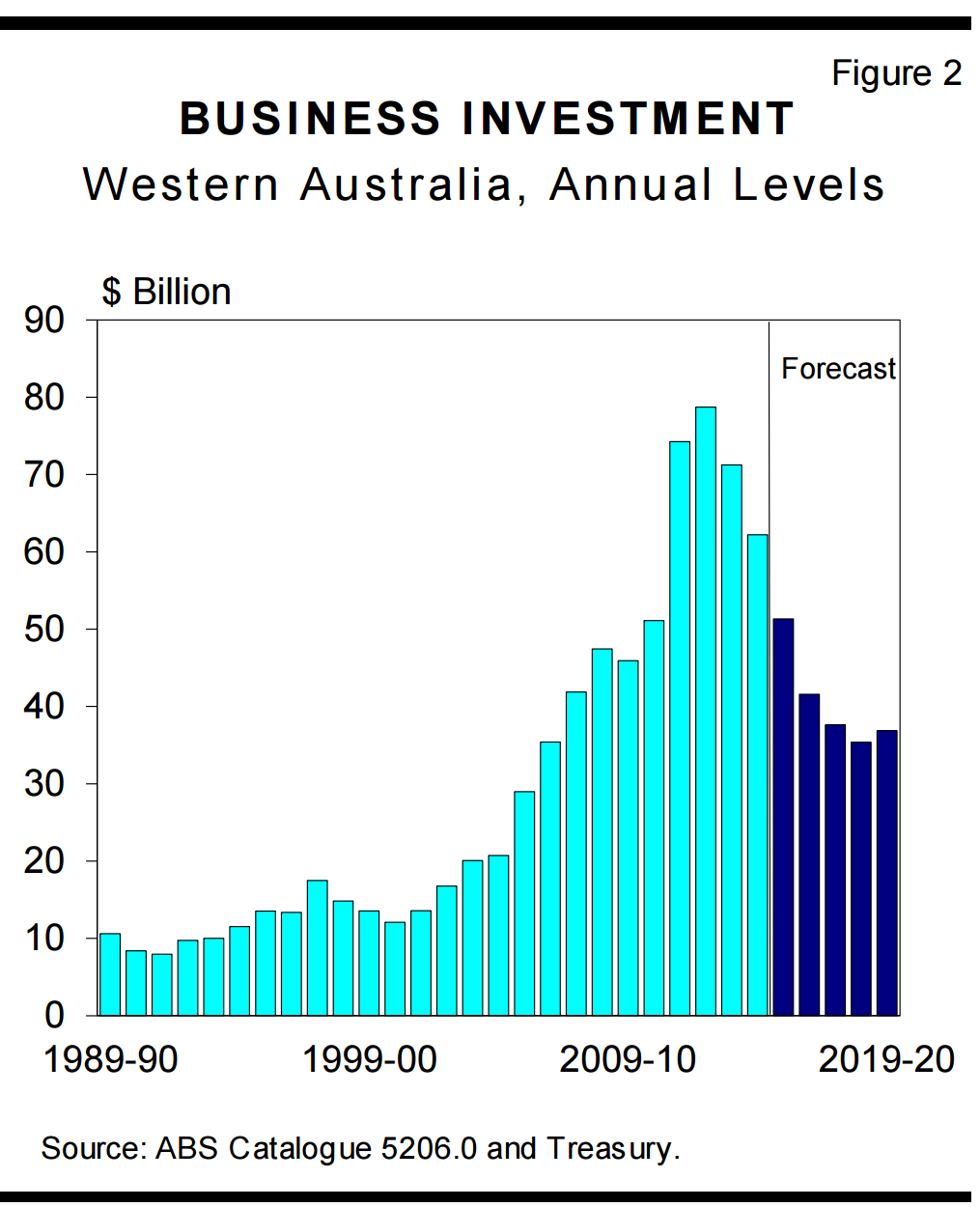 But it is still far too bullish. The number for 2018 should be $20 billion tops. More revisions ahead next year!
It's Friday, it's been a long week, and in truth there's little point in destroying the Budget blow by blow again. We know that it's still a fantasy. More interesting is what the partial sobriety of the WA Treasury does to the shitfaced forecasters at the national Treasury.
The WA iron ore price forecast is $42.70FOB versus $55FOB for the Feds. They're both still drunk – with the best guide to future pricing, the Singapore 12 month swap now at $35 – but one is quietly swaying as it holds up the bar whereas the other is cavorting on a  stool with its pants down, projectile vomiting over the room.
Moreover the volume forecasts are just as divergent with WA Budget reasonable while the Federal Budget uses the propaganda downloaded directly from the Ministry of Dirt (or Office of the Chief Economist, Department on Industry to some). If one extrapolates the respective forecasts to revenue we get this: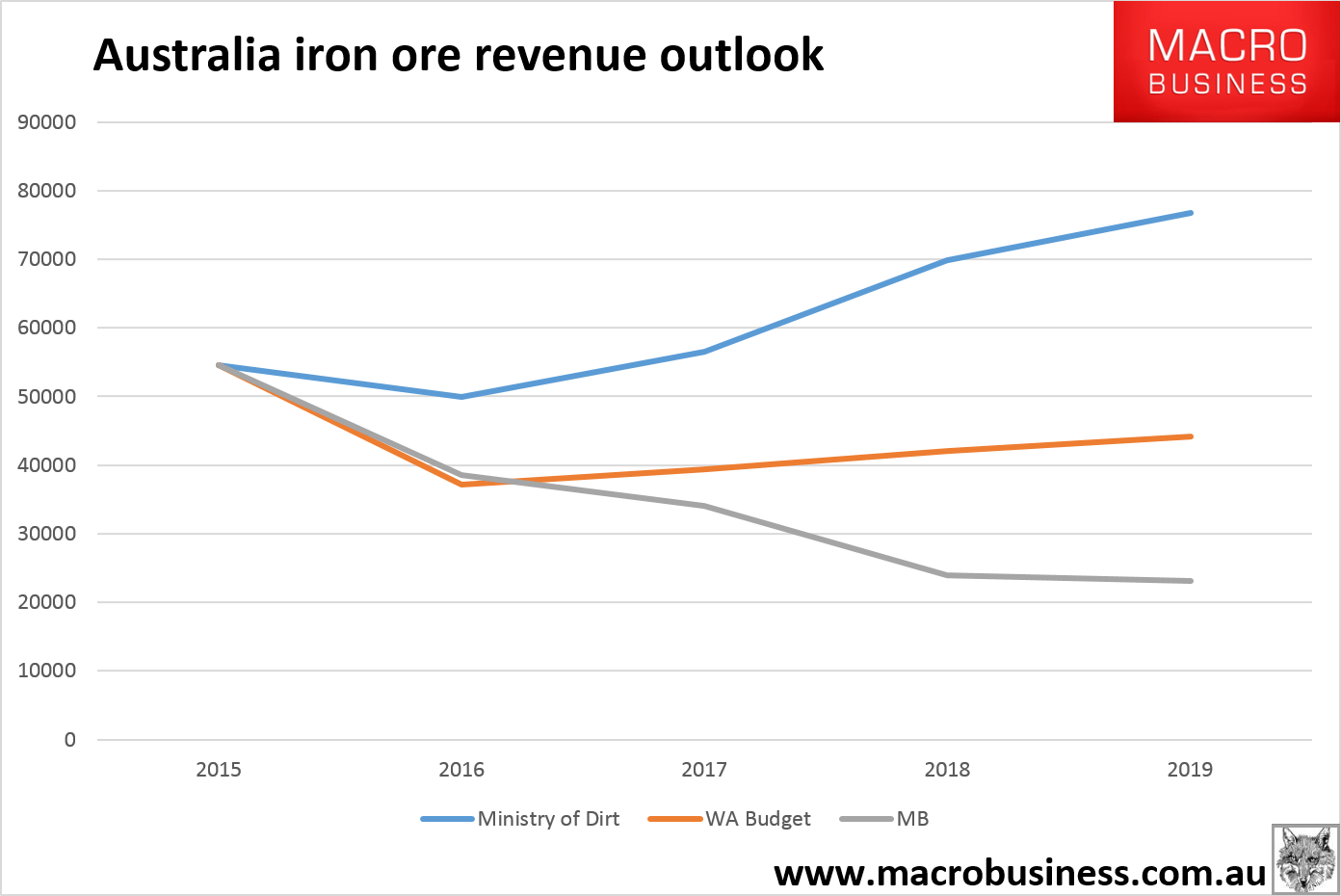 Yes, the Federal Budget has a forecast for national iron ore income virtually double that of the WA Budget, let alone what futures are saying. This represents some $8 billion in Budget revenue and 1.5% of nominal GDP per annum. Not accounting for this enables the Government to pretend that it is engaged in budget repair and dodge meaningful reform so it can paint the Opposition as 'high taxing' at the election.
Let's not forget what Moody's said and did after WA's shocking Budget of lies last year. It stripped WA's rating and said:
The ratings downgrade reflects the ongoing deterioration in Western Australia's financial and debt metrics and an increasing risk that the state's debt burden will be higher than indicated in its FY2015/16 midyear report. The drop in the price of iron ore and the sluggish performance in state taxes have led to declines in revenue, and, absent corresponding expenditure measures, budget deficits are widening significantly. As a result, the state's debt burden is rising to a level that is higher than that of its peers.
And what it said of the national Budget last week:
The projected increase in revenues as a share of GDP is based on a return to robust nominal GDP growth which generally comes with a higher revenue-intensity of growth. Our forecast for nominal GDP growth is somewhat more muted than the government's. We estimate that the adjustment to an environment of lower commodity prices is still underway and will continue to weigh on corporate profitability and wage growth. As a result, improvements in the government's revenues may be somewhat more muted than currently budgeted.
When the sovereign rating is stripped later this year, you can lay the blame directly upon Mad King Malcolm and his 'do nothing' tilt for power.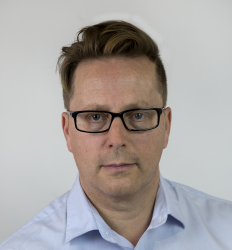 Latest posts by Houses and Holes
(see all)