From Domainfax:
"In 2015 we really began to see Chinese buyers look seriously at Brisbane and the Gold Coast more than in the past," RE/MAX Masters principal Robin Yu said.

"Education and lifestyle acquisition remained the main reasons for continued Chinese interests," Juwai chief executive Charles Pittar said.

…"Real estate is just a conduit for the air around them, that is where the real value is," Savills head of research Asia Pacific Simon Smith said.

…"A lot of Chinese buyers are now looking for alternative funders for example HSBC, Bank of China or smaller credit unions," Chinese online property portal director Esther Yong said.

Overall, Chinese investments in Australia including real estate will continue to grow in 2016 after a strong 2015 which saw Chinese capital in Australia double from the year before and the average deal size grow to $960,000 from $800,000, Cushman & Wakefield said.
No, they won't. They'll fall. They are falling already. I'm happy to report that the dream of these… ahem…folks, of selling out Australia's future generations to corrupt Chinese, is over for now. No doubt it will ebb and flow in the future but there is little prospect of a return in the near term, as I wrote last week.
The Chinese property buyer tide is going out and the naked are exposed, from Chris Joye at the AFR today:
ANZ Banking Group and Westpac Banking Corp have discovered they have each approved "hundreds" of home loans backed by fraudulent Chinese income documents, which were allegedly manufactured with the help of dodgy mortgage brokers.

"Westpac staff undertake verification for foreign income including obtaining pay slips and bank statements in both the relevant foreign language as well as getting those documents translated," Westpac spokesperson David Lording said in response to inquiries from The Australian Financial Review. "We have identified an issue with some loans that we are currently investigating."

ANZ spokesperson Paul Edwards confirmed the bank had experienced problems "with the income documentation of a small percentage of borrowers who rely on foreign income".

"Policy changes have been made to address this and we are also reviewing a number of brokers," Mr Edwards said.

The Financial Review understands that mortgage brokers associated with the spike in fraudulent Chinese income documents have been suspended by the banks pending further investigation.

ANZ and Westpac have also informed regulators and the police.

Surprisingly, the repayment performance of the fraudulent borrowers is better than both banks' average home loan, as is their equity or security coverage.
An article published in Domain over the weekend also notes that a crackdown in China on money transfers is tempering Chinese demand:
Biggin & Scott Glen Waverley director Ming Xu said China's crackdown on "underground money transfer" – whereby residents sidestep legal means to get money out of the country – and tighter lending criteria would affect mainly houses more than $2.5 million in the area.

"[Foreign buyers] just can't get the money out of China," he said.

"Lots of underground money transfer organisations have been closed, and also there is a $US50,000 ($68,000) limit per person each year.

"At the beginning, they used their friends and families but that channel has already been closed by the government as well. The government checks whether the money goes out to the same account overseas."
And from the ABC last week:
More than 100 customers are owed "substantial" sums of money following the collapse of six LJ Hooker branches in Melbourne, with the couple involved in running the business under investigation for allegedly misappropriating their clients' money.

The ABC has learnt that six LJ Hooker branches in Melbourne were shut down by the company's head office last week with customers claiming that hundreds of thousands of dollars in deposits had gone missing.

In a statement to the ABC the real estate giant said that it had stepped in to end their relationship with the franchisee involved.

"On 21 April 2016 LJ Hooker terminated the franchise offices of LJ Hooker Glen Waverley, Keysborough, Box Hill, Mount Waverley, Doncaster and Burwood … due to a fundamental breach of its franchise agreements," the company said.

The ABC understands the owner of the closed franchises Judy Thanh Truc and her husband Joseph Ngo, are accused of spending home deposits that were supposed to be held in trust for their clients.
According to Domainfax, this was LJH's "Team of the Year" in 2015. Never trust a real estate agent.
It is not clear what has happened yet but according to LJH Joseph Ngo has spent his client's money under trust. If true he has clearly run a kind of real estate ponzi scheme in which new cash flows covered misappropriated outgoings which is possible so long as the cash flow can mask the underlying lack of profits. But, when business slows, then you quickly find yourself unable to meet liabilities.
It is easy enough to see where business slowed for our failing franchisee. The footprint of the business perfectly matches Melbourne's hottest Chinese neighbourhoods. To wit, from The Australian:
Asia-based buyers scouting homes on Sydney's upper north shore are requesting delayed settlements and are walking away from deals as local banks clamp down on lending to buyers who earn income offshore, and China tightens restrictions on outflows.

Agents marketing properties in well-heeled suburbs, including Wahroonga, Pymble, Roseville and Killara, have noted price falls of up to 3 per cent and softer levels of demand, as the appetite from Asia-based buyers falls away.

Other sources indicate price falls could be as high as 8 per cent.

"We've noticed it since Nov­ember and the number of overseas buyers is dropping," Savills Cordeau Marshall chief executive Craig Marshall said.

…"They know what's going on here, and they're tightening up on funds leaving the country; it's ­absolutely going to continue to have an impact on our market."
Yes, yes it is. And the evidence is mounting across the eastern seaboard. The collapse in the Chinese Sydney bid is also the reason offered by McGrath for his profit warning: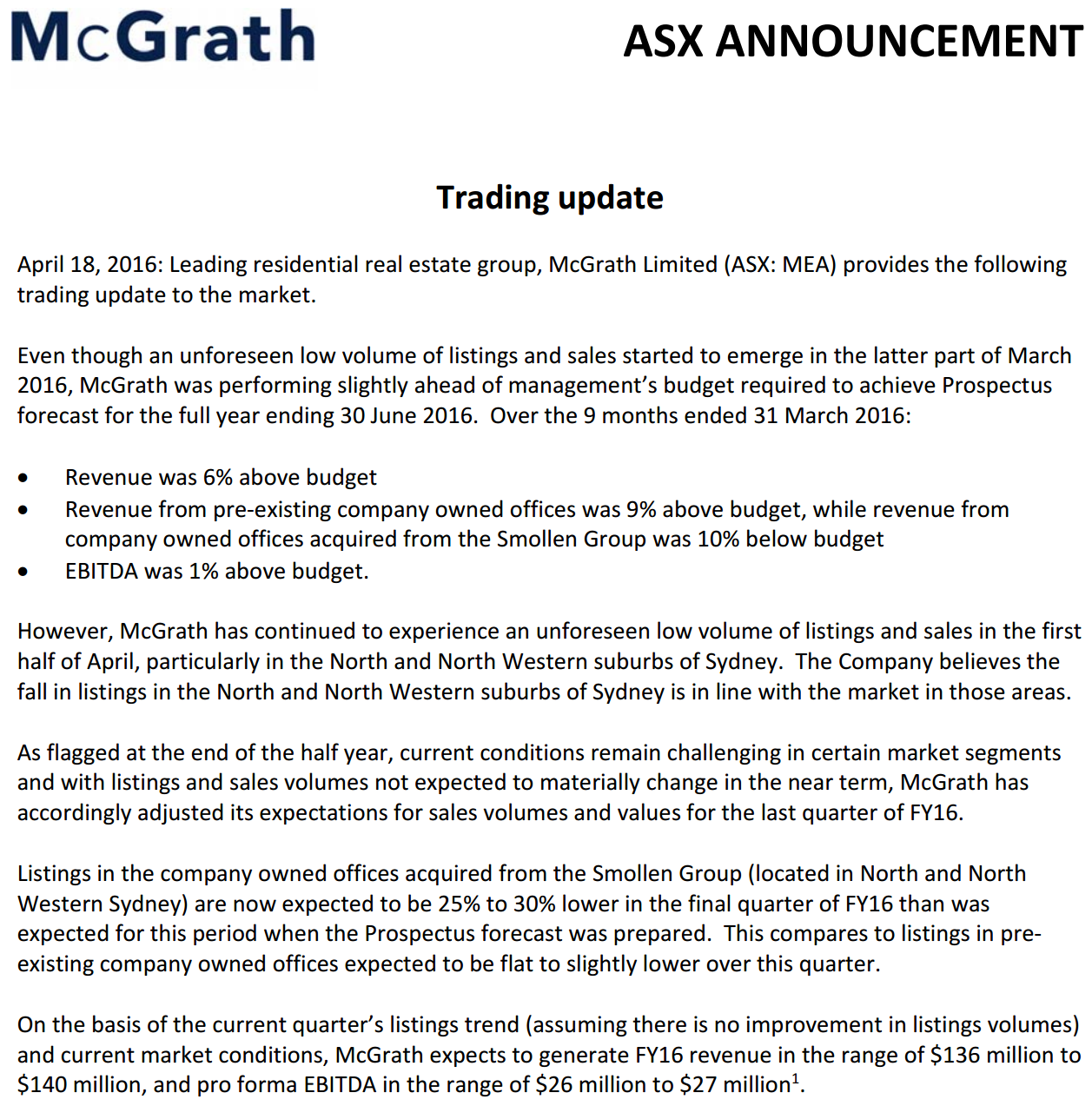 The Chinese buyer is on the run and it is only going to get worse as China continues to fight off a life threatening yuan devaluation with capital controls even as it pours credit into the economy signalling that the yuan needs to fall. Moreover, if you're a Chinese domiciled buyer facing settlement then you're not going to like what's been happening to the yuan/Aussie cross: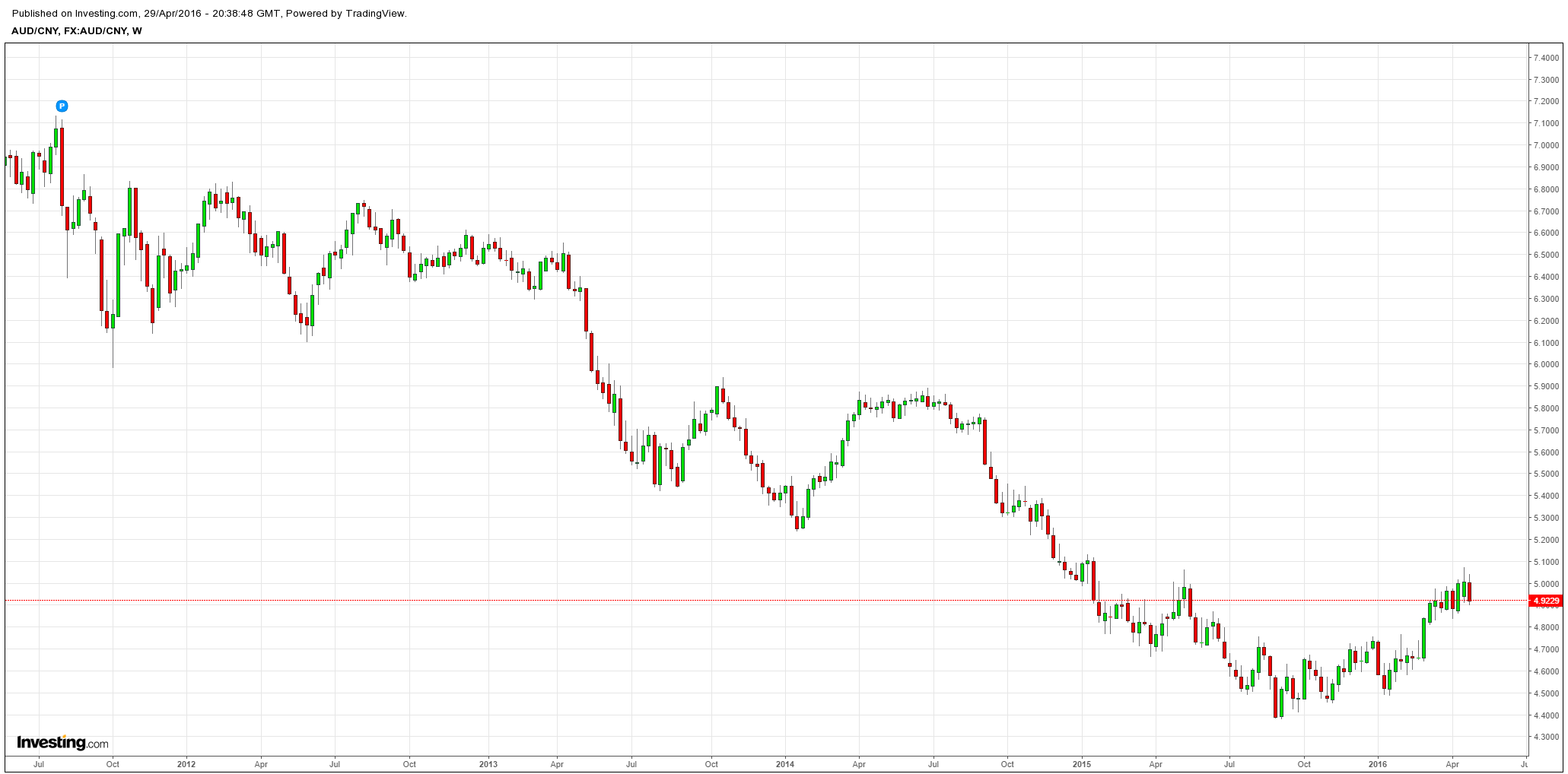 Settlement is going to cost you 10.5% more today than six months ago and if you bought any time in 2015, the peak of the boom, then it is now more expensive. I do not expect the strength in Aussie to last but neither can China hold the yuan up forever so the bottom may well be in for the cross. There are plenty of forex reasons here to…ahem… pause on your settlement.
And there is another even more important one. Apartment prices are already falling cost-to-coast: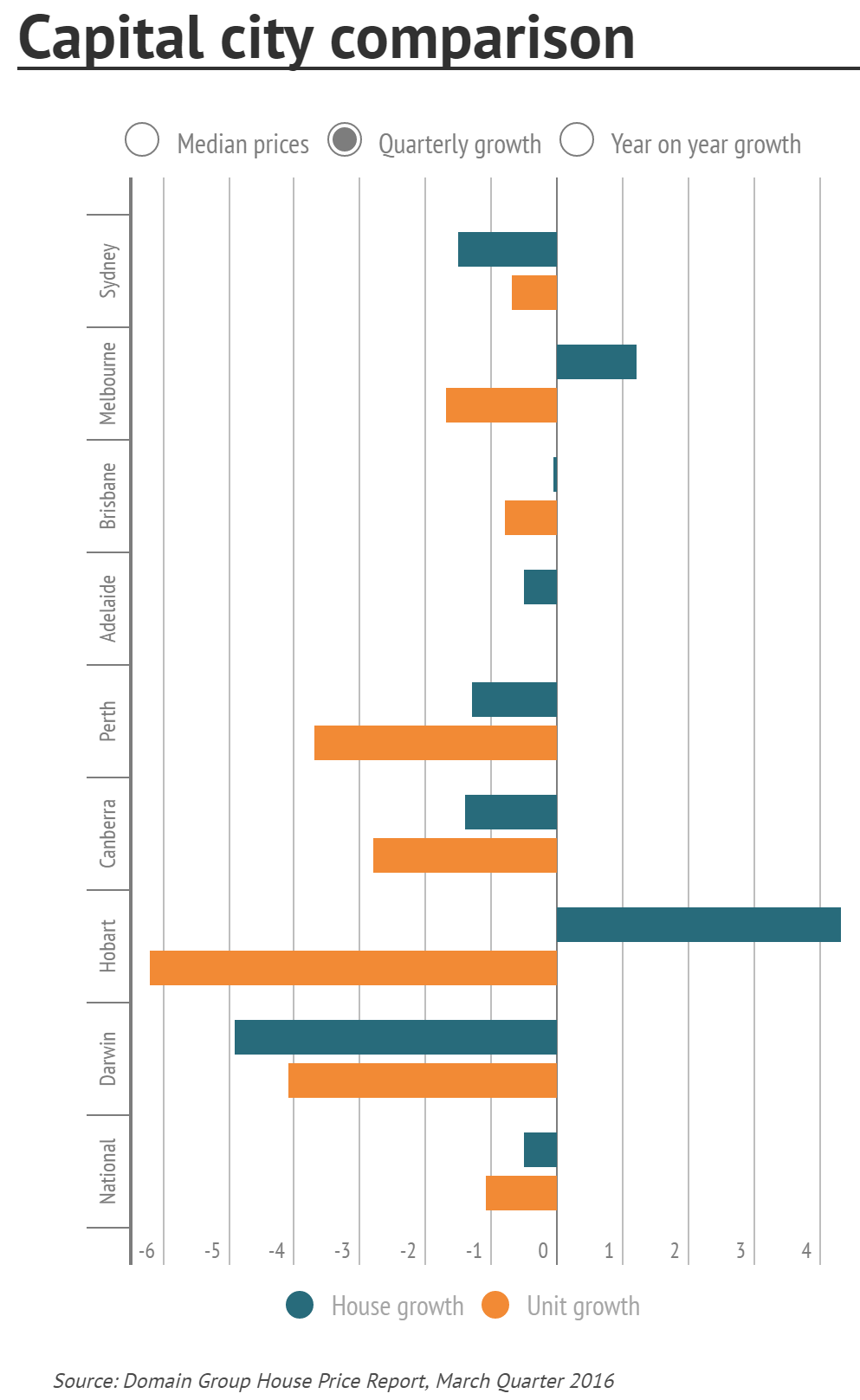 It is no wonder that Australia's major banks are now making it worse by tightening into the bust with WBC, CBA and ANZ all cutting the foreign buyer umbilical in recent months. Westpac's criteria are now very stringent: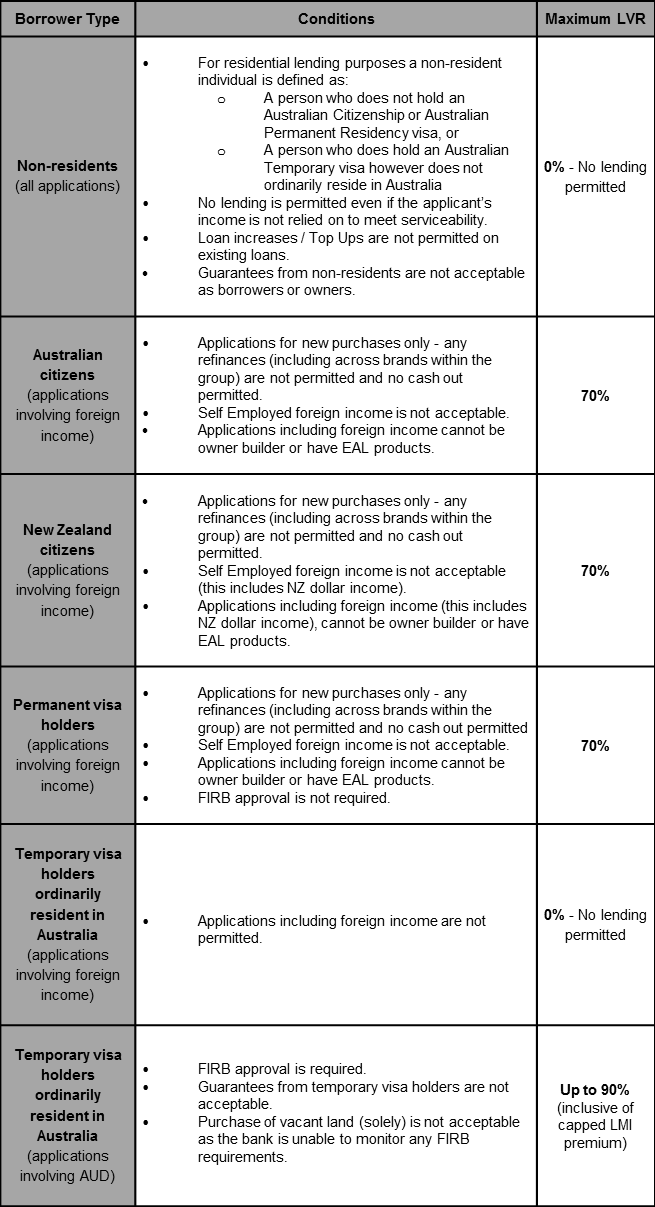 Which is why Highrise Harry is busy panicking:
Most of Meriton's apartment buyers come from China and most fund their purchases locally. But local borrowing has become more difficult as the banks, prodded by APRA, seek the security of more documentation and higher deposits.

Many are already locked into off-the-plan contracts to buy apartments and may struggle to settle the purchases.

"The banks had a very good name with the Chinese but now they cannot trust them," says Triguboff.

"The problem is they don't know how much the banks will give till the end."

Triguboff says the banks now ask Chinese buyers to produce their tax statements. "Lets see how that goes," he smiles.
The RBA recently warned of this settlement risk:
Over the past six months, domestic financial risks have shifted from housing lending towards lending for residential development and some other commercial property markets, and there are ongoing concerns associated with the challenges in the resource-related sector. The actions of the regulators since late 2014 have helped induce a tightening of authorised deposit-taking institutions' (ADIs) housing lending standards, and housing market conditions have moderated since the previous Review. In particular, the share of high loan-to-valuation lending has taken a noticeable step down and tighter serviceability metrics have reduced maximum loan sizes. ADIs have also increased advertised interest rates for investor loans relative to owner-occupier loans, while providing larger discounts for some owner-occupier lending. These developments have contributed to a moderation in the pace of investor credit growth, though the effect on growth of overall housing credit has been largely offset by a pick-up in owner-occupier lending. While the household debt-to-income ratio has increased a little further, mortgage buffers in offset and redraw facilities are rising strongly, which helps to mitigate any associated risks.

While these developments have generally enhanced resilience in the household sector, the tighter access to credit for households could pose near-term challenges in some medium- and high-density construction markets given the large volume of building activity that was started several years ago. These apartments are popular with investors and foreign buyers and any concerns over settlement risk and/or a slowdown in demand for Australian-located property by Chinese and other Asian residents could lead to difficulties for particular projects, though there is little evidence of either occurring so far. Risks seem greatest in the inner-city areas of Melbourne and Brisbane, where new supply is most geographically concentrated, and increasingly in Perth.
And the economic fallout? Also from the RBA:
Liaison with banks suggests that Chinese institutional investors and developers fund much of their activity with equity from their own balance sheets and loans from Chinese banks, including their Australian branches. While Australian-owned banks do lend to foreign developers, this is generally to long-standing customers or, occasionally, by taking the lead on syndicated deals in which foreign banks provide a large portion of the funding or take the first exposure to credit losses. As with housing lending, the main risk to the Australian banking system is therefore indirect; were Chinese or other investors and developers to sell down their portfolios or were inflows of investment to fall, prices of commercial property and development sites could decline, weighing on the banking system's broader commercial property exposures.
Nice little decoupling of rents and capital values there, no?
It is of course worse than the RBA is letting on because the commercial property boom accounts for more than half of business credit growth right now and is the key to its plan to "rebalance" growth away from mining investment by growing non-mining capex. What it's done instead is blow a nice little bubble that is now going to pop in some measure just as the mining and car sector capex cliffs steepen.
MB has been warning of this for the past eighteen months, suggesting that sellers "hit the Chinese bid". Now the bell at the summit is ringing wildly in a building gale.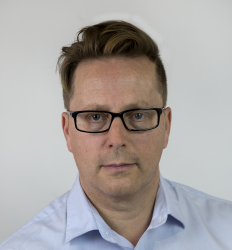 Latest posts by Houses and Holes
(see all)