From the AFR:
Australians will go to the polls on July 2 in the first double dissolution election in almost three decades after the Senate refused to pass a key industrial relations bill designed to boost the regulation of unions.

With Labor and the Greens opposed, and the government needing the support of at least six of the eight Senate independent crossbenchers, the government was two votes short of the numbers required to re-establish the Australian Building and Construction Commission. It was rejected by 36 votes to 34.

Consequently, Australia is now in a quasi-election campaign for a full-Senate election still 10 weeks away.
And from RM today:
In mid-April L-NP support is 50% (down 2.5%) cf. ALP 50% (up 2.5%) on a two-party preferred basis following debate about the reintroduction of the ABCC (Australian Building & Construction Commission) and Labor calls for a Royal Commission into the Banking and Finance industries. If a Federal Election were held now the result would be too close to call and would likely result in a hung Parliament.
Primary support for the L-NP is 40.5% (down 1.5%) with ALP at 32% (up 1%). Support for the Greens is up 1% to 14%, Nick Xenophon Team (NXT) 4.5% (unchanged; 22.5% in South Australia), Katter's Australian Party is 0.5% (unchanged), Palmer United Party is 0% (unchanged) and Independents/ Others are at 8.5% (down 0.5%).

Roy Morgan Government Confidence Rating

The Roy Morgan Government Confidence Rating is down this week – down 7pts to 99 with 40.5% (down 2%) of Australians saying Australia is 'heading in the right direction' and 41.5% (up 5%) saying Australia is 'heading in the wrong direction'. This is the first time the Government Confidence Rating has dipped below 100 since Malcolm Turnbull became Prime Minister in mid-September 2015.

This week's Morgan Poll on Federal voting intention was conducted over the last two weekends, April 9/10 & 16/17, 2016, with an Australia-wide cross-section of 3,083 Australian electors.

Analysis by Gender

Analysis by Gender shows men favouring the L-NP easily while women are now easily favouring the ALP.  Men: L-NP 53% (down 3%) cf. ALP 47% (up 3%); Women: ALP 53% (up 2%) cf. L-NP 47% (down 2%).

Analysis by Age group

Analysis by Age group shows that Turnbull's biggest problem remains convincing younger voters to support the L-NP. The ALP leads with electors under 50: 18-24yr olds (ALP 60% cf. L-NP 40%) and also leads amongst 25-34yr olds (ALP 59.5% cf. L-NP 40.5%) and 35-49yr olds (ALP 52.5% cf. L-NP 47.5%). However, the L-NP leads with the older age groups: 50-64yr olds (L-NP 53% cf. ALP 47%) and easily amongst those aged 65+ (L-NP 61% cf. ALP 39%).

Analysis by States

Despite the deadlock Federally, the L-NP holds a two-party preferred lead in five Australian States with only Victoria favouring the ALP. The L-NP leads in New South Wales: L-NP 54.5% cf. ALP 45.5%, Western Australia: L-NP 54.5% cf. ALP 45.5%, Tasmania: L-NP 54.5% cf. ALP 45.5%, Queensland: LNP 51% cf. ALP 49%, South Australia: L-NP 50.5% cf. ALP 49.5% and the ALP leads in Victoria: ALP 57% cf. L-NP 43%. The ALP leads comfortably in both the ACT and Northern Territory (with low sample sizes).
Government confidence rating now cratering again too. And my own chart of first term PMs: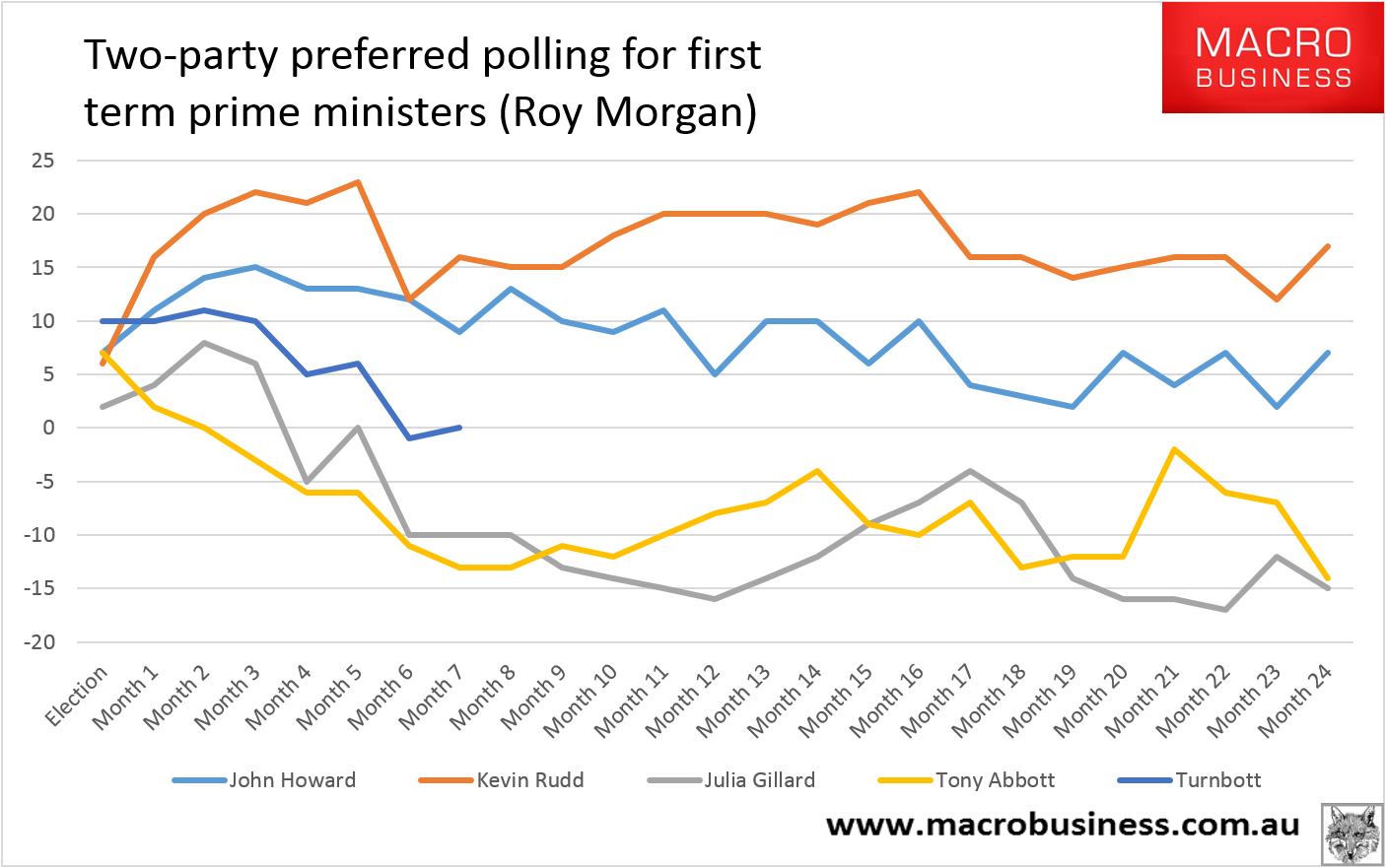 No doubting the trend…
Latest posts by David Llewellyn-Smith (see all)