The ABC has reported that the federal government is preparing to write-off billions of dollars of higher education loans as the scandal-ridden vocational education and training (VET) sector has caused bad debts to soar:
An ABC Freedom of Information (FOI) investigation has revealed the Government is forecasting losses of more than $13.5 billion on just four years' worth of loans…

The Coalition is also considering changes to the scandal-plagued vocational education sector, which is helping fuel the bleak fiscal predictions…

The amount never to be repaid on loans issued in 2018-19 is predicted to exceed $4.4 billion — a budget hit nearly four times higher than expected from loans issued last financial year…

A recent Government budget update showed more than 20 per cent of debt issued in 2018-19 was not expected to be repaid, with the average amount of debt tipped to be $22,500…

"This is principally driven by what we call doubtful debt, that is student debt we don't expect to get back," Grattan Institute higher education director Andrew Norton said.

"Driven by expanding student numbers in the higher education system and the extension of HELP loans to students doing vocational education diplomas, which has been very much in the news for lots of malpractice in that industry."

The Opposition's higher education spokesman Kim Carr said the focus should be on cleaning up vocational training.

"Personal trainers, and people that are undertaking diplomas of digital interactive gaming, those types of courses are being used running up big debts with no capacity to graduate and no real prospect of repaying," Senator Carr said.

"We can't allow these phoney training colleges to be able to inflict this sort of suffering on so many students."
The Grattan Institute's new report entitled HELP for the future: Fairer Repayment of Student Debt, highlighted in all its glory the escalation in HELP loans and doubtful debts: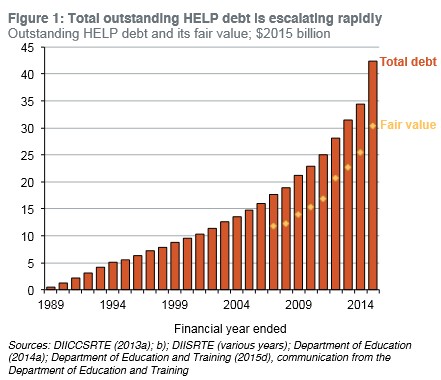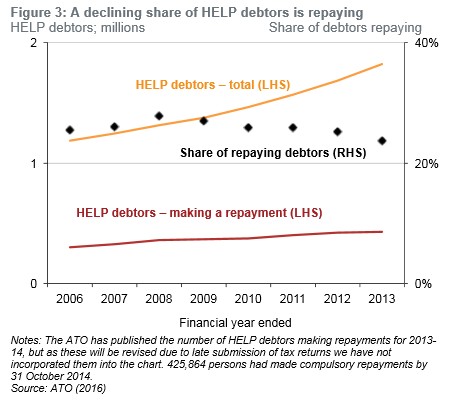 Much of the rise in bad debts has come from the private VET sector, which has been subject to widespread rorting.
As was revealed by The Australian last year (here, here and here), private colleges received more than $1.4 billion in government-funded VET Fee-Help loans in 2014, four times as much as was provided to public vocational education and training providers. Yet despite this massive funding imbalance, only 14,400 students managed to complete courses at private colleges in 2014, compared with 18,400 students at TAFE and other public providers.
The obvious first solution is to crack-down hard on the VET sector to ensure that only the best courses/providers receive public funding.
Another is to adopt the Grattan Institute's proposal to lower the repayment threshold on HELP loans to reduce costs to taxpayers and forestall the need to slash university funding.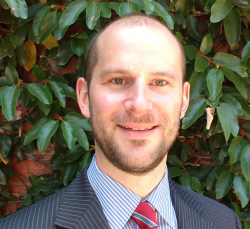 Latest posts by Unconventional Economist
(see all)