New Australian research co-written by the Obesity Policy Coalition and the University of Queensland's School of Public Health has found that a 20% tax on sugary soft drinks could raise $400 million a year, reduce annual health expenditures by up to $29 million, and save more than 1,600 lives over 25 years if it was implemented in Australia. From The Canberra Times:
In the first 25 years of a sugary drinks tax there could be 16,000 fewer cases of type 2 diabetes, 4400 fewer cases of heart disease and more than 1000 fewer cases of stroke, according to the study.

"This sort of study … provides the evidence base needed to support policy decisions by government, like taxing sugary drinks," said Obesity Policy Coalition executive manager Jane Martin, who co-wrote the study.

"It's quite hard to have a policy that is likely to reduce body mass index, because it is quite hard for people to lose weight. This is a policy proposal that would support people to consume less sugary drinks, leading to reduced BMIs, reduced incidences of disease and then reduced deaths."

According to the study, a tax in Australia could lead to a 12.6 per cent reduction in consumption of sugary drinks, the largest contributors of added sugars in Australians' diets…

"Money raised by a tax can be used in many ways, like subsidising health food for the poor, or fitness education programs. We find politicians are sceptical about this tax because beverage industry say they will affect the poor, but we find that is not the case."
Bring it on, I say.
As noted previously, Australia has one of the highest sugar consumption rates, along with the USA, Brazil, Argentina and Mexico. These countries each clock in at more than double the world's average sugar consumption: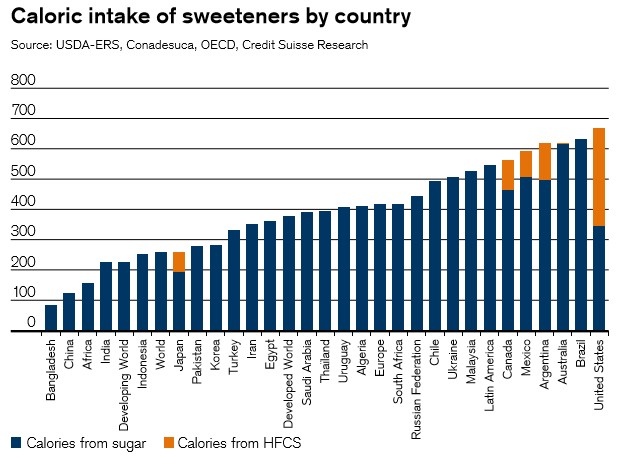 Australia is also one of the most obese nations on earth: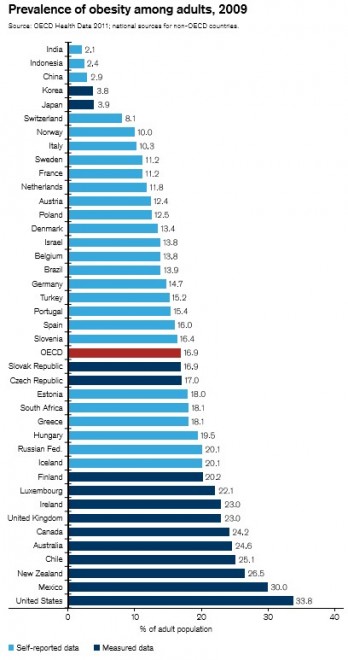 There are several channels in which sugar drives obesity.
First, sugar is a simple carbohydrate made up of two molecules, glucose and fructose. This bond is split-up in the stomach before being absorbed. Research shows that glucose primarily drives fat storage under the skin, whereas fructose deposits visceral fat around organs, such as the liver.
Excess sugar intake can also accelerate the development of Type 2 diabetes. When extra liver fat is made, that ends up obstructing the workings of the liver, and you can end up with 'insulin resistance', which is a precursor to Type 2 diabetes. Basically, the liver doesn't work effectively, so the pancreas has to excrete extra insulin in order to shift blood glucose into your cells. This insulin also tells your body not to burn fat for energy, thus making your body store fat.
Second, sugar manipulates the hormones insulin and leptin, thus turning-off the receptors that make us feel full. It is particularly dangerous when dissolved in things like soft drinks, since it is instantly and easily absorbed.
While placing a tax on sugary drinks is no panacea, given the prevalence of sugar and processed foods throughout the Australian diet, it is a bloody good start and represents 'low hanging fruit' from a public health perspective.
It's a no-brainer.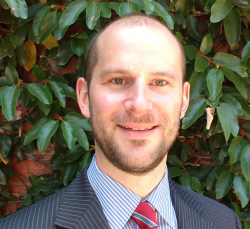 Latest posts by Unconventional Economist
(see all)