The SMH has published a report about a 19 year old Chinese student, Yi Feng, who has been jailed for depositing $4 million in suspected proceeds of crime:
…within two weeks of arriving in Australia on a tourist visa in July 2014, Feng began taking bags full of cash to Commonwealth and Westpac Bank branches across the country and depositing the money into more than a dozen different accounts.

By December 8 of the same year – less than five months later – the University of NSW student had made 68 such deposits totalling $4,056,930.

The deposits ranged from $20,000 to $80,000 and were often spread out across a number of different accounts which had non-descript names such as Auschain Investment Trust and George Xie's Investments Pty Ltd…

On Tuesday night, a spokesman for Auschain Investment Trust – which received a deposit from Feng – said it had been unwittingly caught up in the crime…

"We're just a real estate agency," a company spokesman said.

"Unfortunately in this case our client, a real estate purchaser, unknowingly used an illegitimate transfer company which completed the transaction in an illegal way.

"We would encourage all Chinese purchasers to make sure they're using a legitimate company to transfer money because the system is clearly open to abuse. In this case the purchaser's account has now been frozen."
The above report highlights, yet again, why Australia must extend its money laundering regime to non-financial gatekeepers like accountants, lawyers and real estate agents.
Last year, the Paris-based Financial Action Task Force (FATF) released a scathing report highlighting that Australian residential property is a haven for international money laundering, particularly from China, and recommended that Australia implement counter-measures to ensure that real estate agents, lawyers and accountants facilitating real estate transactions are captured by the regulatory net.
Advertisement
FATF's findings were backed up by the Australian Transaction Reports and Analysis Centre (AUSTRAC), which warned that "laundering of illicit funds through real estate is an established money laundering method in Australia".
In 2003, Australia agreed to implement comprehensive anti-money laundering (AML) regulations that captured accountants, lawyers, real estate agents and other non-financial businesses. However, the second tranche of the reform to the Anti-Money Laundering and Counter-Terrorism Financing Act 2006 has remained in limbo for a decade, and has yet to be implemented by the government.
This willful neglect is part of the reason why foreign funds have gushed into Australia's property market, particularly in Melbourne and Sydney, helping to price-out young Australians and adding to financial stability risks:
Advertisement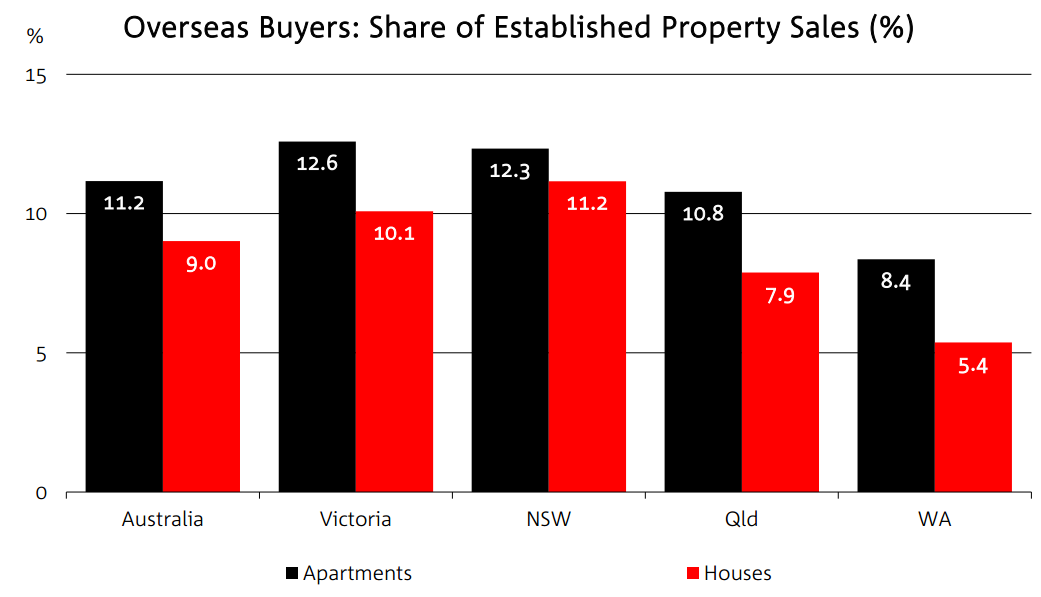 As noted last year by Nathan Lynch, Head Regulatory Analyst for Australia & New Zealand at Thomson Reuters:
AUSTRAC's surveillance efforts are… being frustrated by the fact that money launderers will often use unregulated entities as a "first point of contact" to help disguise their source of funds. If a criminal makes a suspicious cash deposit into a real estate agent or lawyer's trust account, for example, the suspicious transaction is not required to be reported to AUSTRAC. Reporting entities, such as banks, are required to report transactions of this type within three business days of forming a suspicion. Lawyers are only required to report threshold transactions under the legacy Financial Transaction Reports Act 1988, not suspicious matters, while real estate agents have no reporting obligations.
Advertisement
Separately, Lynch noted that "politicians have been conspicuously evasive on their bipartisan commitment to follow through with a second tranche [of the AML legislation]… politicians are happy to turn a blind eye".
Under Australia's existing AML regime, real estate companies like Auschain Investment Trust (quoted in the SMH article above) admit "the system is clearly open to abuse". But because they are not required to monitor and report suspicious funds, they turn a blind eye and plead ignorant when questioned. This is unacceptable.
Australia must stop allowing money to be laundered through our homes, in turn pricing-out younger Australians. This can only be done by ending the ten years of neglect and bringing Australia's non-financial gatekeepers into the AML net, as was promised by the government in 2003 and intended when the legislation was first drafted in 2006.
Advertisement
Enough is enough.