Ladies and gentlemen, the Australian Labor Party (ALP) has just entered the election race with a sound policy platform.
In former treasurer, Joe Hockey's, parting address to Parliament in October last year, we received a brief glimpse of honesty. After spending the prior 12 months toeing the company line and defending negative gearing to the hilt, Mr Hockey admitted that the policy was a failure and called for negative gearing to be restricted to newly constructed dwellings only, so that it actually boosts supply:
"…negative gearing should be skewed towards new housing so that there is an incentive to add to the housing stock rather than an incentive to speculate on existing property…"
Since that time, the Coalition has dithered on negative gearing reform, with new Treasurer Scott Morrison seemingly still captured by the Property Council of Australia, where for seven years he worked as the National Manager of Policy and Research.
Over the weekend, the ALP took a leaf from Joe Hockey's book and announced that if it is elected in this year's election, it would restrict negative gearing to newly constructed dwellings only, in order to boost supply, as well as halve the capital gains tax discount. Here are the specifics from leader Bill Shorten's speech to the NSW ALP conference (via The ABC):
…if Labor wins the election, from July next year negative gearing would only be available on newly-constructed homes.

The changes under a Shorten government would not affect the tax arrangements for investment properties purchased before July 2017.

Under costings released from the Parliamentary Budget Office, the measures could save the budget $32.1 billion over 10 years once they come into force.

Mr Shorten said the changes would foster a fair tax system, which supported a strong budget and growing economy.

"We're doing this because 30 years ago, houses cost around 3.2 times average income — today it's 6.5 times average income," Mr Shorten said.

"Labor will help level the playing field for first home buyers competing with investors and we will put the great Australian dream back within the reach of the working and middle-class Australians who have been priced out of the housing market for too long…

A Labor Government would also reduce capital gains discounts from 50 per cent to 25 per cent

"It cannot be rationally argued anything else but with a capital gains tax subsidy of 50 per cent, that the whole system is accessibly distorted and overly generous in favour of income from capital instead of income from earnings," Mr Shorten said…

We will grandfather existing arrangements for those properties so that investors who have invested under the current tax law will not be disadvantaged by the change and a prospective change," he said…

"Mum and dad investors who have a house or apartment that is negatively geared right now will keep the deductibility, but after 1 July 2017, negative gearing can only be accessed for new houses and to improve the efficiency and fairness of our tax system."
The ALP's negative gearing and CGT policy is a winner, both politically and economically.
By grandfathering existing investors, political backlash would be minimised from the circa 1.3 million Australians holding negatively geared properties, thus making it a realistic reform option.
Nevertheless, there would still be a significant dampening effect on the housing market, since home prices are set at the margin by new entrants.
The resulting 'correction' in home prices resulting from the ALP's policy would likely also be far more orderly than if negative gearing was banned outright, since it would not cause a sudden flood of sales from existing investors exiting the market.
At the same time, limiting future negative gearing to new builds would nullify the property lobby's (and the Coalition's) lies that its abolition would push-up rents and home prices. After all, what better way to overcome concerns about rental supply and housing affordability than providing direct incentives to boost supply?
We also know that the Greens support negative gearing reform, given they have announced as policy grandfathering arrangements for existing investors and quarantining negative gearing so that rental losses on both houses and shares could no longer be claimed against unrelated wage/salary earnings. So the ALP would have no problems passing their policy through the upper house if it were elected.
Still, despite the overwhelming arguments in favour of the ALP's policy, it hasn't stopped Australia's conga-line of property lobby rent-seekers from crying foul. Here's a sample of the scare campaigns being waged over the weekend against the ALP's proposal:
Property executives slammed the plan yesterday, saying it had the capacity to take investment away from the property market at a time when capital cities were facing a persistent undersupply of housing.

Stockland chief executive Mark Steinert said: "Last time they cut negative gearing on ­rental properties, it was reinstated within a few months because it had such a devastating impact on the rental market.

"I can't see how this will be any different … The affordability challenge is that you need more rental property, and negative gearing goes directly to meeting that."

Aussie Home Loans founder John Symond warned the policy could lead to house price falls on properties owned by investors, many of whom were on average incomes and had fought hard to make the investment.

"Eighty per cent of residential investors are PAYG, hardworking mums and dads, and this will have an impact on the value of their homes," Mr Symond said.

Property Council of Australia chief executive Ken Morrison warned the proposed changes were "dangerous''.

"It is a real risk playing with the property market like this when it is such an important part of the economic growth story for the country,'' Mr Morrison said.
None of these arguments pass the common sense test.
The current policy settings have produced a situation whereby nearly 19 out of every 20 property investors purchase an existing home, not new construction (see next chart).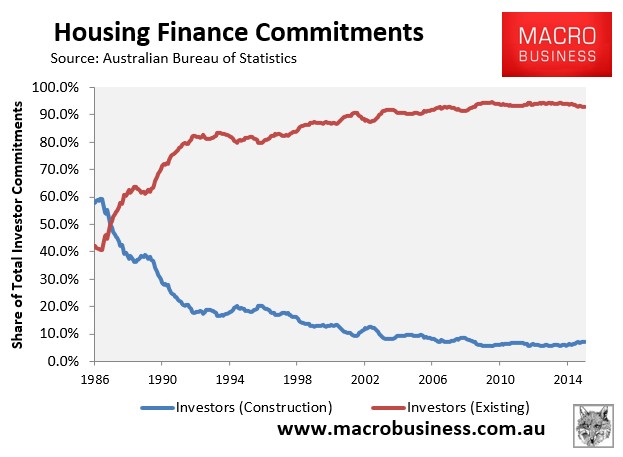 Therefore, as a policy to boost housing supply and improve rental availability and affordability, negative gearing has been an epic fail since all it has done is substitute homes for sale into homes for let, at great cost to the Budget.
In a similar vein, the oft-argued claim that the quarantining of negative gearing between 1985 and 1987 pushed-up rents is a flat out lie. The ABS rental data clearly shows that real (inflation-adjusted) rents did not rise nationally over the period that negative gearing was quarantined (shown in red below).
Moreover, at the capital city level, real rents either fell or were flat in every capital city, with the exception of Sydney and Perth, where vacancy rates were particularly tight at the time (see here for the definitive evidence).
Aussie John Symonds' new found opposition to negative gearing reform is also curious, given just a few years ago he lamented that negative gearing is killing the first home buyer market:
"Negative gearing is a great tax break, but it needs a total overhaul to make it fairer. First home buyers have no hope of getting into home ownership these days unless they're helped by their families," Mr Symond said…
I recommend that you watch shadow treasurer, Chris Bowen's, interview on ABC Insiders yesterday (above), whereby he does a great job deflecting the property lobby's lies and seems well versed on the issues. Let's hope he can see this policy through, or at least force the Turnbull Government to offer similar reforms.
Leith van Onselen is Chief Economist at the MB Fund and MB Super. Leith has previously worked at the Australian Treasury, Victorian Treasury and Goldman Sachs.
Latest posts by Leith van Onselen (see all)