The RBA has released its commodity price index for January, which registered another 2.9% decline in SDR (currency weighted) terms – the key determinant of the terms-of-trade – and no change in Australian dollar terms:
Preliminary estimates for January indicate that the index declined by 2.9 per cent (on a monthly average basis) in SDR terms, after declining by 3.9 per cent in December (revised). The decline was led by the prices of oil and the bulk commodities. The base metals and rural subindices declined slightly in the month. In Australian dollar terms, the index was little changed in January.

Over the past year, the index has fallen by 25.8 per cent in SDR terms, led by declines in the prices of bulk commodities. The index has fallen by 17.2 per cent in Australian dollar terms over the past year.
As stated above, falls in the prices of bulk commodities (iron ore and coal) and oil were the main drivers of the drop in the commodity price index.
Over the January quarter, the index of commodity prices fell by 9.5% in SDR terms and by 8.8% in Australian dollar terms. Over the year, they were down by 25.8% (SDR terms) and 17.2% (Australian dollar terms) respectively.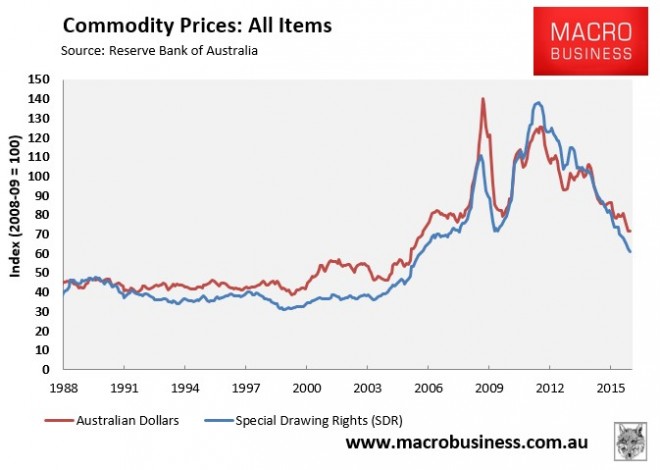 The commodity price index has now fallen to its lowest level since October 2005.
The six month moving average trend in prices is presented below. As you can see, commodity prices have been falling for an extended period in SDR terms, with no end in sight. If anything, the trend has worsened recently: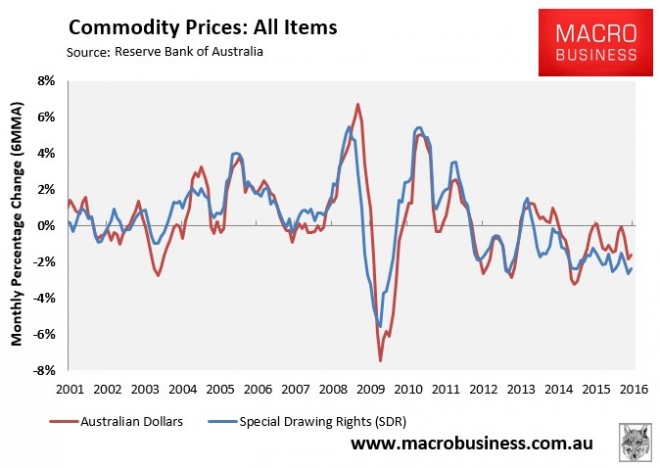 There is a strong correlation between the terms-of-trade and the RBA's commodity price index in SDR terms. The next chart suggests that the terms-of-trade and national income will fall heavily when the December quarter national accounts are released in early March: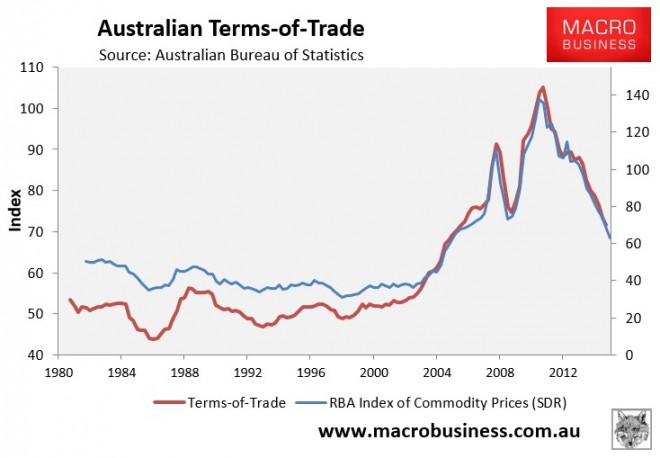 Thus, the national income recession will roll on.