A double warning today for Australia's banks from Moody's:
Moody's Investors Service says that the unwinding of the global commodities cycle is heightening the macroeconomic risks faced by Australian banks, as the regions and sectors most exposed to mining are starting to see some signs of stress.

"Although the banks' direct exposure to the resources sector is relatively low, they face high second-order risks from a potential sharp downturn," says Ilya Serov, a Moody's Vice President and Senior Credit Officer.

"These risks are somewhat mitigated by the current low interest rates and the relatively healthy state of Australian corporate balance sheets and, on balance, we expect the banks' credit costs to increase only moderately from the current low levels," adds Serov.

…The assessment that risks in Australia's housing market — which has enjoyed several years of buoyant price growth — are skewed to the downside poses a challenge to the banks, given that residential mortgages dominate their loan books.

And while current low interest rates continue to support housing market stability, deepening affordability shortfalls could lead to an eventual adjustment that would better align house price growth with income growth. And although the likelihood of an outright house price correction remains low, tail risks are rising.

Against this backdrop, Moody's believes that the Australian Prudential Regulatory Authority's (APRA) — and the banks' — moves to ensure that underwriting standards in the mortgage market remain prudent is an important positive.

Moody's further expects forthcoming discussions by APRA on a domestic version of the total loss-absorbing capacity (TLAC) framework to encompass a broader range of bank resolution issues, potentially including senior creditor bail-in, and the introduction of a 'junior senior' class of instruments.
And again:
Moody's Investors Service says a slowing housing market and rising macroeconomic challenges will lead to an increase in Australian mortgage delinquencies in 2016.

According to Moody's latest monthly review of the performance of mortgages backing Australian prime residential mortgage-backed securities (RMBS), delinquencies in excess of 30 days rose to 1.20% in November 2015 from 1.14% in October 2015.

While the month-on-month increase in delinquencies in November is typical and reflects increased spending in the run-up to the holiday season, Moody's expects that mortgage delinquencies will be higher in 2016 than in 2015.

"The housing market has shown signs of cooling over recent months," says Alena Chen, a Moody's Assistant Vice President — Analyst.

"Strong housing market activity in both Sydney and Melbourne helped foster relatively strong economic performance in the respective states of New South Wales and Victoria in 2015," adds Chen. "But a slower pace of house price growth will mean a slowdown in economic activity and will contribute to a deterioration in mortgage performance in 2016 from current exceptionally healthy levels."

…Moody's expects the slowdown in the housing market to continue into 2016, particularly in Sydney and Melbourne where prices have increased significantly over the past two years.

"Slowing growth in China, Australia's biggest export market, and declining commodity prices, which are — at or near multi-year lows — will also put pressure on the Australian economy and contribute to below-trend growth and a soft labour market in 2016," adds Chen.
And they forgot this: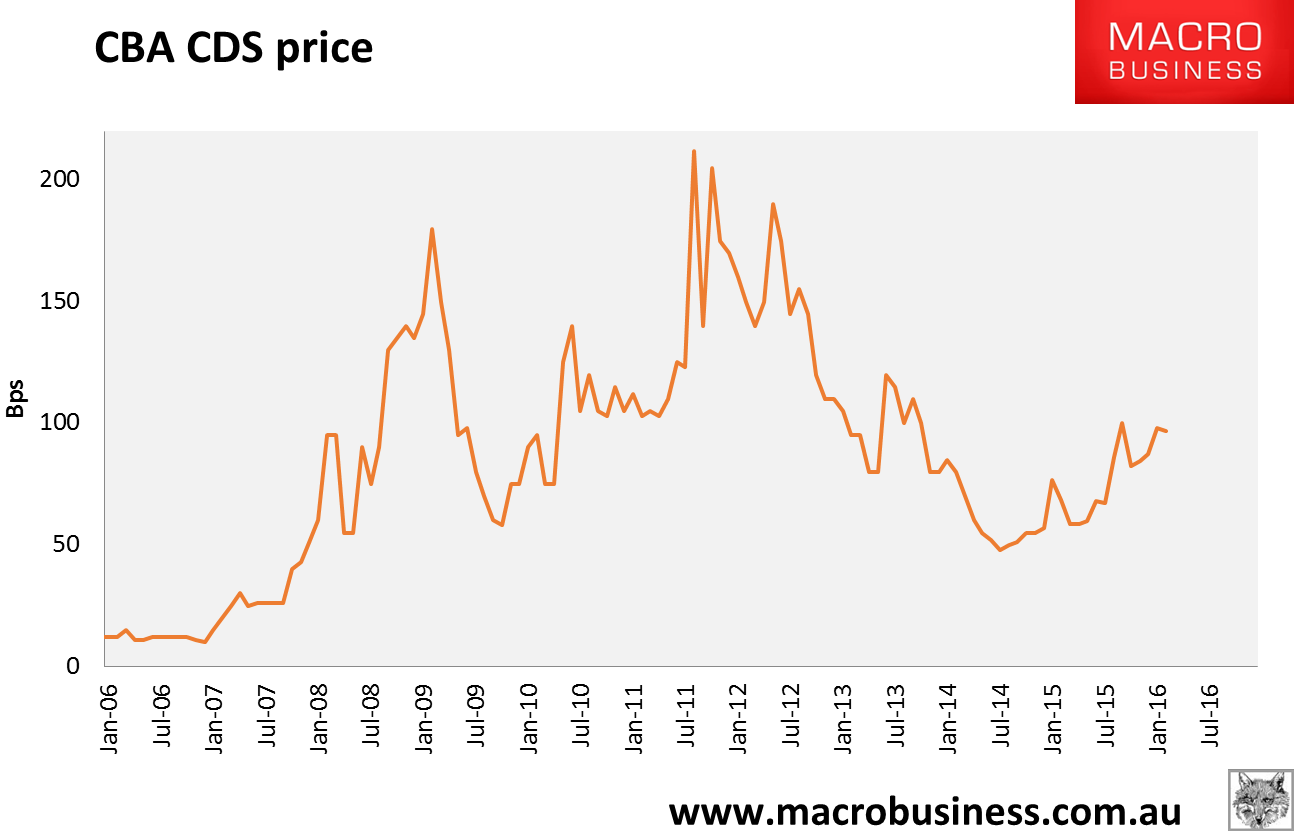 CBA CDS is today at 96.75bps indicating climbing wholesale borrowing costs as you can see in the trend.
The banks are under pressure on a lot of fronts, each one is still manageable alone, but together they are material. And that is before we get to any shock-induced losses.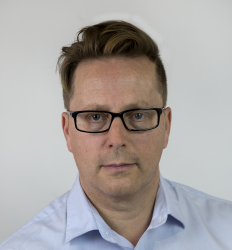 Latest posts by David Llewellyn-Smith
(see all)