Brent oil eased again Friday night to $34.13 and Henry Hub firmed a little: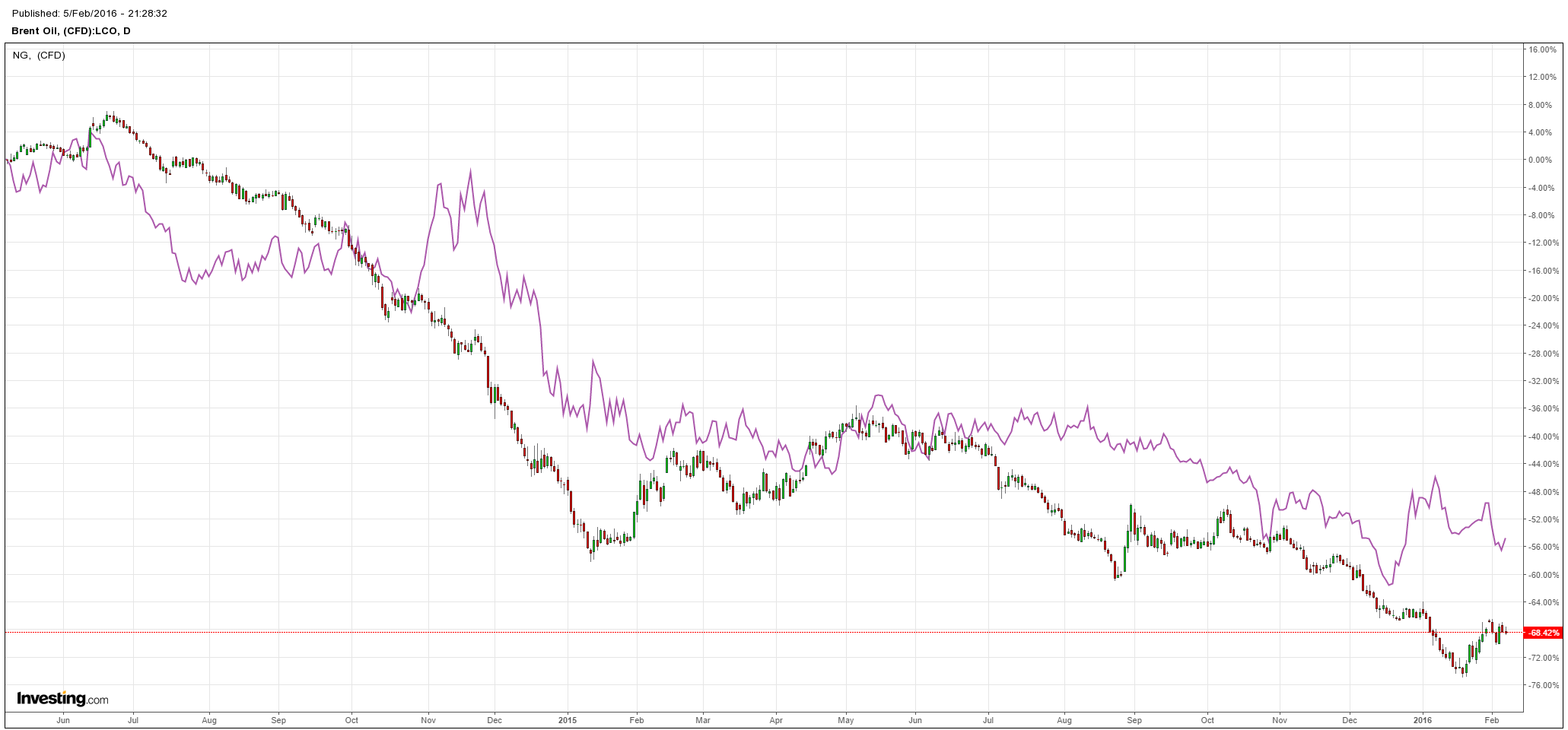 The action was despite a renewed plunge in the US rig count down down -31 to 467.
So, with rigs plunging again, where are we on the market balance question? The IEA's January Oil Market Report is now available to the public and sees it this way:

Right now we have a nearly 2mbl per day surplus. There are three important inputs into the chart. US production is seen to fall 700mbl over the next year, Iran is seen to replace that and demand is forecast to rise 1.2mbl versus 1.8mbl in 2015, narrowing the surplus to under 1mbl per day.
That is a reasonable base case. But the risks are still tilted to the downside given Iran is more likely to over-deliver and global consumption growth undershoot as the Mining GFC intensifies.
And there is one more risk. OPEC still has 3mbl per day spare capacity, two-thirds of that in Saudi Arabia. If its goal is to displace US shale then as it falls Saudi should also raise output and keep on doing so until the growing freeze in junk bond markets does US shale lasting harm. To achieve that, Saudi needs to wreck not just current production but the US shale investment case, and that means it must leave the lasting impression on US capital markets that Saudi supply is an extant and ongoing threat, thereby permanently raising the risk premium (and thus costs) for shalers. Anything short of that will simply see shale rebound on any new demand cycle. From that point of view, the damage is not yet sufficient, also from the IEA:
Data from Rystad Energy show the number of completed wells have by far outpaced the number of wells spudded (drilled) since 4Q14. Indeed, the number of well completions per month continued to increase several months after the rig count started to drop off, peaking at more than 1,600 wells in December 2014. The number of completions are still outpacing the number of new wells drilled, and as a result, the number of uncompleted wells, or the frack-log, has been cut down from its peak of around 4,600 wells hit at the end of 2014 to around 3,700 wells currently.
That's still a mighty "frack log" to run down even without any more drilling. It could take two more years to achieve the Saudi's aim.
In the mean time, inventories keep climbing and the US is really starting to brim, from Reuters:
The unprecedented build-up of surplus crude oil supplies in Cushing, Oklahoma, is beginning to cause logistical headaches for companies moving crude between thousands of steel tanks in the nation's most important storage hub.

Enterprise Products Partners, a large participant but relatively small operator in the Cushing market, has told at least some counterparties that it is experiencing delays in delivering crude from its tanks, according to three sources who were informed of unspecified "terminalling and pump" issues.

The sources attributed the disruptions to the unusually high level of oil collecting in Cushing, the delivery point of the CME Group's U.S. oil futures contract. Stockpiles have risen to a record 64.2 million barrels as of last week, according to the U.S. Energy Information Administration, just 9 million barrels shy of their theoretical limit.

"It's hard to move barrels around right now because there's so much oil (in Cushing)," said one trader.
Even though we should expect some tightening in the market a year or so in advance of a better balance, this array of risks and extent of glut still has reasoning that oil is not yet at the bottom.
Turning to LNG, the indicative oil-linked price contract fell to $4.78mmBtu: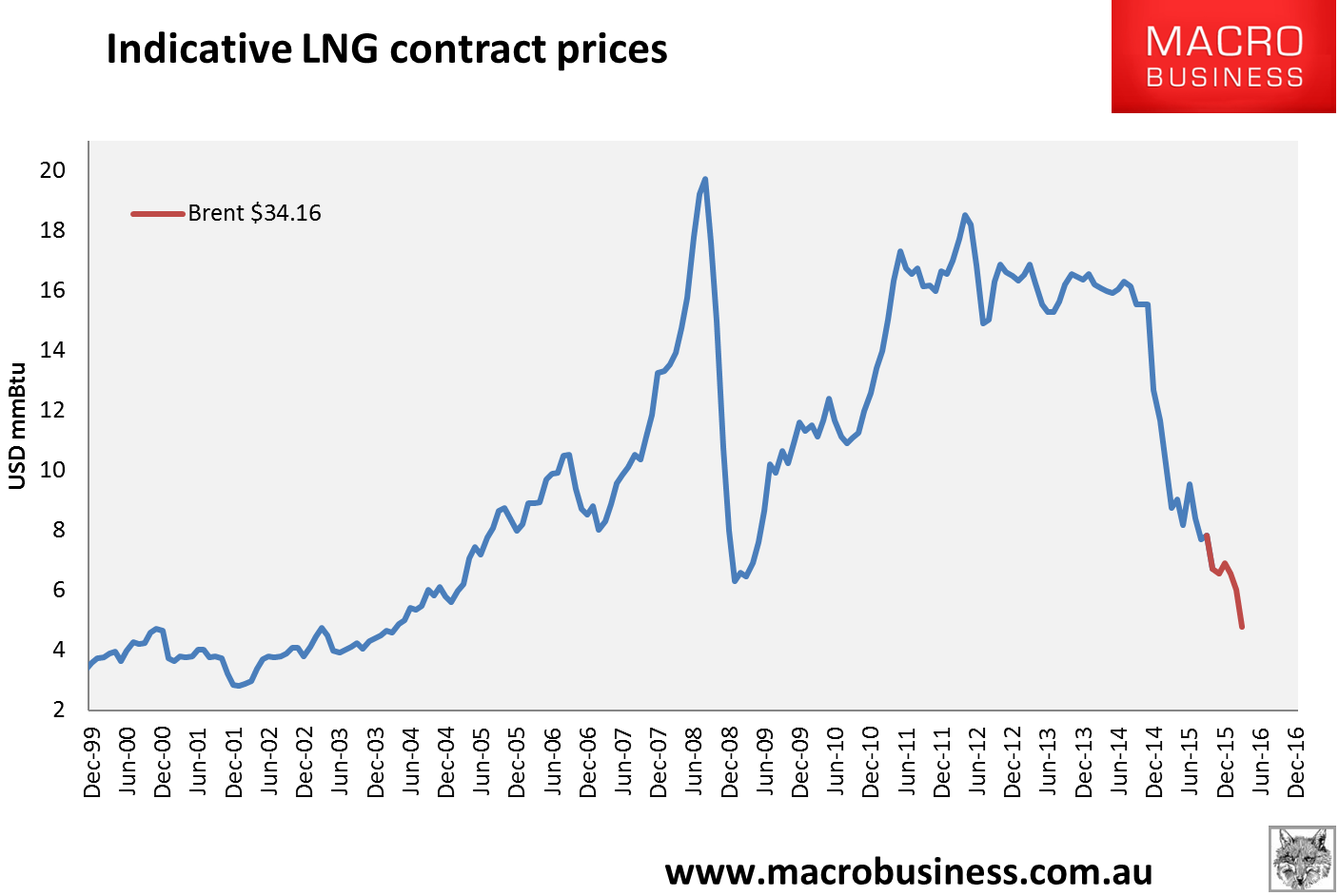 In news, the EIA also reported on China's 2015 LNG imports, LNGWorld:
Chinese imports of LNG declined by 1.1% year-on-year in 2015 for the first time since the country began importing chilled gas in 2006, the U.S. EIA said in a report on Thursday.

Chinese LNG imports have grown steadily in the last 10 years, from 0.1 billion cubic feet per day (Bcf/d) in 2006 to 1.3 Bcf/d in 2010, and have more than doubled since then. They reached their peak in 2014 at 2.7 Bcf/d, making China the third-largest LNG importer globally after Japan and South Korea, EIA said in the report.

In 2015, however, LNG imports declined to 2.6 Bcf/d, reflecting in part a slowdown in the growth of the Chinese economy and lower prices of competing fuels, EIA said.

According to the report, at the end of 2015, China had 13 LNG regasification import terminals with a combined capacity of 5.4 Bcf/d. Several more terminals are under construction, with a combined capacity of 3.4 Bcf/d. These terminals are scheduled to come online in 2016-19.

However, the start-up of several terminals has been delayed because of a lack of downstream demand. For example, construction of Jieyang LNG terminal in Guangdong was completed last year, but the terminal has not been connected to a provincial pipeline network serving end users.

The terminal's end users are factories that can also run on liquefied petroleum gas (LPG). Current LPG prices are lower than long-term contractual LNG prices, so LPG is being used to meet the demand.

Additionally, many contracts to supply LNG at the new regasification terminals were signed when oil prices were above $100/barrel, which makes long-term LNG prices less competitive than both spot LNG and LPG, EIA noted.

Major Chinese oil and gas companies have been trying to postpone shipments of contracted LNG to the new terminals and instead purchase lower-priced spot cargoes.
Chinese demand growth is expect by most Australian firms to be around 15% into the future. Fat chance. I expect the Chinese to maintain a lot of pressure for volume and price cuts from Australian producers and partners over the coming few years and, if they are not forthcoming, when we get a large enough hiccup in growth to give them coverage they'll default.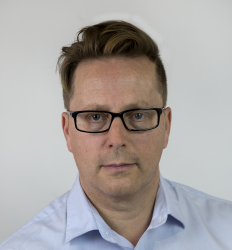 Latest posts by David Llewellyn-Smith
(see all)