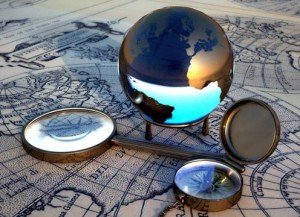 by Chris Becker
Its going to be an interesting year thats for sure, with Chinese stock markets pummeled yesterday and huge volatility around the Iranian/Saudi diplomatic spit, plus a less than exciting ISM print in the US overnight, all boiling down to a significant loss of confidence in risk markets. Stocks were hammered, down 2-3% on both sides of the Atlantic, while a rush to safety to government bonds as commodities also boiled in a steaming pot. Gold was the standout, rising over 1% while Dr Copper was Shanghaied, down 2.5% as oil oscillated wildly. 
Recapping Asia's strange day and as I reported earlier, the Shanghai Composite was slammed, losing 7% before trading was halted. As I mentioned in yesterday's report "although the weekly chart shows a rising series of higher lows, the inability to gain traction is telling, so I'm watching the break of (the 3500 point) trendline in the week(s) ahead and back down to support at 3000 points". Didn't have to wait long…Terminal support at 3000 points is key here- if that's broken, think 2000 points real quickly: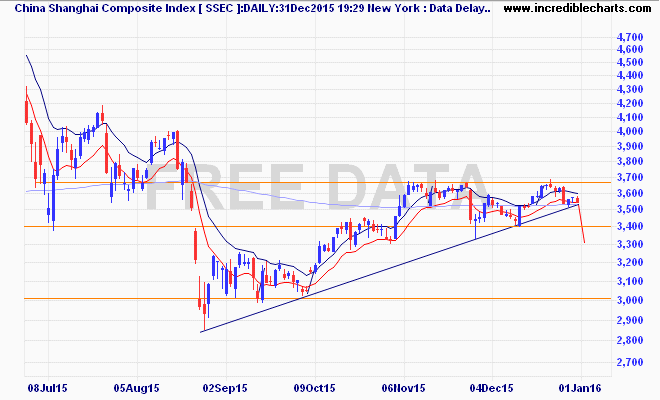 The Nikkei 225 fell 3% following the Chinese stock slump, going right through ATR support at the 18500 point support level. It didn't help that Yen strengthened overnight as well. Futures are indicating further falls today but short covering might provide a small bounce soon: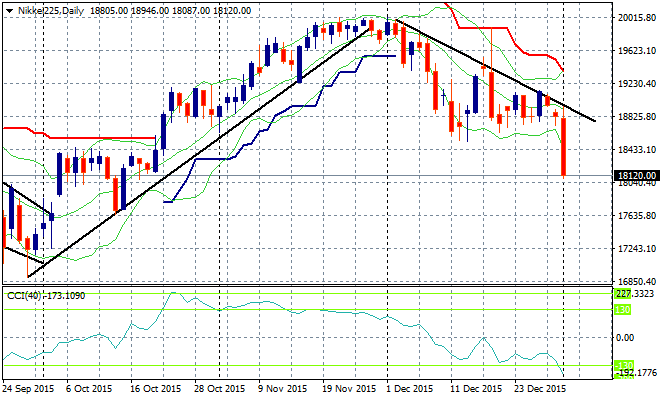 The ASX200 seemingly brushed off its normal correlation with Chinese stocks and only fell 0.5%, although SPI futures are pointing to only 0.2% more falls on the open. I think bank stocks are going to get whalloped here on their curious DAX correlation, but looking further out the daily charts suggest that 5400 points resistance is just too hard to breach so another swing down is on the cards: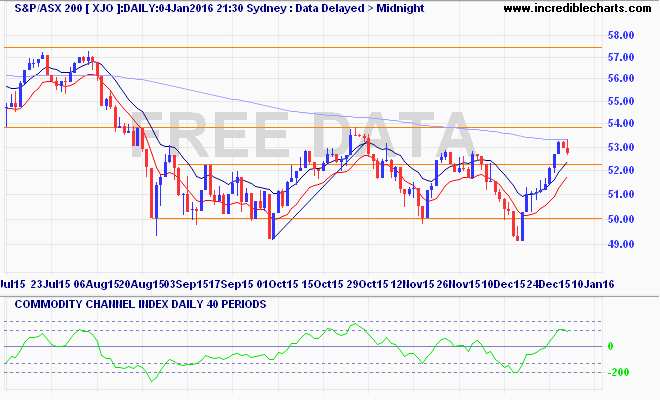 On to Europe, where the German DAX lost 4%, breaking right below its daily uptrend to 10,283 points. This is not yet below the lows reached before Christmas but close enough to rattle traders. There's potential here for a further breakdown to the 2015 lows and I'm watching the German unemployment report and CPI print tonight for further catalysts: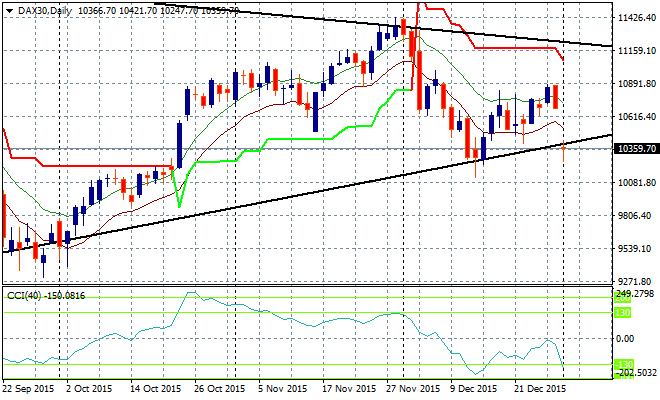 US stocks are looking stretched, to say the least with a lack of market breadth. The S&P500 lost 2% overnight with a small surge going into the close helping find support at 2000 points as daily lows weren't breached: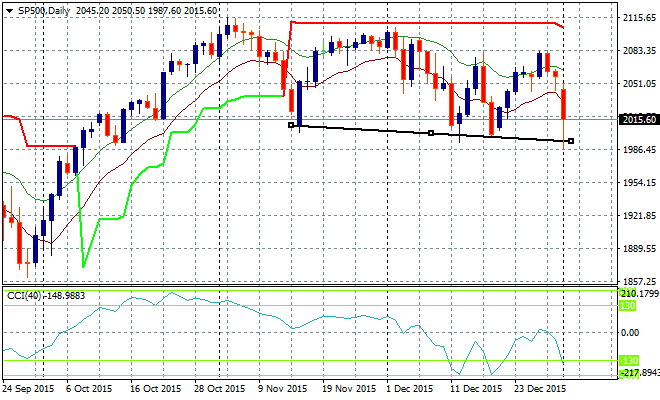 On to currencies, where the risk off trade meant go USD, sell everything else. Euro fell straight through the 1.08 handle breaking the downside of the symmetrical triangle that was being formed on the daily charts. Heavily oversold I expect a small swing today going into the City session, but a resumption of weakness thereafter. CPI print tonight into deflation zone might give it some support: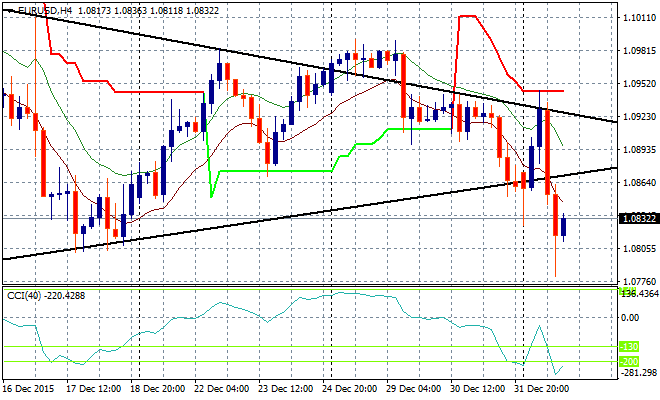 Yen however is standing out strong with the USDJPY pair slumping straight through the 120 handleand down to the high 118s before returning somewhat earlier this morning. Again, well overdone and overcooked so a reversion back to 120 is not to be unexpected: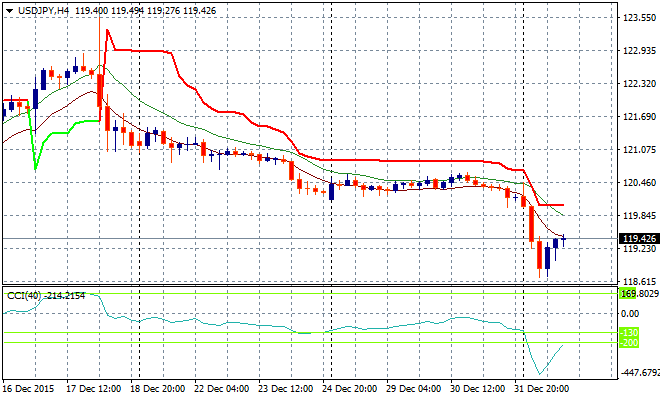 The Australian dollar could not escape the carnage either, breaking its pre-Christmas daily uptrend and straight through the 72 cent handle against the USD.  This week, as more data rolls in, I'm watching the weak uptrend from the 71 handle support level for signs of a breakdown: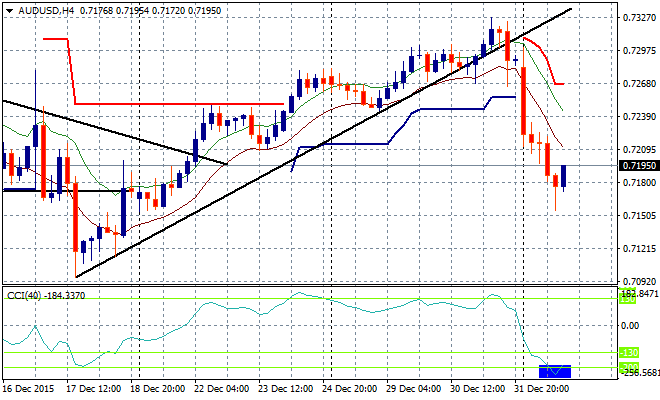 The Saudi/Iranian kerfuffles started the Monday session up violently, but apart from the messy intrasession charts, oil finished pretty much where it started. The technical breakout levels are pretty obvious here on the four hourly charts with resistance overhead at $38USD per barrel and support at $36.30 or so to go short: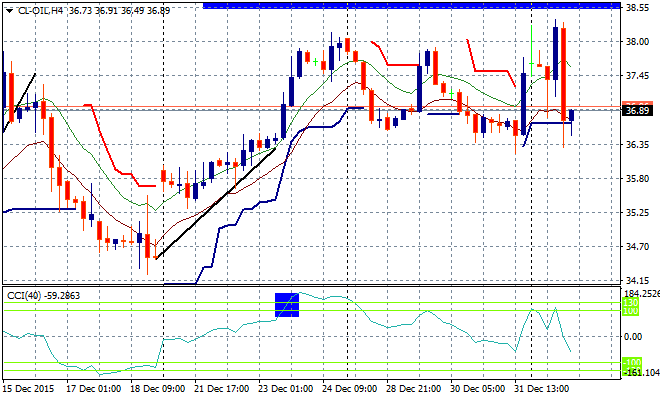 Gold was the only undollar asset apart from Yen to find a bid overnight on the risk off mood, but it was tepid to say the least – rising up through $1080USD per ounce before coming back to $1073 or so. Support at the $1060USD level remains the key breakout level going forward: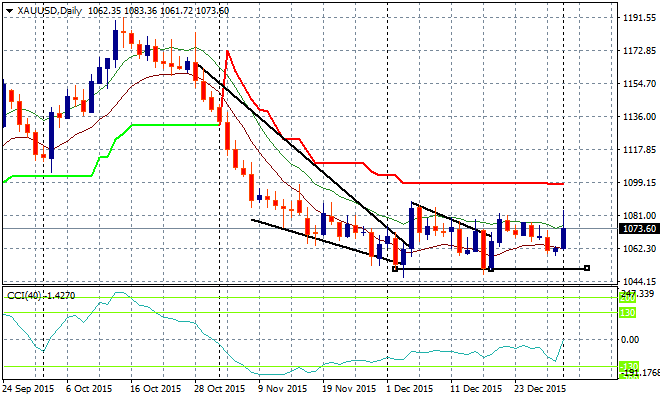 The data calendar rolls on this week with the ANZ/Roy Morgan consumer confidence print this morning and then Japanese monetary figures later today. In Europe its the only unemployment print that counts – damn the terminally unemployed youth in Spain, Greece and Italy – and that's Germany. We also get the final CPI print for the EU for December which on the back of German deflation printed last night, doesn't look too good.
Latest posts by Chris Becker
(see all)