Its time. Time to buy banks. Resistance is futile! Your portfolio shall be one with Megabank!
As the bullish research reports come through from the local institutions, as seen here from Credit Suisse and here from Deutsche Bank yesterday, and prices fall to 2014 lows, the bargain hunters are back!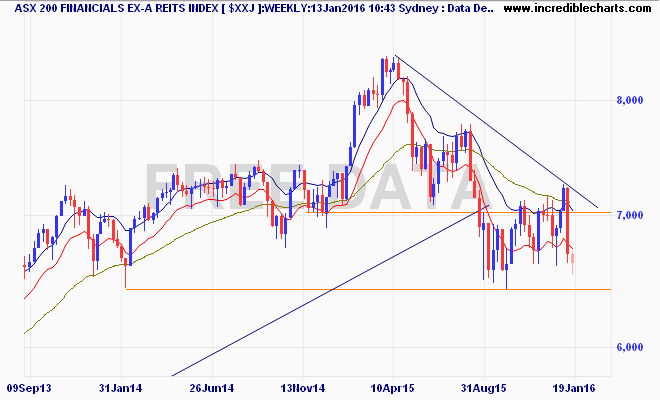 The banking sector has had a huge retracement from the highs experienced in 2015, as the RBA effectively communicated the end of its easing cycle that saw bank stocks nearly double in price. With a 20% discount to price,  grossed up yields approaching 7% why wouldn't you?
Well we have to look overseas – again – for sanity to prevail. Barrons has the bear call via CLSA:
While miners like BHP Billiton ( BHP.AU ) and Rio Tinto ( RIO.AU ) have been under pressure since peaking in early 2011, the selloff in the major bank stocks reflects a major reversal of fortune for the lenders that had been eagerly bought by investors hungry for their juicy yields.

The foursome of ANZ ( ANZ.AU ), Commonwealth Bank of Australia ( CBA.AU ), National Australia Bank ( NAB.AU ) and Westpac ( WBC.AU ), which together make up 30% of the Australian stock market, are down almost 9% on average so far in 2016. But while the recent declines may have brought valuations to around historic lows of roughly 11 times forward 12-month earnings, now is probably not the time to go bargain hunting as there could more pain to come. CLSA's head of Australian banks research, Brian Johnson, sees a number of headwinds that could buffet the big four lenders.

Aussie bank stocks are no longer as attractive as they once were to U.S. dollar-denominated funds, which have been notable buyers in recent years. While the juicy 5%-plus dividend yields offered by the big four banks, combined with a strong Australian dollar, had made the stocks a no-brainer for yield chasers faced with zero interest rates in the U.S., conditions have now changed.

The U.S. Federal Reserve is raising interest rates, while China's slowing economy could further pressure the Aussie dollar. Additional weakening of the Aussie, which AMP Capital economist Shane Oliver expects to slide to as low as $0.60 by the end of the year from current levels around $0.70, could quicken the pace at which foreign investors sell bank stocks to avoid further foreign exchange losses. At the same time, U.S. banks, which enjoy lower valuations than Aussie banks and offer reasonable dividend yields, are also looking in better shape with lower risks, says CLSA's Johnson.
Its all about dividends which have reached their peak in sustainability, as bad and doubtful debt charges (and accounting chicanery including non-recurring write offs) cannot go any lower, while razor thin capital buffers still need to be widened, with another $30 billion plus probably still on the cards to be raised.
This will suck the obscene mid-teens ROE down to the low teens or even high single digit region, reducing valuations substantially.
So yes, buy away from the inevitable bear market rally and 20% some price appreciation in a few months or even weeks. But be wary of the Borg that is Megabank and her institutional houses flouting the goods. Bank stocks are stinkers.
Latest posts by Chris Becker
(see all)