Credit Suisse are out this morning with the mainstream view on the banking sector, remaining overweight (read: nothing else worth investing in) going into this year.
The main reasons:
Regulatory capital rules are now clearer (acknowledging Basel IV to come), "jumbo" capital raisings are complete (for now) and
Multiples are if not attractive (relative and / or absolute) at least provide a degree of downside protection;
Residual relative "safe haven" status referred to above persisting; and
Fixed income market anticipation of another phase of easing in the domestic cash rate cycle (which bank stocks are positively correlated to).
In other words, banks have enough capital now, moving from razor thin to paper thin; they're cheap because history says so; Australia is a safe haven, not a safe harbour and the RBA will save the sector once more.
Here's their buying preferences:
Our major bank order of preference remains:
WBC (Outperform; re-pricing & cost restructuring leader),
CBA (Outperform, re-pricing leverage),
ANZ (Neutral, Asia rightsizing),
NAB (Neutral, business banking downward re-pricing / momentum recovery).
Earnings continue to be revised across the sector (and all stocks – more on that later) however: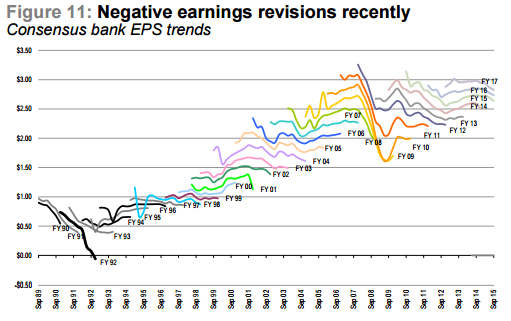 The main upside seen by CS is the "jumbo capital raisings are over…for now" as bank capital is "unquestionably strong":
The sector has now moderated its capital accumulation task to now an estimated $18bn in aggregate following capital raisings conducted throughout 2015 (previously the task was $33bn as calculated in December 2014), leaving the sector now with a much clearer line of sight to accumulating the residual amount just organically.

We estimate this represents around three years of organic capital accumulation, through earnings retention (post funding portfolio growth) and nil discounted DRPs.

With APRA seeking to dovetail any further regulatory capital reforms in with Basel IV and the Government providing generous timeframes for APRA's consideration of the Financial System Inquiry's recommendations (namely, defining "unquestionably strong" capital levels by the end of 2016, TLAC and leverage ratios "beyond" 2016).

We also estimate that major Australian banks already meet the BIS Financial Stability Board's finalised TLAC threshold requirements for G-SIBs (namely, 16% of RWA by 2019 and 18% of RWA by 2022).

Accordingly, we see some respite (for now) along the (unfinished) path of regulatory capital accumulation.
Underestimating I think. The downside though seems right as earnings are overoptimised as bad debts/doubtful charges reach their lower limit and dividends face growing threats of sustainability. More:
Whilst acknowledging a relatively buoyant FY16E for bank revenues (margins in particular), baked-in cost growth (commonly arising from rising software amortisation charges) is leading to negative cost / revenue "jaws" being routinely reported, whilst tight regulatory capital ratios are inhibiting the ability of banks to fund substantial cost restructuring charges.

Further, bad debt charges reached their cyclical trough in FY15.

Bank capital dynamics are optimised, raising a challenge to dividend sustainability: We see regulatory capital reforms as a double negative challenge for capital dynamics, leading to:

1) Lower capital generation (ROE impact from de-leveraging) equating to a prima facie -2% ROE impact before any mitigating actions (e.g. customer re-pricing, productivity initiatives); and

2) Higher capital consumption (higher RWA growth for the same credit growth), equating to a +1% RWA impact. The combined impact of this reduces the maximum sustainable payout ratio of the major banks by an estimated circa 10%. However, with banks payout ratios / capital dynamics already reliant upon dividend reinvestment plans (DRPs) for their on-going operation, pressure on dividend payout ratios must follow for banks already operating with optimised capital dynamics. 
Dividends are the canary in the bank mine. Any cut will be met swiftly by condemnation by Mum and Dad investors and thus the share price.
Latest posts by Chris Becker
(see all)