News earlier this morning from the Nikkei Review that iPhone 6 production from Apple may be cut up to 30% in the first quarter:
Apple is expected to reduce output of its latest iPhone models by around 30% in the January-March quarter compared with its original plans, a measure that will deal a blow to Japanese and South Korean parts suppliers.

The U.S. company had initially told parts makers to keep production of the iPhone 6s and 6s Plus for the quarter at the same level as with their predecessors — the iPhone 6 and 6 Plus — a year earlier. But inventories of the two models launched last September have piled up at retailers in markets ranging from China and Japan to Europe and the U.S. amid lackluster sales. Customers saw little improvement in performance over the previous generation, while dollar appreciation led to sharp price hikes in emerging markets.
The news has sent Apple's share price reeling, down 2.5% in after hours trading and sending a big signal to pattern traders like Peter L.Brandt that not all is well with an ominous bearish head and shoulders pattern fulling formed and ready to break: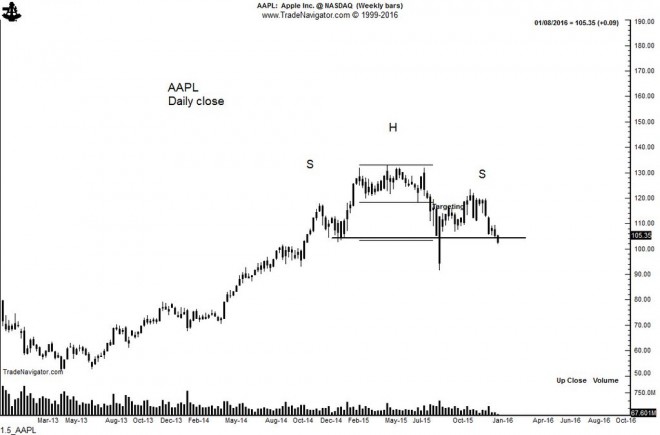 For perspective though, in early 2013 Apple cut production of its iPhone 5C model in a similar vein, sending the stock reeling nearly 55% before relaunching: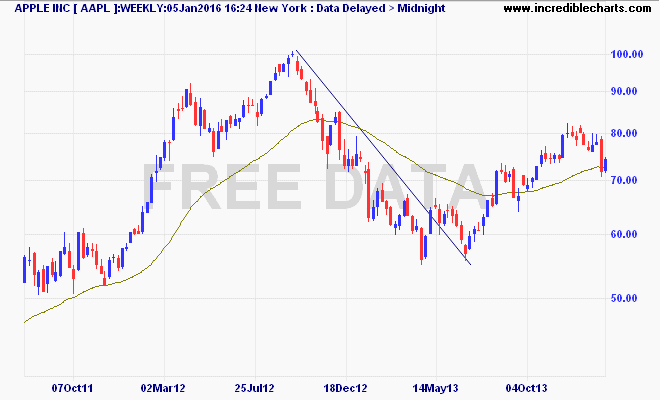 Tread carefully short sellers!
Latest posts by Chris Becker
(see all)