Late last month, after former Treasurer Joe Hockey's admission to Parliament that negative gearing should be restricted to newly built dwellings only "so that there is an incentive to add to the housing stock rather than an incentive to speculate on existing property", Assistant Treasurer Kelly O'Dwyer repeated the lie that negative gearing is utilised mostly by "average Australians" before playing down the prospects of reform:
…there's obviously a lot of discussion about negative gearing and a lot of people say that only wealthy Australians take advantage of negative gearing."

"When you look at the facts that's not the case, average income earners are largely the people who do get to take advantage of negative gearing."

"Nurses, police men and women on an average wage, for instance investing in a property, most of them hold only one property which adds to the housing stock that's available for [other] people as well."
Over the weekend, the Grattan Institute's John Daley laid waste to Kelly O'Dwyer's claim, releasing research showing that negative gearing disproportionately benefits Australians in high-paying occupations. From The Canberra Times:
…anaesthetists, surgeons, finance managers, mining engineers, and lawyers, are far more likely to negatively gear their properties than so-called 'battlers'…

According to Tax Office data, nearly 30 per cent of anaesthetists negatively gear their properties, compared to just 3.6 per cent of cleaners.

Surgeons (27.7 per cent), finance managers (23.4 per cent), mining engineers (22.2 per cent), and lawyers (22.1 per cent) are also far more likely to use the strategy than people in lesser-paying jobs, the data shows.

Sales assistants (3.7 per cent), hairdressers (5 per cent), nurses (9.6 per cent) and teachers (12 per cent) are much less likely than surgeons and lawyers to use negative gearing…

Data shows the average tax benefit that surgeons received from negatively geared property was $4161 in 2012-13, followed by anaesthetists ($3353), lawyers ($1788), mining engineers ($1336) and finance managers ($1247).

But cleaners only received an average tax benefit of $41, while sales assistants ($42), hairdressers ($167), nurses ($254) and teachers ($327) fared little better.
Of course, the RBA has already trashed Kelly O'Dwyer's claim. In its submission to the home ownership inquiry, the RBA showed that nearly 80% of investment property debt is held by the top 40% of income earners:
While the incidence of property investment increases with the level of income, the Household, Income and Labour Dynamics in Australia (HILDA) Survey also suggests that most investor households are in the top two income quintiles. These households hold nearly 80 per cent of all investor housing debt…
The Australia Institute (TAI), using NATSEM data, has also shown that nearly one third (34%) of the benefits of negative gearing were captured by the top 10% of income earners and nearly one-half (49.8%) by the top 20% of earners: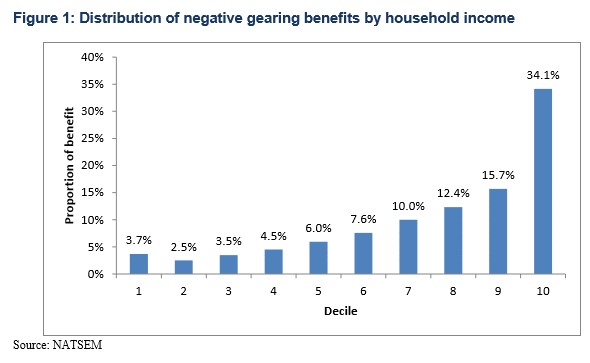 Finally, the Australian Bureau of Statistics' (ABS) latest housing occupancy and cost data, released last month, showed that the top 20% of income earners accounted for 39% of all housing investors by number (chart from Greg Jericho):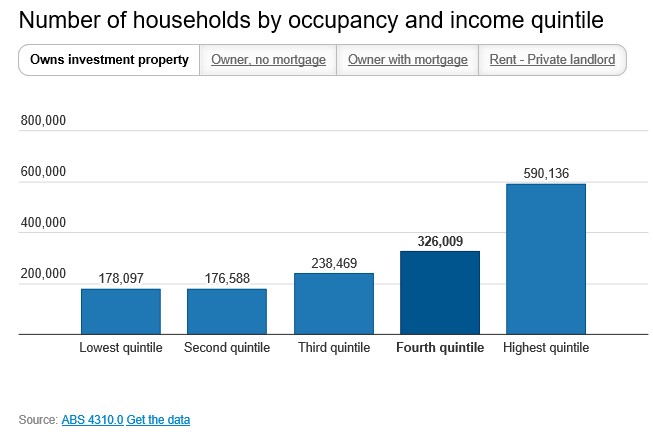 Let's hope Grattan has once and for all put an end to the lies and the Turnbull Government gets on with reforming negative gearing, or at least unwinding its partner-in-crime, the capital gains tax discount.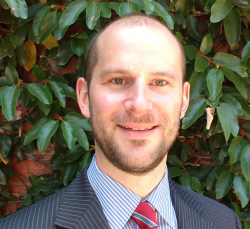 Latest posts by Unconventional Economist
(see all)