It's panic time for Gladstone investment property owners, who are facing sharply falling house prices and rents as the three large LNG projects begin to wind-up construction. From The Gladstone Observer:
The high vacancy rate has given tenants the upper hand as owners and investors struggle to make enough to pay their mortgages and rates.

Renters are taking advantage of the opportunity – challenging real estate companies to drop their rent to equal what they've seen on signs out the front of vacant properties in their street.

…a rising number of homes are being taken by banks and in the past few weeks one real estate agent has been forced to evict tenants on two occasions because the house has been repossessed.

In a year, the average price of a rental house has dropped from a minimum of $320 to as low as $150.

A brand new home that would have been rented for at least $450 a week in November 2014, is now about $320.

CBS Property Group owner Jim Baron and Elders Rental Department Manager Nikki Nation agree – the "ridiculous" rental prices need to stop.

"Owners need to stop panicking and lowering the rent"…

"If agents stop putting out these ridiculous rents then the price will stabilise.

"Owners are panicking because their property is vacant … but the low rents are dragging the rest of the market down too…

CBS Group's Mr Baron, which manages about 400 rental properties, said real estate agents were knocking prices down below what's reasonable and doing their owners a disservice.

"Investors are obviously losing big time," Mr Baron, who has seen multiple homes repossessed in the past few months, said…

"This is the time people should be buying in Gladstone but investors are looking at rental prices and saying 'why would I buy there?'
It's not rocket science why Gladstone's property market is plummeting. The epic mining investment boom is unwinding fast as the three giant LNG projects under construction in Gladstone near completion (see next chart).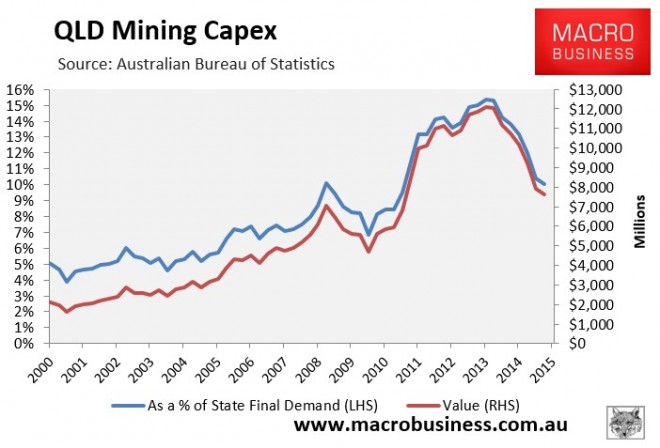 According to the State Government, construction jobs across the three large LNG projects are expected to number some 9,900. However, once the projects are completed, and the LNG plants move into the operational phase, then only around 420 employees are expected to be required. That's a reduction in jobs of around 95%, not to mention the loss of jobs in functions peripheral to construction (e.g. engineers and mining services), as well as those indirectly affected (e.g. services staff in Gladstone), which could double the losses.
With demand for accomodation falling fast, rental vacancies in Gladstone have rocketed: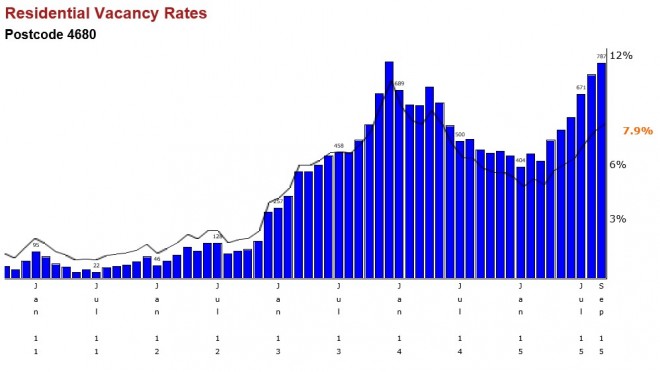 And with the rising rental vacancies has come falling asking rents, which have plummeted more than 10% over the past year and by half over the past three years, according to SQM Research: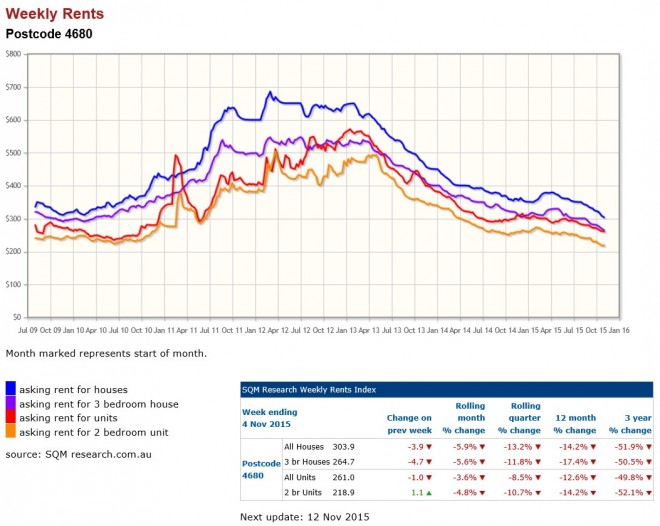 Asking prices in Gladstone, too, are falling fast, down nearly 10% over the past year and by around 20% (houses) and 30% (units) over the past three years: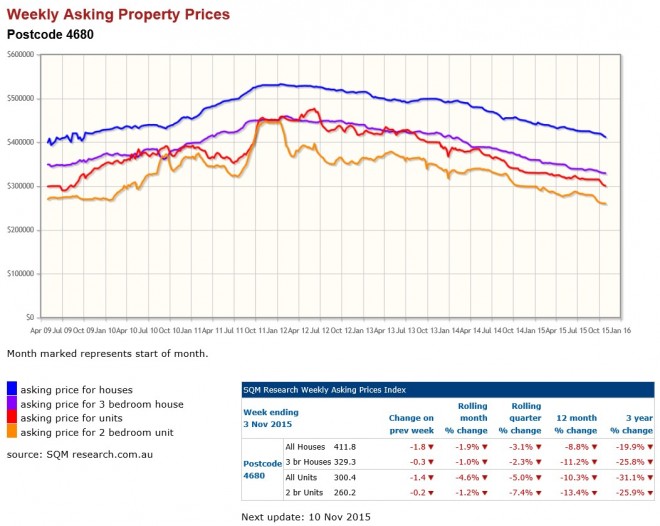 The bottom won't arrive until the three LNG projects are completed and unemployment tops-out, which will probably occur some time in 2017.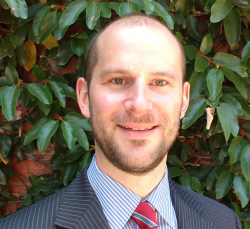 Latest posts by Unconventional Economist
(see all)