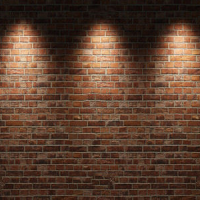 by Chris Becker
The potential for an emerging markets crisis rolls on as news this morning that Brazil's rating and outlook have been cut by S&P on the back of its continuing fiscal crisis on plunging oil and commodity prices.
From Bloomberg:
Brazil's sovereign rating was cut to junk by Standard & Poor's, eliminating the investment grade the country enjoyed for seven years, as President Dilma Rousseff's struggles to shore up fiscal accounts amid a faltering economy.

The country's rating was reduced one step to BB+, with a negative outlook, S&P said in a statement.

The downgrade puts pressure on the economic team led by Finance Minister Joaquim Levy to win passage of measures that would shore up the country's fiscal situation by cutting spending or raising taxes. .

"The political challenges Brazil faces have continued to mount," S&P said in the statement accompanying its decision. "The negative outlook reflects what we believe is a greater than one-in-three likelihood of a further downgrade due to a further deterioration of Brazil's fiscal position."

Brazil's government said in August it forecasts a fiscal deficit in 2016 of 30.5 billion reais ($7.9 billion), or about 0.5 percent of gross domestic product. That compares with a targeted surplus of 2 percent at the beginning of this year and a revised objective of 0.7 percent announced in July.
Derision of S&Ps role in the GFC aside, the key point is that the major pension and other managed funds cannot buy "junk" rated assets, so this rating could lead to a big dump in Brazilian stocks, bonds and of course the Real which is in terminal decline: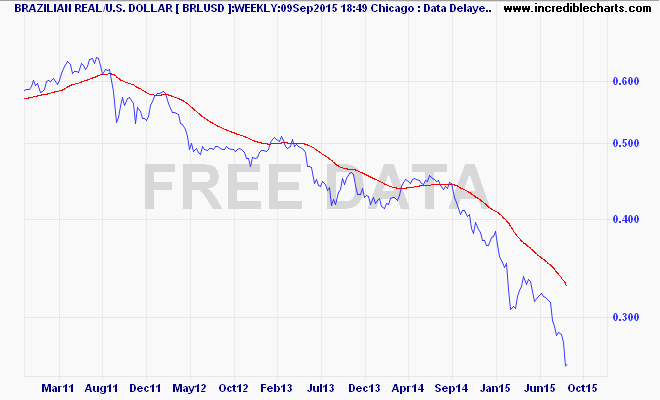 The engine of emerging market/BRIC growth is trade with the developed economies, either in commodities or cheap products. The collapse in commodity prices and the return to a deflationary path of demand, including China's restructuring is causing that engine to choke.
Or as Citi explains, via FT:
"In medical terms, the patient's condition is chronic, not acute," said David Lubin, head of emerging market economics at Citi. "EM has a persistent problem that results from two irreversible shocks. One is the end of an era which saw rapid, investment-led growth in China. And, two, the collapse of global trade growth to levels unseen for a generation," he added.

 In the first half of this year, emerging markets became a net detractor to global trade growth for the first time since 2009, according to data compiled by Oxford Economics, a research firm.

In GDP terms, EM growth is likely to fall to 3.6 per cent this year, its lowest level since 2001 (excluding the GFC). However, the impact on commodity-exporting EM economies is particularly severe, with average GDP growth falling fast toward zero.

"This is not a repeat of the ripples that spread across the world's financial markets in the late 1990s and into systemic banking failures," said Neil Shearing, chief emerging markets economist at Capital Economics in New York. "This is a crisis of growth."

Part of that crisis  is caused by structural problems on the supply side, such as the misallocation of resources in China, persistent low investment in Brazil and Russia, excessive regulation in India and Mexico.
Ratings downgrades do not help at times like this as debt becomes more expensive and asset prices plummet, putting more pressure on emerging market fiscal bottom lines and on corporate balance sheets.
Latest posts by Chris Becker
(see all)