Wednesday's national accounts release for the June quarter confirmed that Australia's FIRE economy – Finance, Insurance and Rental, Hiring & Real Estate Services – continues to scorch the economy, increasing its share of the Australian economy to a record 11.7% (see next chart).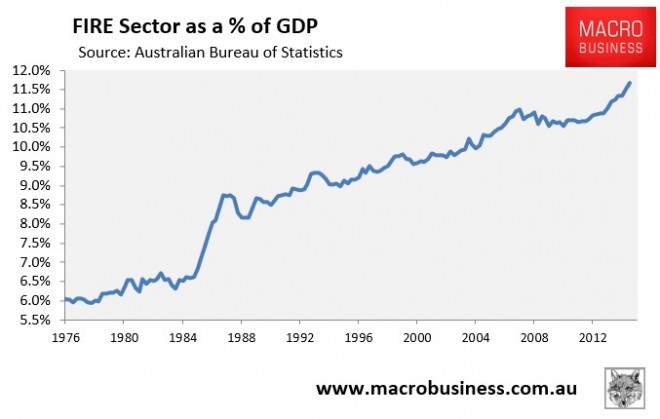 Since financial markets were first deregulated in the mid-1980s, the FIRE sector has grown at nearly twice the pace of the rest of the economy, sucking the life out of the productive sector: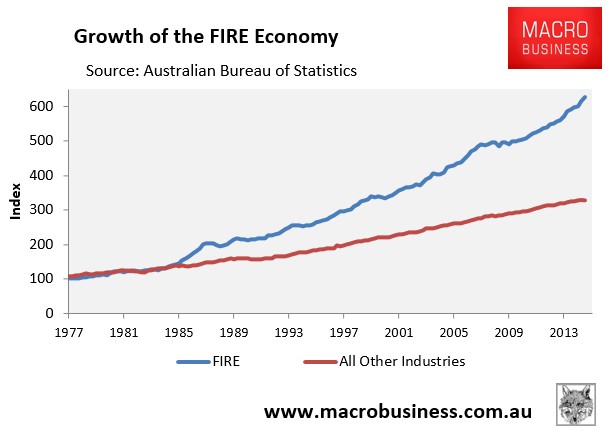 The FIRE sector is loving life at the moment. Households are re-leveraging, as evident by the trend decline in the household savings rate over the past three years: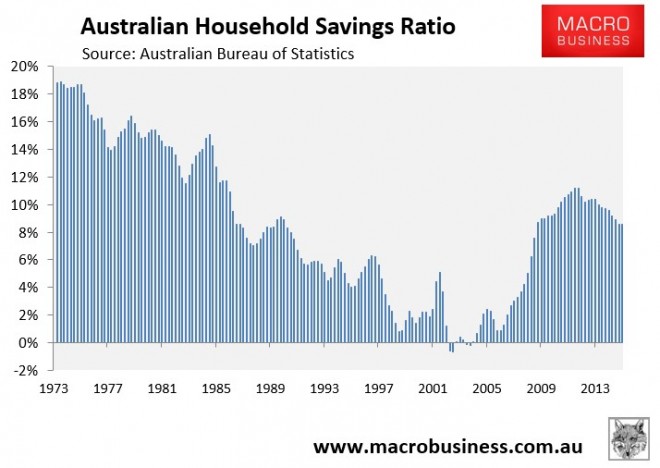 And the ratio of mortgage debt-to-GDP has risen to a new record high 91% of GDP: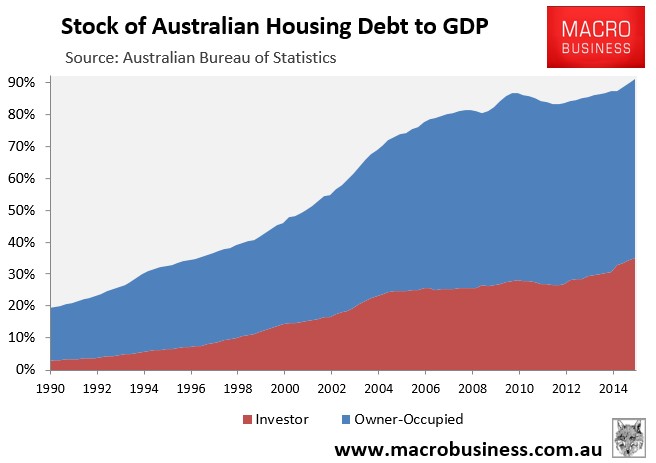 The banks are also borrowing offshore like drunken sailors, funding the huge balance sheet (read mortgage) expansion: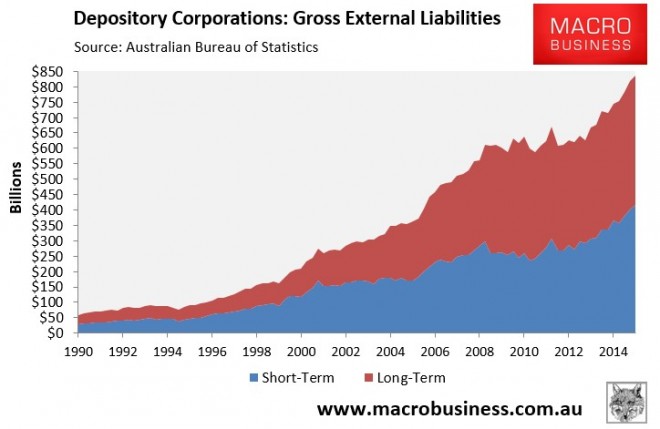 Indeed, gross external liabilities outstanding as at June 2015 hit a record $835 billion, an $89 billion increase over June 2014.
With that growth, the ratio of offshore borrowings to GDP has hit an all-time high 52% of GDP, surpassing the pre-GFC peak: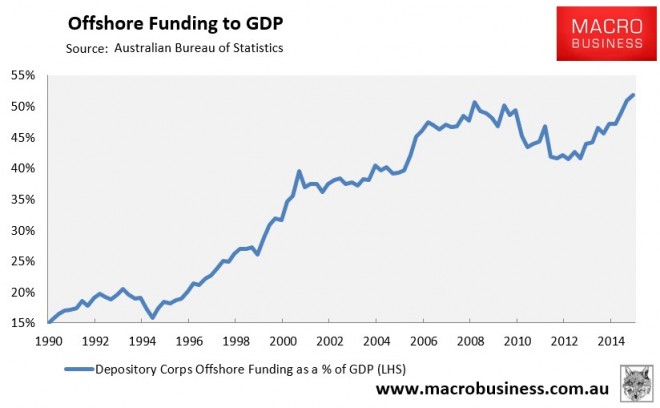 And the net result is that Australian house prices have increasingly decoupled from rents as capital has flooded into non-productive housing: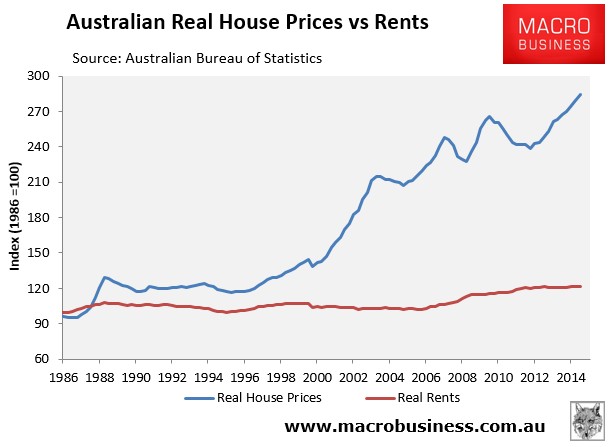 Of course, a key ingredient behind the surge in credit growth, house prices, and the FIRE economy's growing share has been the explosion of property investors, whose absolute size and share has risen inexorably over the past two decades, and exploded over the past three years, of course aided and abetted by Australia's peculiar tax laws (e.g. negative gearing and CGT concessions):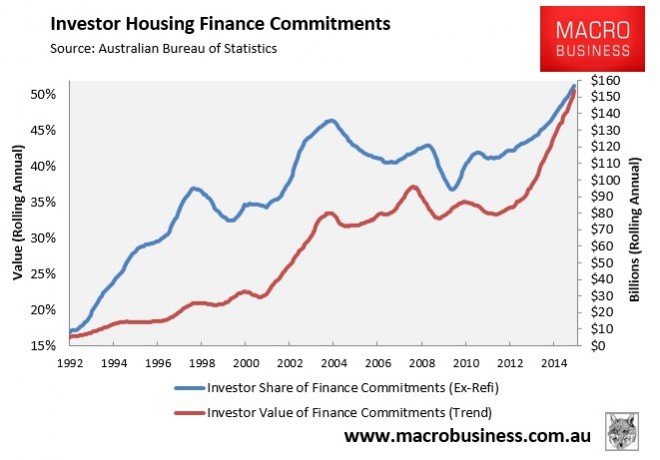 Meanwhile, businesses continue to gasp for air, with the proportion of lending going to businesses falling to record lows: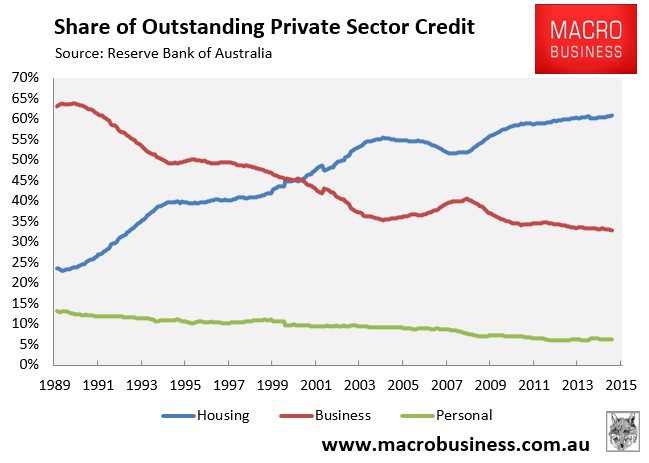 And with overall housing credit growth expanding at 7.4% in the year to July 2015 – much faster than nominal GDP (1.6%) – the FIRE economy is set to continue pushing to new highs, taking Australian risk well above GFC levels, but this time with a failing Budget, falling national income, higher unemployment, and less interest rate cuts still in the chamber.
Is this the dumbest bubble in history?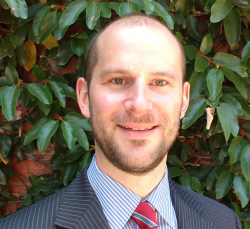 Latest posts by Unconventional Economist
(see all)