For years I have argued that the retirement of the large baby boomer generation – a cohort that represents around 25% of Australia's population but holds roughly half of the nation's housing and financial assets – would eventually pose stiff headwinds for asset values, since many boomers would look to divest their asset holdings in order to fund their retirements – a process that would ultimately place downward pressure on valuations.
This view has received support from other quarters, including Savills Australia's national head of research, Tony Crabb, who once argued that "sales volumes are going to be large" once baby boomers begun selling-off their homes, and that "you want to be the first – and not the last – one out because there are going to be more buyers at the start than the end".
On way in which this process was supposed to occur was by empty nesters selling-off their large family homes and purchasing cheaper (smaller) apartments in the city and inner areas, or moving to a retirement location – the so-called "sea change" or "tree change".
However, US Government-backed mortgage securitiser, Fannie Mae, has thrown cold water on this assumption, publishing research late last week showing that baby boomers have mostly remained put in their single-family detached homes and "have not been a major force behind the surge in apartment demand":
Single-family occupancy has been stable even among older Boomers (those born between 1946 and 1955), who are overwhelmingly empty-nesters and who have begun to leave the labor force in substantial numbers,9 life changes that might be associated with downsizing. For older Boomers, both per-capita and per- householder single-family occupancy rates were statistically no different in 2013 than they were one and seven years earlier.

…data from the American Community Survey (ACS) on the number of rooms in Baby Boomer homes provide no evidence of widespread or sustained trading down within the single-family stock, and in fact point to modest upsizing in recent years.10 The average number of rooms in single-family homes with Boomer householders declined slightly between 2008 and 2011 (Exhibit 2). But between 2011 and 2013, the average number of rooms per home increased, both for all Boomers and for younger Boomers born between 1956 and 1965…

An examination of apartment occupancy trends reveals that Boomers are not spurring the resurgence in multifamily rental demand, either… Boomers have accounted for none of the recent increase in occupied apartments (Exhibit 3). Between 2010 and 2013, the number of Boomer apartment renters did not change significantly, whereas the number of Millennial15 apartment dwellers grew by an average of nearly half a million per year…

Boomers account for less than 20 percent of recent apartment movers, whereas the Millennial share exceeds 50 percent and is still rising (Exhibit 4). The Boomer share of recent apartment movers declined slightly between 2010 and 2013…
In Australia, there has been a notable shift to apartment construction based, in part, on the belief that an ageing population would lead to rising demand for well-located, smaller homes.
So if Fannie's findings were to be replicated in Australia, we could find ourselves with mis-matched housing supply, whereby too many apartments have been constructed and too few detached homes. I would argue that this is already the case in Australia, where many younger people have been forced to live in an apartment because they cannot afford a free standing home.
That said, in Australia's case, there has at least been a gradual shift by baby boomers to coastal or regional areas (see next chart).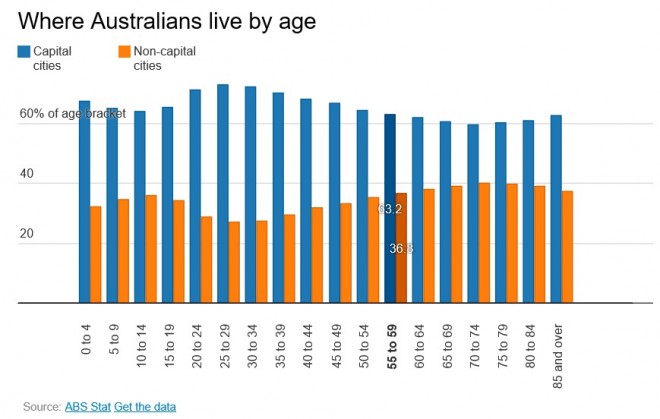 According to The Guardian's Greg Jericho, who has analysed the ABS population data:
This tendency for retirees to leave the capital cities and find peace on the coast is certainly reflected by the data… while the ABS notes that "the majority (63%) of baby boomers lived in Australia's capital cities in 2014" they too will be found in greater concentration "located around larger urban centres in regional Australia or along the coast".
Obviously, there are a number of policy responses that could be employed to encourage empty nesters to downsize from their large 'family-friendly' homes, in turn freeing-up housing for young families, and leading to a more efficient utilisation of the housing stock.
Abolishing stamp duties in exchange for a broad-based land tax would assist, since it would lower the cost of moving and effectively penalise those taking up excessive 'space'.
Bringing the family home into the Aged Pension assets test, in concert with a Government-sponsored reverse mortgage scheme, would also remove an existing tax/welfare shelter and similarly encourage a more efficient use of the housing stock.
In any event, Fannie Mae does believe that the baby boomers will eventually move markets:
Boomers will not inhabit this vast inventory of single-family homes forever. When large numbers of Boomers eventually begin to vacate their single-family homes, their actions will reverberate through the housing market and will likely lead to a substantial increase in the demand for other shelter types, including apartments. Although substantial downsizing activity among Boomers is not evident yet, their housing behaviors merit continued close study to help inform responses in the housing and mortgage finance industries.
With the boomers holding roughly half of Australia's housing stock (by value), this has got to be true. It just might not play out as expected.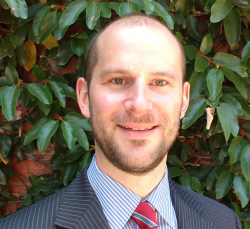 Latest posts by Unconventional Economist
(see all)