by Chris Becker
Gerard Minack has always been a standout in a sea of permabulls and salesmen dressed up as bank economists. His latest missive considers the full reason behind the selloff and the impact going forward:
Corrections happen, (but) bear markets typically require recession. For now, recession doesn't seem imminent in developed economies. However, I do not think that this correction ending will see a resumption of the bull market, at least not the bull market that has driven risky assets through the past four years.

Markets are now discovering that there is a limit to how far the valuation of risky assets can be lifted by low rates. What this points to, in my view, is greater volatility, lower returns, and a greater dispersion of returns as the PE-driven beta in markets gives way to the idiosyncratic influence of corporate earnings.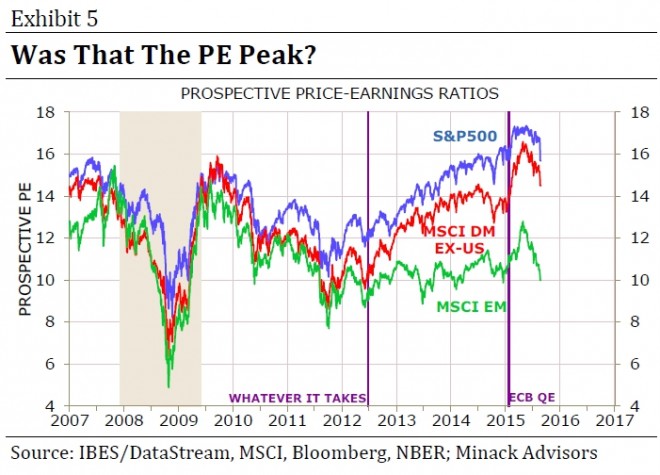 In other words, The Great Volatility rolls on. This is not a repeat of the Great Moderation, a 30 year blip in a long history of market price action that the mainstream still contends is the norm. Minack rightly points to the dual problems of a lack of inflation and a lack of faith, both of which are needed to keep earnings rising in nominal terms and equity markets afloat.
Here's more:
There is also a risk that we continue to see investors lose faith in the ability of policy makers to achieve their aims. By my reckoning, most investors already have little faith in the political leadership of many developed economies. But there has been a deep faith in the ability of monetary policy to both lift asset prices and, ultimately, generate an adequate inflation rate over the medium term. If investors start to doubt that – and the decline in break-even inflation rates suggests concern – then things could get significantly worse.

This is not my base case now. It is my base case for the next downturn, which will be the apotheosis of the disinflationary trends apparent for two decades, and likely to result in a profound bear market.
The long term debt orgy and central banks pushing on a string to create inflation is over. In a deflationary future, you don't want to be holding stocks.
Latest posts by Chris Becker
(see all)