by Chris Becker
Its been a dour Monday morning so far on the markets, with the AUD falling, S&P500 futures off 1% in reaction to two risk-off pieces of news coming out this weekend. This is not just early Monday morning illiquidity talking – something is spooking risk.
First, everyone is talking about this cover page on the FT, with the news that China is ditching its "at all costs" program to save its internal stock market bubble through large purchases and is instead going after the villains: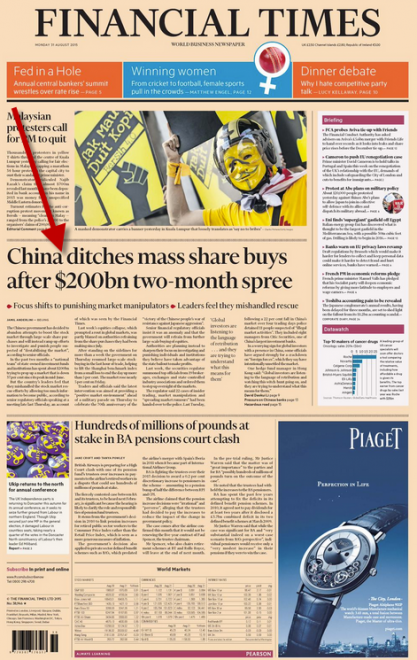 Although the Shanghai Composite has risen 10% in the last two sessions, it is by no means out of the woods yet, as I showed in my Macro Morning (Trading Week) roundup this morning: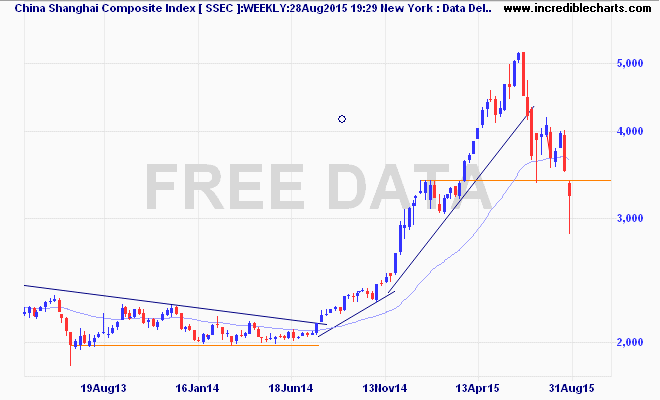 This is a market on its last legs, and no support from central banks or authorities means it will revisit its previous low.
To add to the uncertainty, over the weekend, the central bank talkfest at Jackson Hole Wyoming included a stunning return to the hawks talking up interest rate hikes, namely Fed vice chair Stanley Fischer.
Interest rate futures are now giving a 38% chance of a rate hike in September, up from well below 30% mark we saw earlier last week. Even if September is off the table, December is now firming in the the market's eyes as most likely.
As Chris Weston at IG remarked to me this morning:
 Markets want closure, certainty and stability and weekend news has done the opposite.
Latest posts by Chris Becker
(see all)