Mortgage Choice has released its latest investor survey, which reveals that first home buyers (FHBs) continue to flock to investment properties:
According to Mortgage Choice's latest Investor Survey, 36.6% of investors were first time buyers – significantly higher than the 21.1% recorded this time last year.

Mortgage Choice chief executive officer John Flavell said the results weren't surprising given that property prices continue to rise substantially across Australia's capital cities where "most people want to live".

"Australians increasingly want to live close to work and where the action is, which is why most people like to live as close to the capital city centres as possible. Of course, with prices rising across most capital cities, purchasing property near or close to the city is becoming increasingly difficult for buyers – especially first home buyers," he said.

"As such, we are seeing an increasing number of first time buyers purchasing investment properties before an owner occupied property as this allows them to buy where they can afford and still live where they want to."

Mr Flavell's comments were echoed by the data, with one in every four first time buyers admitting that they had purchased an investment property before an owner occupied property because it was more affordable.
This analysis, of course, follows that of Martin North from Digital Finance Analytics, who has been tracking FHB's for quite some time, and notes that FHB's primary motivations for entering the market are capital gains (32%) and the desire for somewhere to live (28%), with the former growing in importance and the latter shrinking. The prospect of gaining a tax advantage is also growing, now up to 10%, suggesting a strong speculative element creeping into the market (see next chart).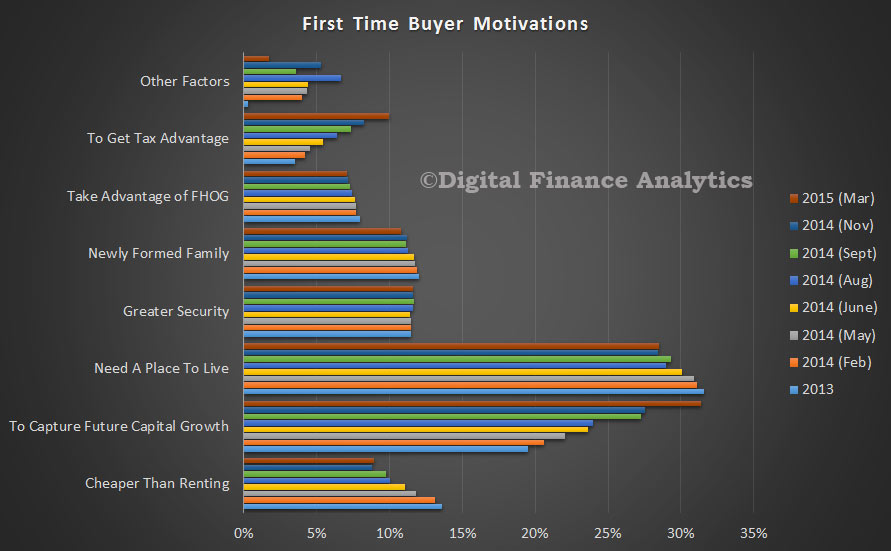 Earlier this month, The ABC's 7.30 Report also ran a segment profiling FHB investors, who are taking advantage of FHB grants and/or negative gearing in order to break into the market.
Based on Martin North's data, along with anecdotal evidence, it would appear that Australia's FHBs are increasingly viewing housing as a wealth building tool rather than somewhere merely to live. Purchasing decisions also seem to be based on the fear of missing out, and the view that delaying potential entry into the market will make it less affordable later.
While everything worked out well for their parents, who built substantial wealth as Australia's house values exploded, values are now at all-time highs against incomes and rents. When added to the massive structural adjustment facing the Australian economy – notably the ongoing fall in commodity prices and mining investment, along with the closure of the car industry – as well as the lack of significant downside for mortgage rates and the sluggish growth in both incomes and rents, now is an incredibly risky time for FHBs to be leveraging-up into the housing market.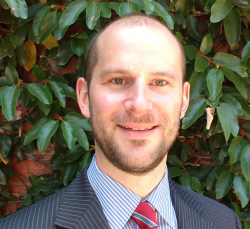 Latest posts by Leith van Onselen
(see all)