From the FT:
Athens is to submit a new proposal to eurozone authorities for a third bailout by Wednesday morning after Greek negotiators stunned some eurozone finance ministers by arriving at their meeting without a revised economic reform proposal.

Despite the apparently abortive start to what had been billed as a last-ditch effort to salvage Greece's place in the eurozone, eurozone officials said they drew some comfort from Euclid Tsakalotos, the new Greek finance minister, who made a strong presentation to his counterparts.

His intervention gave some hope that a deal could still be reached before Athens defaults on a €3.5bn bond payment owed to the European Central Bank in two weeks, considered to be the moment it crashes out of the euro.

…Athens is expected to request a new 2-3 year bailout and interim bridge financing, including through bond purchases by the ECB, to tide it over for three to four months. Both would require Athens to implement unpopular reforms and spending cuts.
President of the EU Donald Tusk is not mincing words: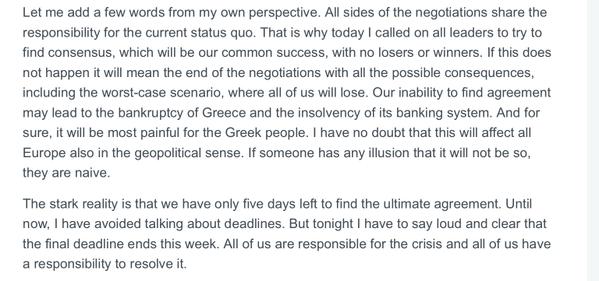 This news was enough to buoy equities. The S&P500 recovered from a 1.5% drop. Don't trust it. Recall what happened during the Lehman Brothers bust: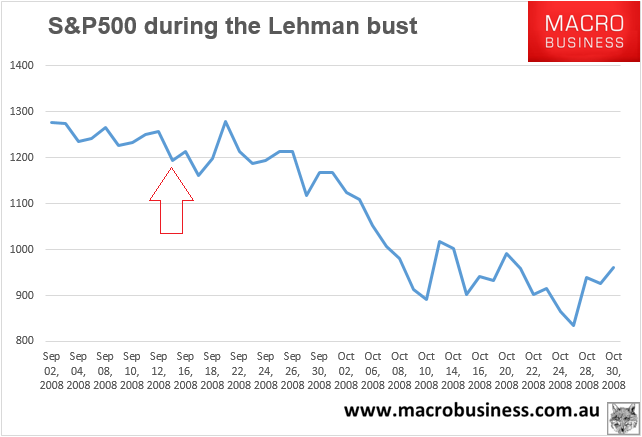 The red arrow marks the Lehman bankruptcy filing. Equities rose the next day and were much higher the next week. Equities are wild during crises and not to be trusted.
I am not saying that Greece is another Lehman Brothers. It probably isn't. But it's no ordinary risk, either. Which is the point. A Grexit could mean an enormous default, hundreds of billions of euros, and fiscal chaos as the ECB needs to be recapitalised, Europe's various fiscal firewalls and funds need instant capitalisation and a mad grab for Greek assets outside of Greece. And clearing it up will be in the hands of European politicians. It's hardly reassuring.
Mohammed El-Erian is measured as usual via FTAlphaville:
Wondering why European peripherals are relatively well behaved while virtually all other risk assets have sold off this morning?

It need not be about irrational or misinformed markets. Instead, it is consistent with expectations of additional market intervention by the European Central Bank.

Rather than point to inconsistent market responses, it is a configuration that may speak to market expectation of further intervention on the part of the ECB.

…So, will this decoupling persist if things get even worse in Greece, as I unfortunately expect they will?

Yes, but with an important qualification. The ECB can deliver relative peripheral out-performance – that is, less of a price selloff than those experienced by other risk assets. But, especially when it is forced to act on its own, it is much harder for the ECB to also assure favourable absolute performance that involves to positive returns.
No shit! The good news is that Australian bank funding cost rises are still modest, up 2bps yesterday to 67.5bps over swap for CBA CDS: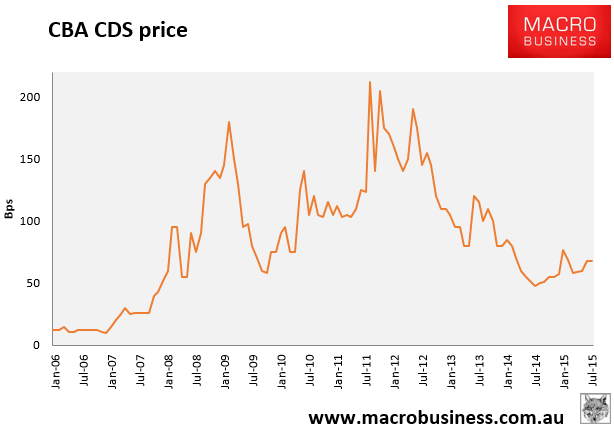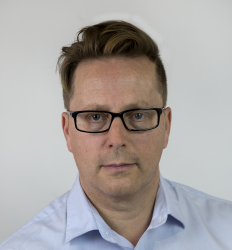 Latest posts by Houses and Holes
(see all)