Brent oil broke down overnight as global turmoil hit risk. It is at $62 this morning. The only news worth reporting was bearish for prices with China still confident of an Iran deal:
Chinese vice Foreign Minister Li Baodong told reporters on Sunday in Vienna there won't be a long extension of Iranian nuclear negotiation, and that a comprehensive deal could be possible within one week.

Sides are only "a step away" from the comprehensive Iranian nuclear deal though many tough issues still needed to be resolved, Li added.

It is clear that there is little chance to strike a deal before the self-imposed June 30 deadline, as some gaps remain and a lot of work still needed to be done.

Iran and five UN Security Council permanent members plus Germany have been negotiating over the past 14 months to reach a long-term deal over Tehran's disputed atomic plan. During the period, Iran would suspend some sensitive nuclear activates, in return, western states would partially relieve some sanction imposed on Tehran.
I remain confident of a deal. In LNG, the indicative contract price fell to $9.05mmBtu: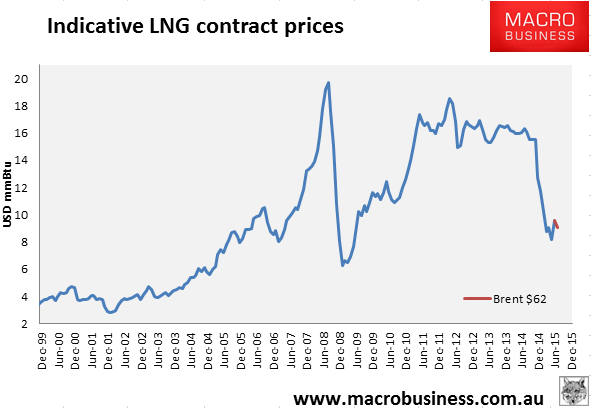 And in news, Japan released its monthly May figures, from Platts:
Japan's LNG imports fell 11.4% year on year to 5.75 million mt in May, the lowest volume since October 2010 when it was 5.22 million mt, data released Monday by the Ministry of Finance showed.

Mild temperatures and sluggish demand in downstream markets were partly responsible for the decline in imports, it added.

Shipments from Australia fell 14.8% from a year ago to 1.2 million mt due to the unplanned shutdown of the North West Shelf plant in Western Australia.

Australia was, however, still the biggest supplier of LNG to Japan.
Sure we are, but here comes the US:
LNG player Cheniere, based in Houston, has reportedly sold its first spot LNG cargo last week.

Sources told Platts that the maiden trade was completed at $7.20 per mmBtu and the cargo will be delivered onboard the 162,000 cbm Clean Ocean LNG carrier in July to an Asian buyer.

…Cheniere plans to market up to 5 mtpa of LNG from its US-based export projects through its office in Singapore.
Hmm, contracts at $9mmBtu, spot available from the US at $7.20mmBtu. Where shall I buy? And more coming:
Cheniere Energy Partners informed that it has engaged 18 financial institutions to act as joint lead arrangers to assist in the structuring and arranging of up to approximately $5.8 billion of debt facilities for Train 5 at Sabine Pass liquefaction project.
Contracts are so yesterday.