Shanghai may be down, another 4% today: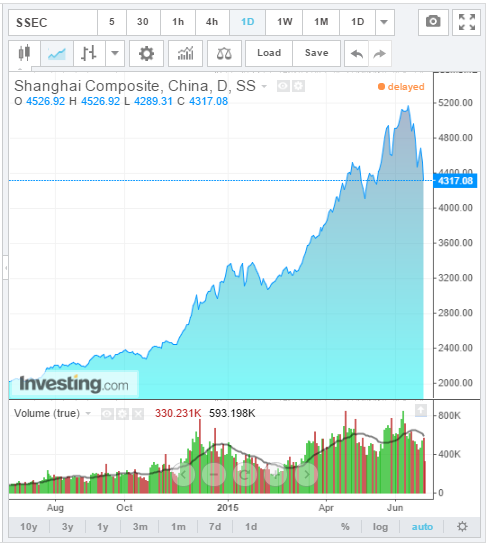 And have some hope of finding a support level. But you can't say the same for Chinext, China's tech-heavy NASDAQ equivalent, down 8% today and looking very like it's headed for Hell: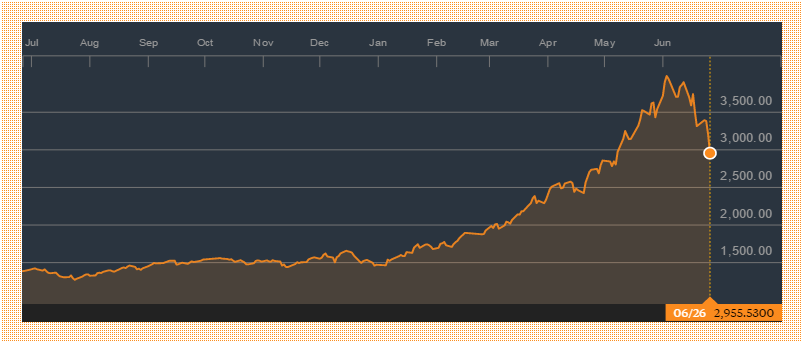 Where high-beta goes the overall market will follow. Does it matter?
According to B0fAML, any reversal will be of sufficient magnitude to disrupt the global cycle:
If Bank of America Corp. is right, the new must-watch indicator for global bond and currency markets comes from somewhere few traders in New York and London would think to check: the Shanghai Composite Index of Chinese share prices.

"Normally, when I come into the office, the first thing I look at is where 10-year Treasury yields are trading, where euro-dollar is trading," David Woo, the head of global rates and currencies research at Bank of America, said in an interview on Bloomberg Radio in New York. "These days, the first thing I look at on the Bloomberg terminal is where the Shanghai Composite is trading."

Woo said China's rally has become so big — he called it the world's largest bubble since dot-com boom of the late 1990s — that the eventual collapse will have consequences for markets around the world.

Chinese shares may drop as much as 30 percent when the mania ends, weighing on consumers who have been an important driver of growth in Asia's largest economy, Woo said. He expects the selloff will be bullish for the dollar and U.S. Treasuries.

It will have a "knock on effect on the whole world economy," Woo said. "The only thing that's holding up the Chinese economy are the Chinese consumers right now. The Chinese consumers are all involved in the Chinese stock market."
A few bold assumptions there! I'm pretty sure that all Chinese consumers aren't that stupid. In the past when we've seen Shanghai bubble and bust the impact was muted because shareholdings are relatively concentrated.
Nonetheless, that was in 2008/9 when the consumer did not matter so much to Chinese growth. The stimulus unleashed then was all investment based so it may well have hidden the impact of the Shanghai bust. Now, consumers are the emerging growth engine of the economy so if Shanghai were to pop then the impact is likely to be greater. Just how great?
The Shanghai bubble has inflated independently of global stock markets as the Chinese economic restructuring has turned easing credit towards shares over investment activities such as real estate. It has been a sudden and dramatic rise resulting from markedly weakening Chinese growth not the result of a growth surge. So, for one, were it to impact consumers, more stimulus would be forthcoming, limiting the bust.
For those outside of China, the impacts are relatively contained. The capital account is still largely closed so there's no direct international contagion effect. The impacts outside China would be on sentiment and trade to the extent that the bust hit Chinese demand.
This would first impact commodity prices, most obviously oil, iron ore, coal and copper, in turn, generating further deflation in Western economies, delaying tightening and or stimulating more easing, immediately supporting their bond and stock markets.
Thus a Shanghai bust would not be enough to derail the global business cycle but could entrench current trends in Western markets driving them upwards towards their own bubbles and busts.