Judging by the many sympathetic comments on the blog for Twiggy Forrest, find below a repeat of why his arguments in favour of major miners cutting production are poppycock and very damaging to Australia.
Owing to geographic concentration, the benefits of scale and capital intensity, iron ore extraction is a natural oligopoly business. What's at stake here is who owns the cartel and whether than benefits Australian welfare. Let's take a quick look at two scenarios to make the point.
The first scenario is the cartel structure favoured by various pollies that seeks to protect and include iron ore juniors by pulling back major miner supply expansions. The second is also a cartel but one that results from swift junior rationalisation enabling the major miners to consolidate their pricing power.
In the junior cartel, Australian iron ore produces 837 million tonnes (mt) of iron ore from 2016 onwards. It does so at a slightly improved price for 2016 as oversupply is reduced in the short term by 43 mt as majors retrench.
However, as Sino, Roy Hill, Anglo and Vale continue their expansions and Chinese demand keeps falling, the glut builds from 2017 onwards and the price keeps falling.
In due course, smaller members of the junior cartel require enormous subsidy to stay afloat as they register huge losses year after year in a price environment stuck at $20 and below. It's either that or the cartel must negotiate spectacularly implausible shared volume cuts across all Australian producers (at least those in the cartel).
Trade rules must be junked, Chinese relations destroyed and the WTO as well as ACCC told to piss off. To operate this would require a virtual nationalisation of all players as total transparency governs quotas, otherwise widespread cheating is inevitable, as in OPEC.
In the alternative model, the major cartel, Australian iron produces 880mt in 2016. It does so at an average $10 lower than the junior cartel in that year given the higher supply glut. However, as the 50mt of junior and 165mt of Fortescue production shuts down by 2017 the iron ore price at first stabilises and then slowly rebounds as some pricing power returns to the major producer's cartel. Iron ore volumes are down to 715mt but the price is trading at $40 per tonne in a rough market balance.
Juxtaposing these two scenarios gives you the following total revenue chart for the sector (and nation):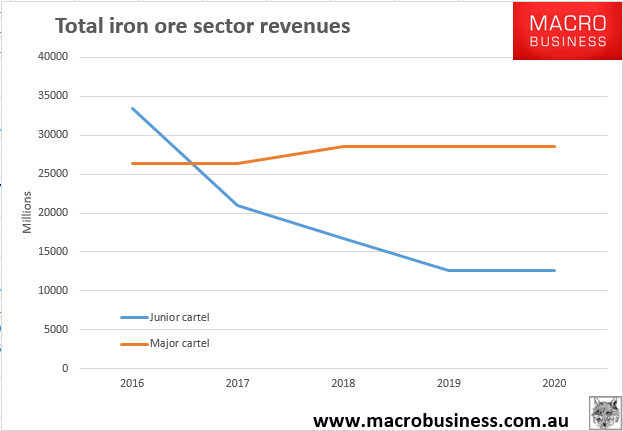 Most importantly, in the junior cartel there are no profits for anyone as protected oversupply crushes all margins, including those of the majors. There is also a gigantic Budget drain for WA as it supports the juniors with huge subsidies that completely overwhelm royalties.
In the major cartel, unprofitable iron ore is driven out and solid profits return to the low cost producers as Roy Hill emerges as the marginal producer around $40. There is no budget drain and solid royalties, as well as a Federal tax take (if much lower than the past).
When you cut through all of the crap it's really very simple, the juniors and Fortescue must die as soon as possible for the good of the nation. It is the only viable fix for iron ore.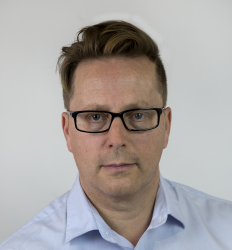 Latest posts by Houses and Holes
(see all)