by Chris Becker 
Its hard to predict, especially the future, but there's a combination of factors out there, embiggened by the RBA's rate cut debacle yesterday, that suggest the top is in for bank stocks.
Let's count them off. Three of the majors have reported flat profits this week as they struggle to combine record low interest rates into meaningful (read:profitable) mortgage growth, even as property prices continue to surge. The crux is funding and pressures on capital ratios, as net interest margins continue to be squeezed: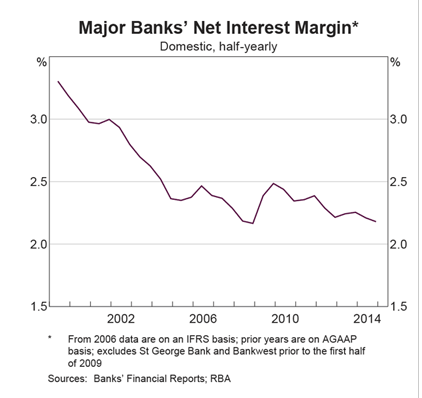 Westpac and ANZ have seen their NIM cut almost to the 2% level and while funding composition for the banks has changed remarkably towards deposits (in fact CBA reported this morning a near 10% increase), other funding costs and FX (foreign exchange) translations are weighing on profitability. Here's ANZ's recent move in NIM: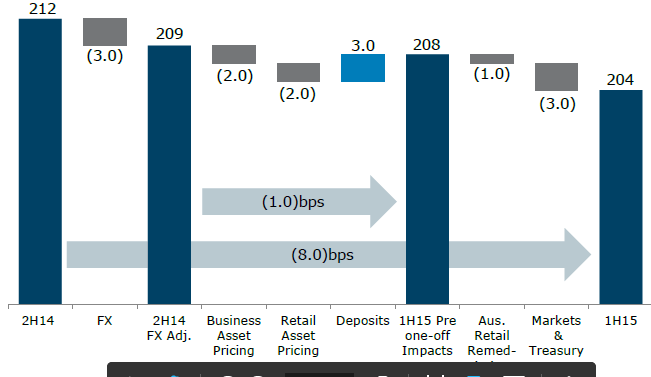 Macroprudential may finally be arriving in a firmer than wet lettuce form as the rating agencies finally react to the bubbles in Sydney and Melbourne, with Fitch yesterday demanding some form of MP and APRA slowly acting on its 10% level, albeit on a bank-by-bank basis and not systematically.
In tandem with the Murray Inquiry push, this will force banks to shore up their wafer thin non-risk weighted capital, which could mean large capital raisings, and hence share dilutions, in the coming months.
Both CBA and WBC also showed rising bad debts in the west yet provisions for such are at historical lows, meaning that if the economy does continue to sour in WA (and QLD) then higher provisions will come straight out of the bottom line.
The technical picture is pointing to a possible top, as well. As I showed yesterday, the financials have doubled in price since the easing cycle began (each vertical line to the right of the peak shows a rate cut, not including yesterdays):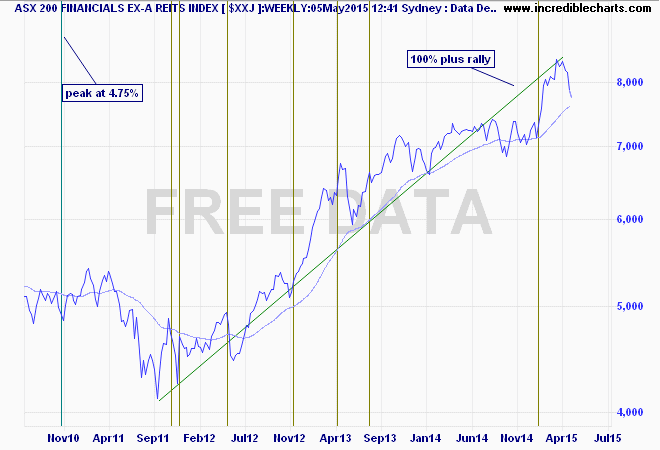 Tactically, all but CBA are going ex-dividend in coming weeks which will extend their current 10%+ slump from their record high, as the temporary yield chasers move to other pastures while the long term investors hold on.
History suggests that the current price action could be corresponding to the January 2005 new high (where shortly after, the RBA began tightening again after a two year pause). Or is it the July 2006 dip before the last surge as the RBA struggled to rein in a burgeoning asset price bubble, swiftly raising rates and pushed to the top in 2007?

Banks are tempting from a yield point of view, especially with sub 3% bond yields and deposits. But at what risk? The key with investing has always been about managing risk, not picking individual investments. Don't get blindsided by potential doubling of returns – either capital or yield –  which has already happened, or sucked in by a potential 20-40% blowoff in the months ahead. That is, don't confuse market action and reaction for reality.
There is no doubt that further rate cuts should, in theory, benefit financials as the yield trade intensifies, however, the huge income shock and the need to corral systemic risk are now real risks to earnings growth even as the sector remains priced for perfection: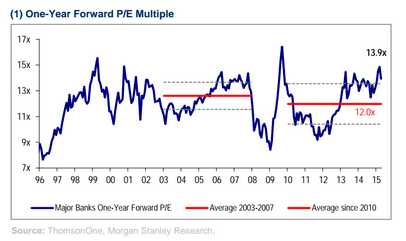 The days of the free printing press at the banking oligopoly appear to be over.
Latest posts by Chris Becker
(see all)