Here's a nice way to go to Easter from the AFR:
"The tide is turning," Pengana Capital strategist Ric Ronge said.

"We can't ring the bell and tell you when commodities are going to rally but common sense suggests there's more upside than downside."

He estimated global resources were trading at more than a 20 per cent discount on the mid-cycle average while income assets were stretched.

…"Rio has been vilified by the industry for flooding the market with cheap iron ore," he said. "The reason is they have a competitive advantage leveraging the existing capital that's been sunk in the Pilbara."
No offense, Mr Ronge, that is the worst "buy" argument for iron ore I've yet seen:
the assumption that because prices have fallen they must rise;
reliant on past cycles for guidance on this one, and
extrapolating past returns on investment forward.
All backward looking and reliant upon statistical analysis that by definition excludes tail risks. This is not a normal commodity cycle and RIO risk is asymmetric because it's share price has assumed that it is and not fallen: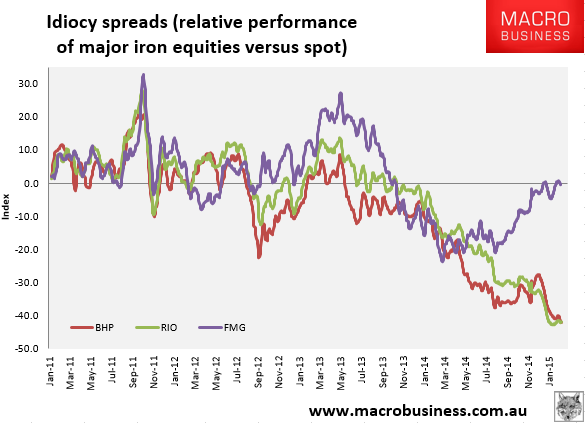 Happy and safe Easter to you all.