Australia's last benign oligarch standing fights on today, David Murray from the AFR:
Mr Murray is insistent that the banks, which rely on foreign funds, are undercapitalised and pose a risk to the Australian economy.

Because of expectations the Big Four banks' debts are underwritten by the federal Treasury, any credit downgrade of the government could hit their AA credit ratings, increasing their funding costs and reducing their access to foreign capital.
…Mr Murray expressed concern about the global monetary environment [which] had helped create a "housing casino" in Australia, he said, and had driven up high-yielding shares, including banks, as investors searched for yield.
And more from Deutsche:
The Federal Budget Outlook The Federal Budget does not, on our forecasts, return to surplus until 2023-24. Net debt peaks at 23.1% of GDP in 2018-19 and is still 18.4% of GDP in 2024-25. With general government sector net debt across the States and territories likely to be around 3-4% of GDP over coming years, total Australian general government net debt should still peak (just) below the 30% of net debt to GDP level that one ratings agency has said could see a reassessment of Australia's AAA sovereign rating.

The structural challenge: While some may 'blame' the most recent declines in iron ore prices for the sizeable deficits Australia is likely to be running for some years, in our view the real source of much of Australia's current fiscal challenge lies in the past. Further, we think much analysis of Australia's fiscal position draws the 'wrong' conclusion by focusing – exclusively – on revenues and spending as a share of nominal GDP. When it comes to spending the Australian Government provides Australians with (among other things) a welfare safety net, health and education services, and an aged pension; not lumps of coking coal and iron ore. Therefore using a benchmark heavily influenced by prices of the latter to assess trends in spending does not, in our view, make much sense. Indeed, there have been four years in the past decade when government spending could have risen by 8% in a single year, yet still fallen as a share of nominal GDP.

Why worry? Three arguments against complacency: Some argue that the Australian Government can currently borrow at historically low interest rates. Hence concern about Australia's fiscal position is misplaced. We see (at least) three problems with such complacency. First, the starting point heading into a period of demographic change matters enormously. Second, Australia runs persistent current account deficits. That can make the economy vulnerable to swings in offshore investor sentiment. Reflecting this, a strong fiscal position has been an important counter-weight to Australia's current account deficit and large external liabilities since the late 1980s. Third, the ability to deploy the massive fiscal stimulus seen during the global financial crisis was a function of the very strong position Australia enjoyed heading into the crisis. Australia has not, however, always enjoyed the luxury of being able to respond so effectively to economic slowdowns. While 'sentiment' might still be with Australia, to assume that will always be the case ignores, in our view, the reality of Australian economic history.
Yes, it does. One has also to add state and local government to reach the debt-to-GDP ratio that matters to rating agencies. Hence the above Deutsche chart projects skirting right up to the 30% debt-to-GDP that will trigger a downgrade. Here's the chart to date: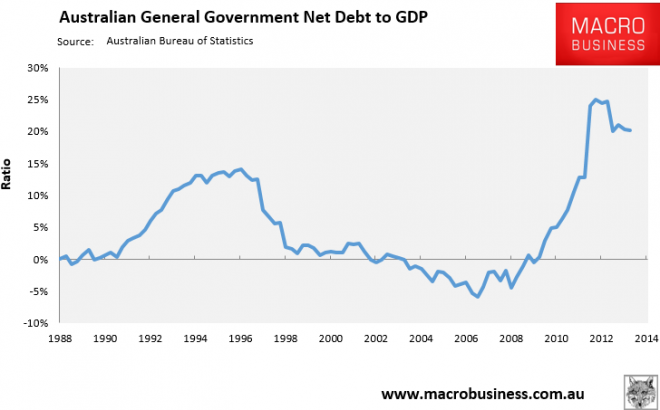 But all of this assumes no more global shocks. The MB view remains that the next 'end of cycle' event is more likely than not to occur in the next two years – a European accident, China's adjustment accelerating or the US stockmarket imploding on minimal interest rate hikes – are all candidates for the trigger, and could combine in the bust.
Thus the leisurely notion that the 30% net debt to GDP ceiling can be negotiated for the next decade is foolhardy. The post 2016 period is much more likely to see it skyrocket above 50% on the next global shock and then keep marching north as global markets demand austerity, in turn hitting private income just as banks are forced to raise interest rates on the downgrade.
Like all economic adjustments of this sort, the run up will have taken longer than many thought possible but the unwind will be swift when it comes.
This is a key part of why MB has adopted the position that now is the time to be selling housing assets, as we approach the peak. We expect creeping awareness of the coming accident to build next year, much as it did a year or so out from the GFC, with the added weight of the mining bust rolling over property markets one by one.
Australia's next 'end of cycle' event is not one to be caught long illiquid housing assets.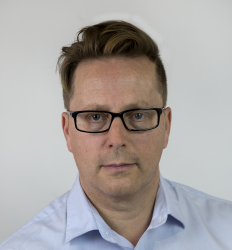 Latest posts by Houses and Holes
(see all)