And so the inevitable begins. After months of denial and hope, a sudden breaking of the dam for government and sell side analysts alike. From the top, it began with Citi:
Industrial commodities are mostly negative on a YTD basis, the strengthening US$ and ongoing macro concerns over China have impacted the precious metals and bulks, respectively. The exceptions have been aluminum, zinc, palladium, and gold which have seen modest gains…Citi retains a bottom of consensus forecast for iron ore…

Steel demand is seeing only seasonal improvement typical of post-CNY. However, real estate demand remains quite soft…Environmental pressure has risen with the strengthened environmental law, which is forcing steel curtailments and increasing environmental compliance costs.

Iron ore prices to fall to $30s… Large scale supply growth is set to add to pressure from weak demand and deleveraging. Moreover, cost deflation and marginal production are shifting to stickier suppliers…
It continued with UBS:
The bank has lowered its iron ore price forecast by 20-30% to $48-55 a tonne at 62% Fe for 2015-2019.

It has also slashed its long-term estimate (beyond 2020) by 27% to $55, which it said is the price needed to balance seaborne supply and demand, "given ongoing cost deflation, producer FX tailwinds, loss tolerance and closure costs".
And spread to Standard and Poors, which launched a new review on a lower base assumed price and warned that ratings on BHP, RIO, FMG, Anglo and Vale are all at risk:
In our view, lower iron ore prices may not only weaken producers' operating cash flows and financial leverage, but may also affect the long-term resilience of some companies' business risk profiles, given the higher-than-anticipated earnings volatility due to iron-ore-price swings.
Then Joe Hockey and Dr Mike Nahan climbed in:
Mr Hockey said in an interview with The Australian Financial Review on Friday the government was "contemplating" the possibility there is presently no clear floor for the iron ore price and it could fall as low as $US35 a tonne, comments that sent a chill through the industry.

The West Australian government would lose a further $6 billion in royalty revenue if the price fell to $US35, extending the hit to the state's coffers to more than $13 billion in the past four months. West Australian Treasurer Mike Nahan said that price would be "disastrous".
WA is reforming its pricing forecasting model:
"I'm sure there will be a change to the methodology this budget," Mr Nahan said.

"[But] I'm not interfering with the forecasts."

The planned change by the state's treasury department will be the second adjustment to West Australia's royalty calculations in less than three years, in a sign of the challenge faced by governments trying to predict volatile commodity prices.

The last change to methodology occurred in late 2012 and significantly increased the anticipated iron ore price.
Which is when MB started laughing at it.
So, is this the bottom then? A couple of factors to consider:
look at the second Citi supply growth chart and tell me that it is;
the Hockey forecast is FOB not CFR so add $6 for benchmark equivalent;
RIO and BHP equity remains very valuable and it's a long way down to Citi's new FMG forecast of 70 cents and,
there is this chart: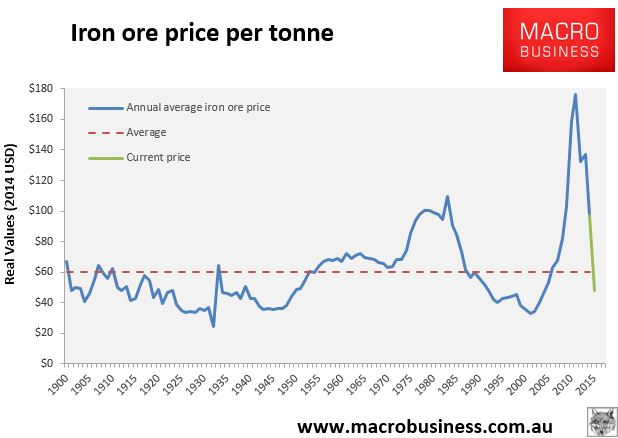 Annual average prices have spent decades below $40s post previous booms. That implies prices much lower in between and the world has never seen the kind of glut that is upon us today. Few yet grasp how bad it will be in three years as:
Chinese demand falls 10% or 140 million tonnes of ore;
and keeps falling right out to 2030 as the growth transition continues and scrap rises, and
the resulting glut persists above an astonishing 20% of the total seaborne market for years.
For the next five years a $30 annual average price seems about right but, really, it could be lower depending upon how low Roy Hill or Vale, the emerging marginal costs producers, can get their costs.
It will be over when FMG is dead, BHP and RIO have fully reverted to GFC prices, cut their dividends and are slashing volumes as well, and Australia is plodding through deep recession.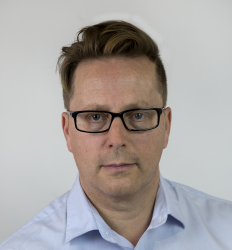 Latest posts by Houses and Holes
(see all)