The NAB quarterly property survey is out (it canvasses property sector insiders) and it's still all go in the east:
The NAB Residential Property Index rose to +21 points in Q1'15, up from +12 points in Q4'14 and sits comfortably above its long-term average (+14 points). Market sentiment improved in all states (except WA), although it continues to vary significantly across states. Overall sentiment remains strongest in NSW (+42 points), followed by VIC (+36 points) and QLD (+33 points). Sentiment improved in SA/NT but was still negative (-5 points), and unchanged in WA at deeply negative levels (-34 points). NAB's Residential Property Index is expected to rise to +36 points next year and +41 points in 2 years time. Property professionals in QLD and VIC continue to be most optimistic, while those in WA are most pessimistic, although less so than in Q4 (especially in 2 years time).
Of most interest in this survey is the foreign buyer component, being one of the only sources of data we have. On that front developments are quite interesting with Victorian demand growth for new builds falling sharply:
Demand for new properties by buyer Foreign buyers overall were more active in new housing markets, accounting for 15.6% of demand (14.8% in Q4'14). There was however a notable shift in activity by location with the share of foreign buyers in NSW rising to a new high of 21% (14.9% in Q4'14) and falling to 20.7% in VIC (32.5% in Q4'14). FHBs still accounting for around 1 in 4 of all new property sales, but share of demand from FHBs (owner occupiers) fell to 14.7% while FHBs (investors) reaches 10.1%. Owner occupiers broadly unchanged at 33.1%. Investors down slightly to 24.1%.

Type of Property Purchased by Foreign Buyers Nationally, 53% of foreign purchases were for apartments, 30% houses and 17% for re-development. Apartments made up 48% of all purchases in VIC, compared to 58% in NSW. In contrast, foreigners buying more houses in VIC (34%) and QLD (32%). More than 1 in 5 foreign purchases in WA for re-development, just ahead of VIC (19%).

Price Range of Property Purchased by Foreign Buyer The bulk of foreign buyers (41%) bought properties between $500k to <$1 million, with 30% buying properties less than <$500k. Around 5% of all sales were for premium property (+$5 million). There are still some notable differences between states. Around 85% of sales in QLD were sub-$1mn, compared to 58.5% in NSW. In contrast, 41.5% of all sales in NSW – where median house prices are the highest in Australia – were in the $1-5mn range.
Existing property demand growth has also reversed sharply in VIC and QLD but not so much in NSW: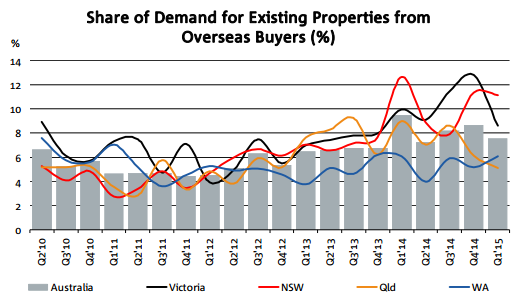 Foreign buyers are off the boil. Full report.