Here are the iron ore price charts for March 31, 2015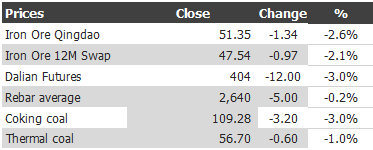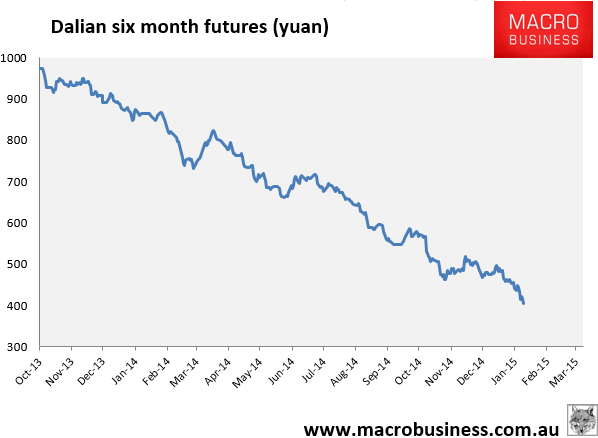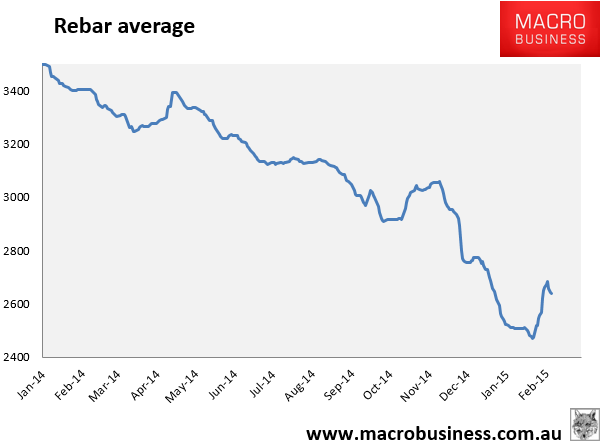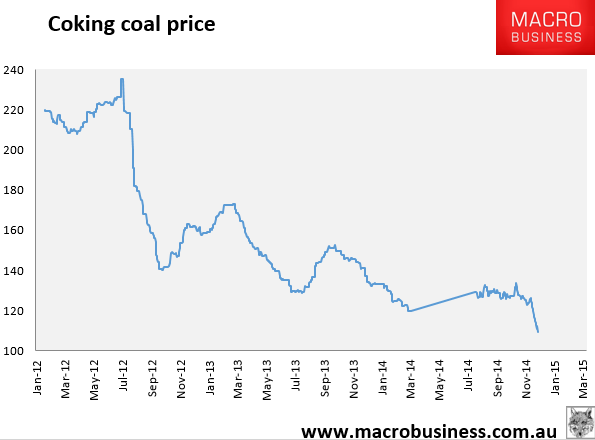 Benchmark Tianjin iron ore fell 3.6% to $51, the lowest since 2008 and in the history of the pricing index. Qingdao fell 2.5% to $51.35, also the lowest in the index history. 12 month swaps are a sinking anvil. Dalian plunged yesterday and is already down another 3% in overnight trade to 393 ($51), strongly suggesting that the iron ore price will be sub-$50 tomorrow. Rebar average is bleeding but slowed at least. Note that the coking coal hit was me moving from the May to now more liquid September contract. Thermal narrowly avoided a new bottom.
Texture from Reuters:
"We do not see any sign of improvement in iron ore and steel fundamentals. Mills have resisted building up stocks due to production cutbacks and weak sales, and prices are likely to fall further," said Zhao Chaoyue, an analyst at China Merchant Futures in Guangzhou.

…A slowdown in the economy and a cooling property market is expected to weigh on steel demand in China.

"We are worried that the environmental checks will spread to more regions and more mills will have to cut output," said an iron ore trader in coastal Shandong province.

…"The easing of policy for second home buyers only suggests China's housing market is weak," Zhao added.
That's it in a nutshell. While the equity market is busy pricing miners on the hope of a cyclical bounce as if this sell-off is a rerun of the 2012 dump and will soon rebound, as well as the illusion that the miners are in control of the market, the reality is being determined by a structural change to lower demand and a massive and growing surplus.
There are no winners here on the supply side.