Another barn burner today from Alan Kohler at Dad's Army:
…there may be a case for the government to at least ask BHP Billiton and Rio Tinto what they think they are doing, and perhaps even for the ACCC to investigate whether they are colluding.

Recently a desperate Fortescue chairman Andrew Forrest publicly suggested that the iron ore miners should get together to cut production to get the price up…

But Rio and BHP have, together, nearly doubled production rapidly in the face of declining demand, driving the spot price of iron ore below $US50 a tonne.

The increase in output is almost entirely due to the two big Australian miners, Rio and BHP, acting together, if not in concert.
Never let a few facts get in the way of a good story. Here's the chart: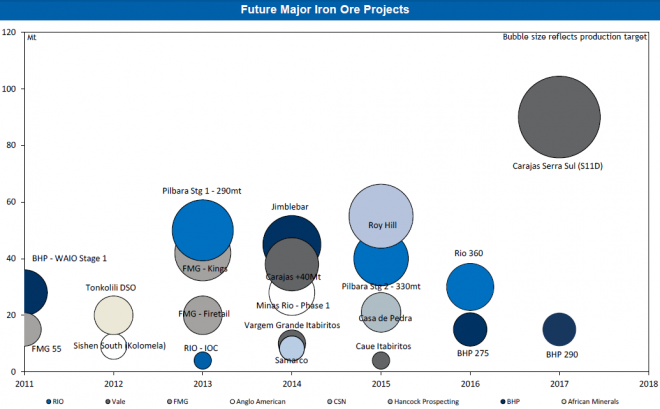 Does that look to you like it's all RIO and BHP? What about Anglo, Sino, Vale, Roy Hill and FMG? Moreover, RIO and BHP have expanded nothing like double "in the face of declining demand", which only rolled over three months ago for steel and it still rising for iron ore.
The fact is iron ore is a big business in which scale and capital intensity make for long term oligopoly structures. Nothing will change that. All this current debate is about is who will own it as we fall to the natural state of affairs at the lowest marginal cost of production.
There's no need to panic, just position for the inevitable.